For centuries, "hysteria" was widely used as a medial diagnosis for women who suffered from various psychological trauma. In the early days, it was believed to be connected to the womb, which was out of place or "wandering" from its proper place. Later, hysteria was still tied to sexual function, or more specifically, dysfunction, and the "cure" was thought to be a doctor-administered "massage" of the genitals to stimulate orgasm. In the 1800s, Dr. Jean-Martin Charcot, known as "the father of neurology," became famous for his study of hysteria and its possible connection to epilepsy. He gave a series of lectures in the 1870s displaying his findings based on his observation of female patients at the Salpêtrière Hospital in Paris, which included photographs of the various stages of their mental illness taken by Paul Regnard – photographs which have now become iconic in early medical photography. The photos were later compiled into a book of his findings, Iconographie photographique de la Salpêtrière, compiled by two of his students, by Desiré Magloire Bourneville (1840-1909) and Paul-Marie-Léon Regnard (1850-1927). One of the more famous students of his work, Sigmund Freud, was highly influenced by his work, later hypothesizing that hysteria was the result of "one or more occurrences of premature sexual experience" (The Aetiology of Hysteria, 1896). While hysteria is no longer a formal diagnosis, and has been reduced to more specific disorders, many psychiatrist have since theorized that women diagnosed with hysteria could have been suffering from abuse of a physical, sexual or psychological form. Below, read what the McGill University Library has to say about the Iconographie photographique de la Salpêtrière, and see the photos yourself.
Jean-Martin Charcot (1825-1893) worked and taught at the Salpêtrière Hospital in Paris, originally a saltpetre factory before it was set up as something of a dumping ground for prostitutes and the criminally insane in the 17th century. The 19th century brought humanitarian reforms in the treatment of mentally disabled criminals and La Salpêtrière was reconceived as a psychiatric hospital under Charcot's stewardship. His research there won him students and admirers from across Europe, including a young doctor named Sigmund Freud.

Charcot became famous for his work in neuropathology through a series of lectures on hysteria, the first of which was given in June of 1870. His method attempted to correlate observable signs of hysteria in patients with lesions in the brains discovered through eventual autopsy. The Iconographie photographique emerged from these studies and was intended to provide an objective account of hysteria and epilepsy, believed to be a related nervous disease, through the still relatively new technology of photography. 119 black and white images, mostly photolithographs, depict young female patients in various stages of hysterical "attacks." These are accompanied by the case histories of patients, which include clinical findings such as rates of respiration and pulse, extremely precise physical descriptions such as measurements of head and limb circumference, and even transcripts of patients' delirious ramblings.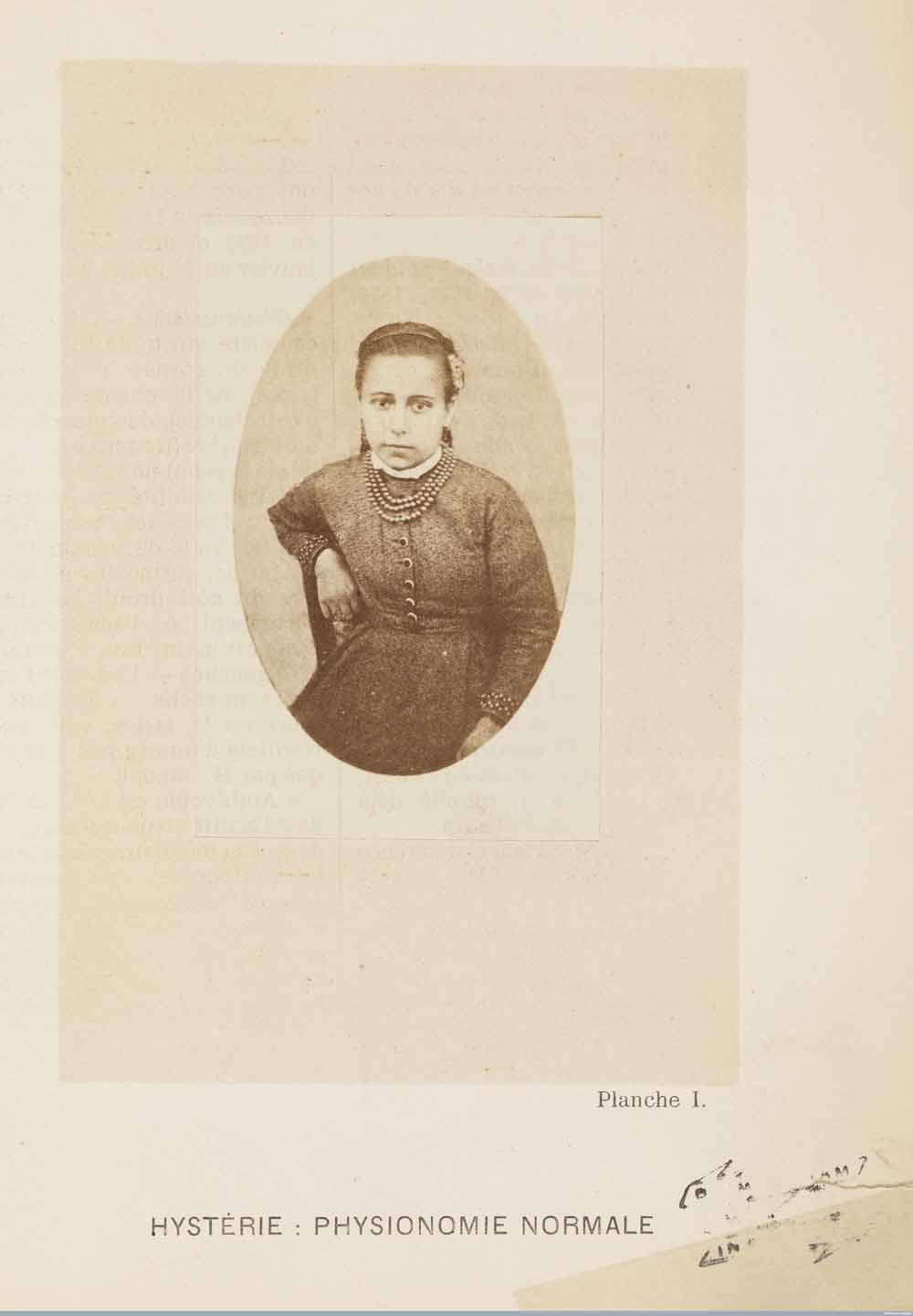 Images via Wellcome Image Library