In early October, CONVULSE Records held a fest celebrating three years as a label in Denver, CO. It's now time for y'all to peep this amazing photo essay and text from the rad photographers that captured this historic event! I want to take the time to salute everyone who made this fest a reality because sonic history was made. Punk is a living energy that can never DIE and the CONVULSE Fest proves that!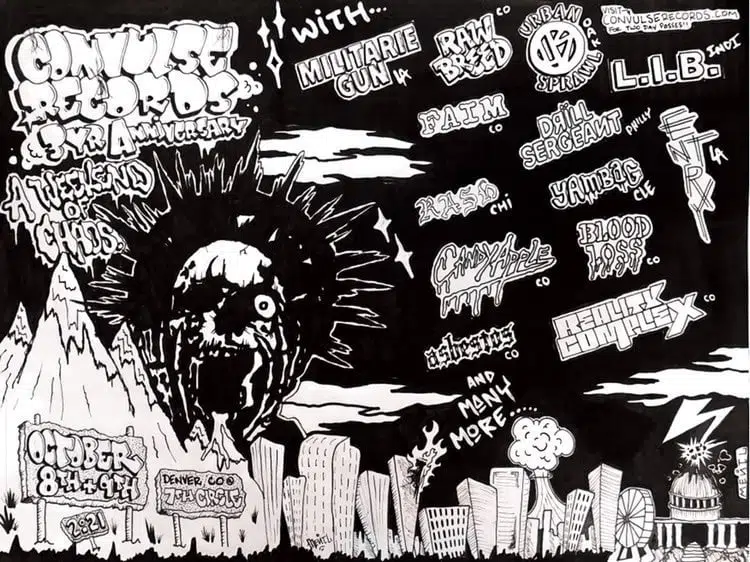 Jacob Sever IG
"As a person in their 30's who has been going to DIY/punk/local shows for over half their life, I had been burned out and jaded for a while. Also, as someone who grew up nowhere near Denver, I have always felt like an outsider. Convulse Fest rejuvenated my excitement for seeing live music again. I felt a part of something, like I'm a part of this scene and community now. Everything kinda clicked and I felt like a kid again. I used to carry around a big camera with multiple lenses and external flashes…but nowadays I keep it simple with a thrifted 35mm point & shoot. Cheap, easy, fits in my pocket so I can occasionally come out of mosh retirement." 
Marc Canfield IG
"Convulse Records' 3-year anniversary fest was an incredible experience. After going over a year and a half with no shows in Denver it was a great way to showcase the local talent, as well as bring together friends from across the country. Adam Croft and Convulse Records have been working harder than anyone else in the country to promote and showcase underground punk and hardcore. The Denver scene has been absolutely crushing it in the world of DIY and it was amazing to see the local heavy hitters alongside many of the great bands that have popped up across the country during the past few years. While Convulse claims they are never booking another fest, this was an incredible weekend that gave Denver some of the well-earned exposure and respect that it deserves. Don't sleep on Convulse. Don't sleep on Denver."
Nick Kanner IG
"Convulse Fest was more than just a celebration of three years of a successful DIY label.  It felt like a celebration of the Denver punk and hardcore scene as a whole.  Growing I always felt jealous of other cities with established hardcore scenes with national notoriety.  I wished I lived in someplace like Boston, New York, or even Orange Country that each had its own unique sound and identity.  Fast forward some 15+ years and that's really starting to happen here in Denver has started to gain a very serious buzz as the go-to place for fast, raw and in-your-face hardcore punk.  

This was obvious if you attended Convulse Fest. Denver bands populated the lineup throughout both days and each band delivered ripping sets, holding their own against some of the fastest rising stars in hardcore. Fans went nuts singing along, jumping off speakers, and slamming into each other for both visitors and locals alike. There is no way you walked out of that building feeling anything but optimistic for the shape of the Denver scene going forward."
Chon IG
"Convulse Fest. What you have to realize is, is that this wasn't just any run-of-the-mill hardcore show. No one but the people who attended or played will ever know how special those two nights really were. So while little Timmy was out with his girlfriend listening to Top 40 and drinking Lattes, society's outcasts were getting down any the Aztlan Theater. It's something I keep thinking a lot about. NO ONE but us will ever know! 
Before I get into the fest and what it meant and all that I feel I need to widen the picture a little bit first. There was a time when I was lost. Or at least that's how it felt. And one day while minding my own business doing whatever it is kids do, "Blitzkrieg Bop" comes ripping on the T.V.. And immediately wanted, NO, needed more of whatever my virgin ears had just heard. Eventually, I found myself going down a deep rabbit hole I'd never return the same from. Getting lost, band after band, buying albums with the little money I had as a kid. Punk, Hardcore, anything and everything under the sun that was related all because I had heard the Ramones. However, little did I know at the time I was only just scratching the surface of a much larger world. It wasn't until I met one of my soon-to-be best friends at a Madball show that I would be taken further down this rabbit hole I stumbled upon. My love and knowledge for Punk and Hardcore grew larger and larger. Meeting some of my heroes like John Brannon, Paul Bearer, Stigma, Porcell, Choke, Harley Flanagan, the list goes on and on. Not to mention the fact I was becoming friends with some of the coolest people I've ever had the privilege to meet. 
Fast forward to today. I'm still getting myself deeper and deeper into this wonderful world of hardcore. Still meeting people, forever adding to an ever-growing record collection, and letting my own creativity go wild. Which this scene has allowed me to comfortably do without judgment. This is what lead me to want to take photos of the scene and Convulse was the perfect time for me to do so after a year of no shows. Ever since I got my hands on a camera I had this push to take show photos of Denver's underground. This fest was too important to not document. I'm usually in the pit, but this was a nice change and a different way to enjoy the show.
I didn't want to only take photos of the bands. Anyone can do that. What I wanted to capture is the most important ingredient to all of this. THE PEOPLE. Without them, none of this would exist, let alone happen. I'd go through punk books, fanzines, or even just old show photos from legendary shows and the photos that stuck out to me most were the ones of the crowd. That is the show! Now don't get me wrong there were tons of really outstanding photos taken, but they were mostly of the bands. There's nothing wrong with that at all, but right behind you is the most important part! My hope was to capture the raw energy of people getting sick with it along with the people on the outside watching, smiling, and laughing. I like to think I captured all that just like those old photos did. 
I may not know all of them, but I see them at every show. It's one giant family filled with the kindest, most creative people I know keeping this scene alive and going strong until we can't do it anymore. Then it's up to the next group to grab ahold of the wheel. When one goes down ten are right there to pick them up. I wouldn't trade any of it for the world. Don't mess with the hornet's nest man! This truly is in my opinion the best music in the world. You can find it anywhere you go in the world and before you know it you've made five new friends and learned about ten new bands. I love all of it with every single fiber of my body. And I will be going to show until I can't! There is nothing I would rather be a part of. I wouldn't know what to do without it and it's just the world to me. Hopefully, that tells you what Convulse meant to me. It's hard to type it out, but I know how I feel inside. 
"For being unselfish in selfish times. For taking the young guys and showing them a better way. Tonight we have a chance to say, "Yeah you're right. We're too extreme, we're too wild, we're too out of control, we're too full of our own shit!". Or we have a chance to say, "HEY! FUCK YOU YOU'RE WRONG. FUCK YOU WE'RE RIGHT!" Because you all made it to the dance! Cause believe me this IS the dance! START THE SHOW!" – "Jailhouse Rob" Intro by A18
R.I.P Olan."
Joe Lacey IG
"The Convulse Records Anniversary Weekend was the epitome of what a hardcore scene is — a community of like-minded individuals who don't "fit in" with the world around them coming together and creating an escape for each other. Documenting this weekend was an incredible experience and a reminder of what an amazing thing we have going on here in Denver. For so many people and bands this was a long-awaited moment, we'd spent so much time at home dealing with the world around us in such uncertainty and to me, this weekend was exactly the reminder so many needed that there is a community here for them and a safe space to lose yourself for a moment and share that release with so many others. Convulse Records as a whole has given everyone everywhere a taste of just what Denver has to offer, and this weekend allowed so many to witness it first hand and the best part of it all is that for so many of these bands the best is yet to come." 
Zachary Barnes IG
"I have lived in Denver all of my life, and spent a lot of time in the DIY community. However, I had never spent much time in the hardcore scene, due to this sense of feeling misplaced, which was mostly influenced by my ego/vanity, even though I had always enjoyed the music. I just never felt like that was my community, partially because I did not feel as if I was "tough" enough or "hardcore" enough to contribute without feeling inauthentic. But after going to Convulse Fest, those toxic feelings shot right out of the window along with the bombastic energy and the pounding bass of the music and people that make this community hum. The excitement and raw energy of the festival pulsed through me and transcended any ego or vanity lingering within me.
Specifically, upon seeing GOON's last show, I was so swept and inspired that I went home, and
immediately began working on my own demo and my own band. Overall, the Convulse Records
Festival left me feeling inspired to work and liberated from my own insecurities."