Paper Men… Lucy Owen's Juggalo Paintings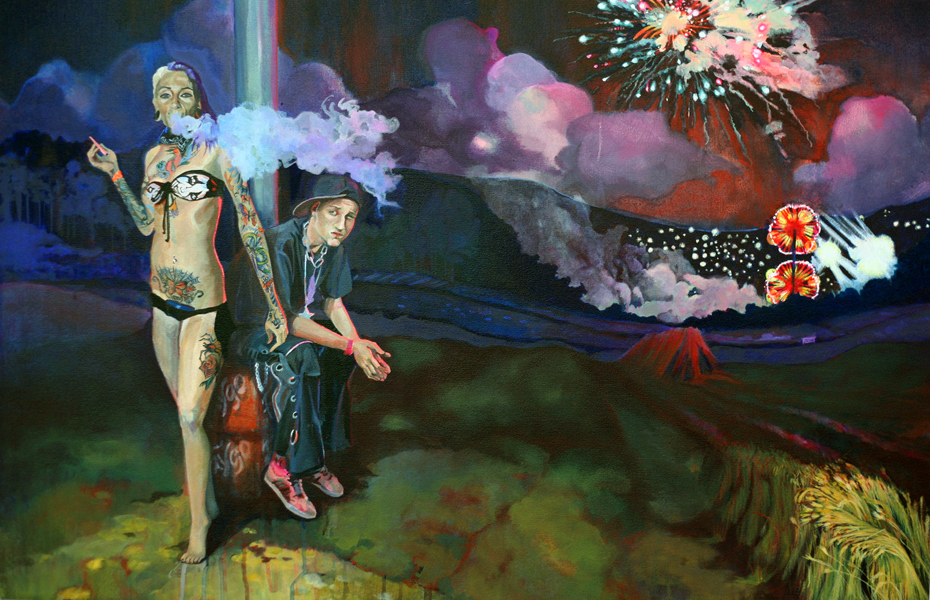 In a weird way, Juggalos are the new punks. What I mean is that the Juggalo culture – their appearance, their music, their behaviour – is as incomprehensible and offensive to mainstream culture today as punk rockers were in the late 70s and early 80s. As far as I know, no Juggalo boot camps have cropped up yet, but I wouldn't be surprised if some interventions have been attempted on Juggalos and Juggalettes, trying to cure them of their wild ways and complete disregard for American social norms. The interesting thing is that what the Juggalos act out at The Gathering – rampant drinking, drug taking, nudity and sex – is not strange behaviour when you look at what's accepted as a part of Spring Break. But they take it a step further with their appearance. They aren't trying to look like "all-American" frat and sorority Spring Breakers – they are wearing spray painted clown faces, neon dreads, and the hoodie and sagging pants uniform of white trash middle America, or nothing at all. And they love each other for it; is that what's so offensive to people, that they really couldn't give a shit whether you think they are attractive or not?
Brighton artist Lucy Owen discovered Juggalo culture in an internet forum, and like many of us was immediately intrigued, both by their culture and by American society's reaction to it. She flew to Detroit, attended The Gathering, and followed ICP throughout the Midwest, meeting their fans and getting to know the family from the inside. She then painted portraits based on her experience, and the results are striking. She does what a photo, or even a documentary, can't do – she reveals the human underneath the Juggalo makeup. Although she keeps the bizarre and humorous aspects of the culture, there is always an element of reality, whether it's in the eyes, the background or the belly of her subject. She has taken a subculture that many call ugly and revealed its beauty.
Lucy Owen's exhibition Where the Juggalo Roam opened in Detroit last Friday and runs until December 20th at Start Gallery. Check out her paintings below, as well as a quote she chose for the series…
"They tend to misunderstand the paper man with scissor hands
Who watches the hourglass for grains of sand
To fall and fall again as he pretends
That everything he lays his hands on doesn't turn to shreds"

(Twiztid, "LDLA-IBCSYWA", 2012)
Enjoy this post? Donate to CVLT Nation to help keep us going!