Heavy metal is an interesting subgenre of rock music. It either rules…or it FUCKING SUCKS. There's not really much of a gray area in terms of quality, and when it comes to the criteria of said quality, that also depends entirely on the type of weird loser listening to it. Are they focused on production quality, skill level, and song structure? Or are they obsessing over the rawness and the brutality of the riffs and lyrics? In my opinion, truly great metal bands will find a way to please both of these assholes, but I do tend to lean towards the latter point of view. I'm not looking for anything glossy. Just fucked up nonsense that no one but me could ever even hope to understand.
Hence, it's always nice to hear a band like Knoxville, TN's PROFANE RUINATION and not be disappointed in the slightest. Their demo, which I first heard on Bandcamp but quickly came to learn was released on "pro CD-R" format via BRUTAL CAVE PRODUCTIONS (a near-perfect label name), is 3 tracks of solid, minimally produced but excellent sounding old school death metal. Sometimes it's hard to tell whether a bunch of kids went into a studio, handed them the 2nd CARCASS album, and said "make us sound like this"…or if they just recorded it themselves in a basement because they didn't have any fuckin money. Either way, in today's scene, I suppose you should just be happy that you're getting the sound you're looking for regardless of how it came to be. One thing is for sure, though…PROFANE RUINATION made a very sick-sounding debut. Nothing excites me more than a vicious-sounding recording that perfectly captures the brutality of old school death metal and doesn't sound professional or polished.
Without any listener's consent whatsoever, the opening track "Morbid Asphyxiation" is all of a sudden in the middle of utter chaos. I swear to you, somehow this demo doesn't even start…have a listen and you'll see what I mean. I love the lack of fluff on this thing, though. From the second it starts, there is an absence of bullshit. Evil riffs and guitarist/vocalist Brandon Love's gutturals take me right back to Barnes-era CANNIBAL CORPSE. You've heard them used in a thousand death metal bands before, but I've still always felt that the deep, incoherent, inflection-lacking growl is a conscious decision by any vocalist. You can go a few different routes when it comes to vocals in a band like this, but choosing the least complicated and most basic approach is, in itself, an immediate "fuck you" to all of those metal bands trying to do the next big thing. That level of disrespect gives me chills every time.
The heaviness of the guitars on this demo is absolutely uncivilized, particularly towards the beginning of "Apparitions of Sightless Evil". They are tracked in a way that truly captures what it would be like to see this band play in someone's crawlspace, ear flush against the cab. In addition, you get a range of mid-tempo push beats, mosh-heavy breaks, thrashy fast parts, and some harder-to-decipher blasts, rounding out a raging variety of speeds. There are times when the overall mix falls apart a bit, with a growl or a reverby drum fill overpowering the entire recording, and it only adds to the charm. I'll stress this as much as anybody should – perfection is for the weak. When I'm listening to a new record and I hear an accidental rim click or an off-time transition, I breathe a sigh of relief when I remember that I'm not listening to some insignificant Top 40 crap. Keep it raw and keep it real. That being said, PROFANE RUINATION does not lack tightness or musicianship by any means. The band can fucking play.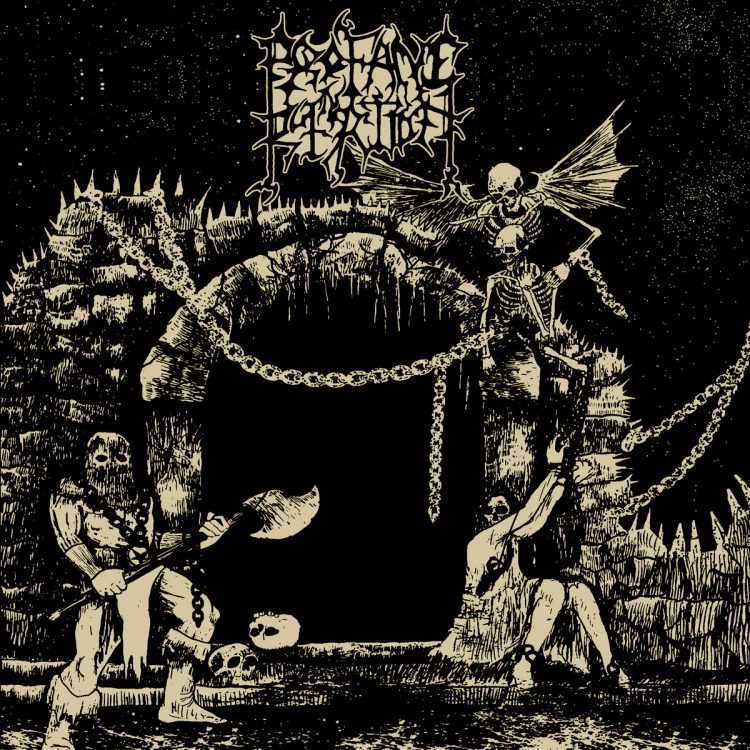 Originally starting out as a two-piece featuring aforementioned Love and drummer Sam Bowling, PROFANE RUINATION has not been active for very long from what I can tell. The demo was released only recently and has yet to ship out until early March according to BRUTAL CAVE PRODUCTIONS. In addition, they recently added bassist Tommy Smith to the line-up as of February 13th, so fans can now expect the band to show up to their town as a 3-piece, assuming they do some touring and, hopefully, release more records.
All in all, PROFANE RUINATION is a newer death metal band that you absolutely must check out, and their 3-song demo is an amazing first glance at what they have in store for us. With a sea of OSDM excellence out there, from FROZEN SOUL to UNDERGANG, the genre is alive and well and doesn't seem to be slowing down any time soon. Like a cool, refreshing bottle of Coca-Cola, PROFANE RUINATION is keeping things fresh and exciting while not shying away from destroying you by any stretch of the imagination.