Nothing is What it Seems…
Twin Peaks Tarot Cards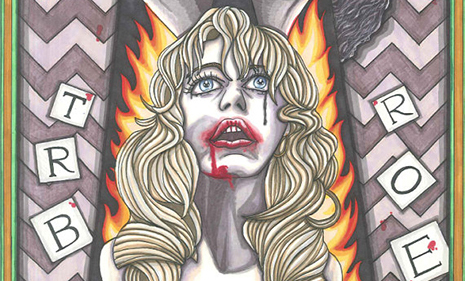 If you were a young adult in the early 90s, chances are you remember watching the unsettling and eerie Twin Peaks on your box TV. As a tween, watching this series at my friend's house was a ritual experience, and we were all too cool to show how stomach-churning and terrifying we found it. But there's no doubt that David Lynch imprinted a generation with the images in this show, and that's why so many of us now in our 30s and 40s are waiting in suspense (and terror) for the 2016 installment. Are you already dreaming of the Twin Peaks viewing parties you'll have? The pie you're going to serve? Well maybe you would like to add something extra to your atmosphere, something supernatural and magical. Maiafire Prints has something to offer those devotees of Lynch's creation – a hand-drawn set of Tarot featuring all of your favorite Twin Peaks characters. The deck won't be back in stock in her Etsy shop for another couple of weeks (but you can reserve one to avoid missing it again), but you can preview the set below!
Images via Dangerous Minds
Enjoy this post? Donate to CVLT Nation to help keep us going!