Where do my pain and anguish come from? They come from the brutality that I have seen People of Color endure at the hands of White Supremacy and genocide. My pain comes from knowing that 215 young bodies were found murdered at the hands of The Catholic Church and the Canadian government. Music is my tool of healing, and this is why the mournful sounds of Suffer Yourself mean so much to me right now! Their brand of Funeral Doom mixed with slow-moving Death Metal puts me in a state of mind that I can deal with the atrocities of the world. Their heavy, painful riffs are dipped in sorrow and I can hear the screams of the murdered youth in them. Music is supposed to make you feel and that's just what happens when I blast Suffer Yourself's song "Spit into the Chasm." Below we're previewing a snippet of this 20-minute Funeral Doom anthem! Their new album Rip Tide comes out on June 25th via  Aesthetic Death.
The Canadian government destroyed 15 tons of paper documents related to the residential school system between 1936 and 1944, including 200,000 Indian Affairs files.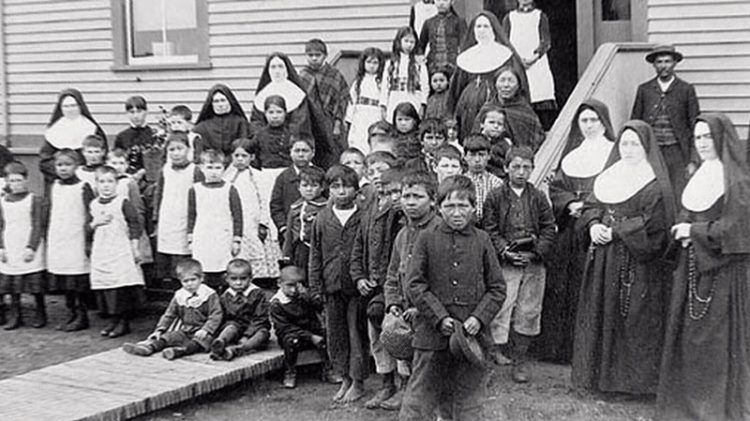 Suffer Yourself is back, to tell a new story, dedicated to the weakness of the mind and internal struggles. This time, pronounced nautical theme is brought on the top, drawing a symbolic connection between the human mind and the ungraspable, overwhelming ocean of insanity, where the mind is minuscule in comparison, almost helpless.

The main track, 'Spit in the Chasm,' which takes more than half of the entire album, shows such a struggle against the endless void in colourful details.

Here, through a variety of musical and lyrical expressions, hate mixes with confusion and temporary stillness transforms to a dedication for one's single possible relief.

The band took new endeavours with sculpting their soundscapes: along with established, signature chorused guitars over heavy riffs, here come some extra death metal elements, but also, an additional touch of sound FX, usage of organ, sound layering, and, of course, beautiful cello parts.

'Spit in the Chasm' brings the consolidated story within itself, reminding about how the riptide of madness may grab and chase away. Is there a will to resist it? At least for the character behind the lyrics, the embrace of the ocean is imminent and accepted.

'Lid is nailed…'

The album contains a collaboration with dark ambient artist Ugasanie, whose crafted field recordings and drones blend in and intertwine with Suffer Yourself's funeral death.