Harsh noise has been a form of expressing the ineffable, otherwise inexpressible thoughts and feelings of artists and their audiences since long before "noise" existed as a broadly accepted genre. Just as the advent of abstract visual art and experimental film came to put more power in the hands of the maker and the observer to find and create multiple meanings, so too does noise music bulldoze the minimizing boundaries created by time signature and melody. To achieve this destruction of musical expectations, many noise artists marry the primitive with the futuristic, combining springs, nails, and coffee cans with circuit bending and digital looping, as perhaps best referenced by Bastard Noise alumnus Henry Barnes's vivid phrase "caveman electronics." On this new split by the one and Indiana's Demonologists and California's (and the world's, really) Bastard Noise, one also sees a joining different generations of the art form.
Any conversation about noise music must include Bastard Noise and its nerve center, Eric Wood. It is not hyperbolic to say that noise music, and especially American noise music, would not be what it is today without his influence. To call him old school does justice to his long legacy but ignores how active, passionate, and determined he is to develop his sound as new technology arises. Similarly, he is driven to partner with and highlight newer artists who share his creative excitement and brilliance, artists such as Demonologists.
On their new split, the legendary Bastard Noise combines forces with Indiana's blackened noise masterminds, Demonologists, who are aided in their mission to create powerfully stirring soundscapes of desolation by the vocal pyrotechnics of Denmark's Mouth Wound.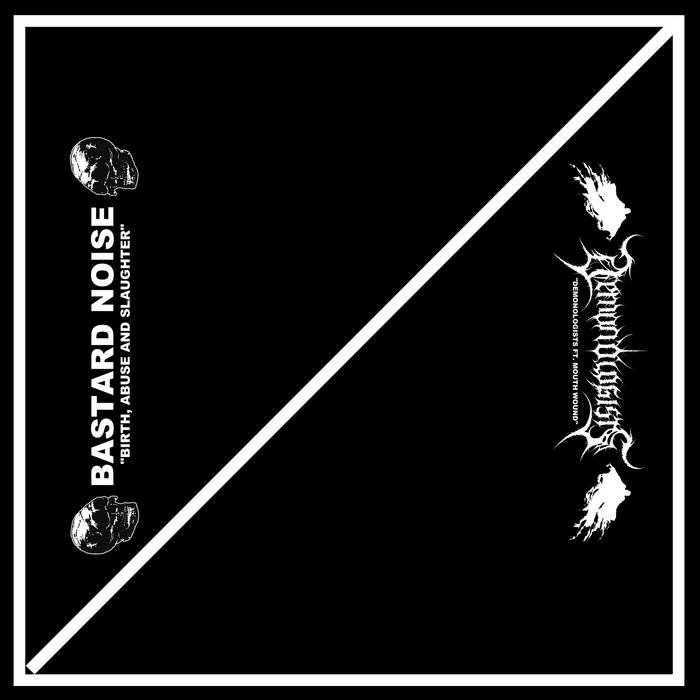 Both artists' sides manage to balance into a comprehensive whole, with each side complementing the other in a way that creates both tension and harmony. Challenging, evocative, and emotional in the way that only the best noise manages to be, all tracks on this split move the genre forward, urging the listeners as well as other artists to think more deeply about what music means.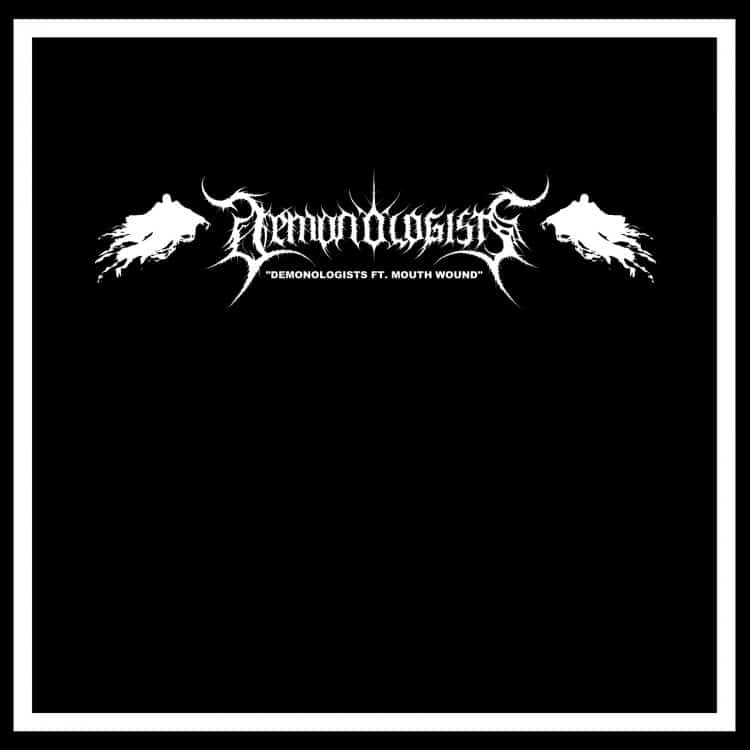 Demonologists create aural collages whose emotional resonance is such that they might as well be soundtracks for invisible movies. These are truly compositions, meant to attract, provoke, and compel.
About their composition process, Demonologists say, "When we initially started discussing our intentions for this record with Bastard Noise, we immediately knew that we wanted to extend ourselves in a new direction and that it was important for us to create something special for the occasion . . . In the process of making the music for this record, we utilized a sample bank of sounds that we created consisting of various field recordings and circuit-bent effects, etc. Generally, we would start out by sequencing sounds to create the frame, and then build from there, layering in additional synthesizers or noise to shape our creations."
This elements combine throughout in a masterful interplay of tension and release, moving naturally but startlingly from the uneasy peace of wandering in the woods at 3 a.m. to the upsetting catharsis of antiquated psychological procedures like the Primal Scream. The latter of these is largely accomplished by way of the contributions of Trine Paaschburg.
Demonologists say, "Once the music was finished for what would become 'Hel's Reflection,' we knew that it was asking more from us than what we were capable of vocally, so we decided to reach out to our good friend Trine Paaschburg/Mouth Wound to do vocals. We had worked with Trine before on a track that was originally intended for an upcoming full length. We were blown away with the results, so it just made sense to work with her again. We also ended up asking her to contribute to the second track we worked on for the record, which would become 'A Loss You Trust.' On this track, her vocals are featured alongside vocal contributions of our own. Her contribution worked out perfectly, aiding the overall cohesion of the record. We rounded things out by bringing in 'Molten Earth,' the track that was originally intended for our full length that featured Mouth Wound. 'Molten Earth' also includes contributions from Envenomist, Gnawed, and Thoabath."
They continue, "Once the material for the record was situated, the concept of doing a video came up and our friend, video producer/art collaborator Andy Wallis of Displaced/Replaced stepped in and created a video for the track 'A Loss You Trust.' Be sure to keep an eye out for it."
Demonologists and Mouth Wound have developed a special chemistry together, allowing the unique artistic strengths of each contributor to glimmer and darkle, like sonic storm clouds over a meteor shower.
Of the artistic union, Paaschburg says, "I feel the Demonologists' sound was a perfect extension of some of the pieces I worked on during lockdown for Mouth Wound. I am beyond thankful to Cory and Evan for getting to be part of this, and I was positively surprised by how naturally everything fit together. It was a pleasure to have creative freedom to express the feeling of anhedonic disconnectedness, as a singer, in productions of such a high quality. Working with them and with Andy Wallis for the accompanying video, dispelled a major creative rut. Being able to collaborate with like-minded artists such as them was a lifesaver."
Particularly impressive on all three tracks is the restraint of the composers, who rely on subtlety and nuance to elaborate on textures of noise where many other artists might lean on volume an distortion. These tracks offer loudness and overdrive as well, but not in the name of sacrificing delicacy, silence, or space, all of which provide more meaning as well as making the more cacophonous sections more impactful. This kind of critical reflection on the part of the musicians is represented equally in Paaschburg's philosophical approach to lyricism.
Paaschburg says, "Lyrically, the intent was to emphasize a process in a hostile environment where moments of calm had a tinge of mourning. The lyrics for 'A LOSS YOU TRUST' deals with the abundance of time to reflect. Previous expectations are slowly broken down to a point where you are confronted with your self-deception. Through this loss, there is space for rehabilitation or new layers of denial. When speaking of self-deception in the lyrics, it also manifests as constraints disguised as virtues. In the part I wrote for 'HEL'S REFLECTION' as well as 'MOLTEN EARTH,' patience and discipline become self-sacrificial badges of honour. Here, the preoccupation with mournful self-wallowing is furthered to distract from lackluster authority that destroys our planet. By the end, there is a repeated plea to dismantle cognitive dissonance, to be hurt as the center of god is hurt by the written word. It is a paraphrase repurposed from Sylvia Plath's Poem 'fever 103.' Used in the song's context, it can also be described as the attempt to pin-point something unknowable, repeating the previous lyrical themes of a futile process that can only be resolved by letting the previous notions go."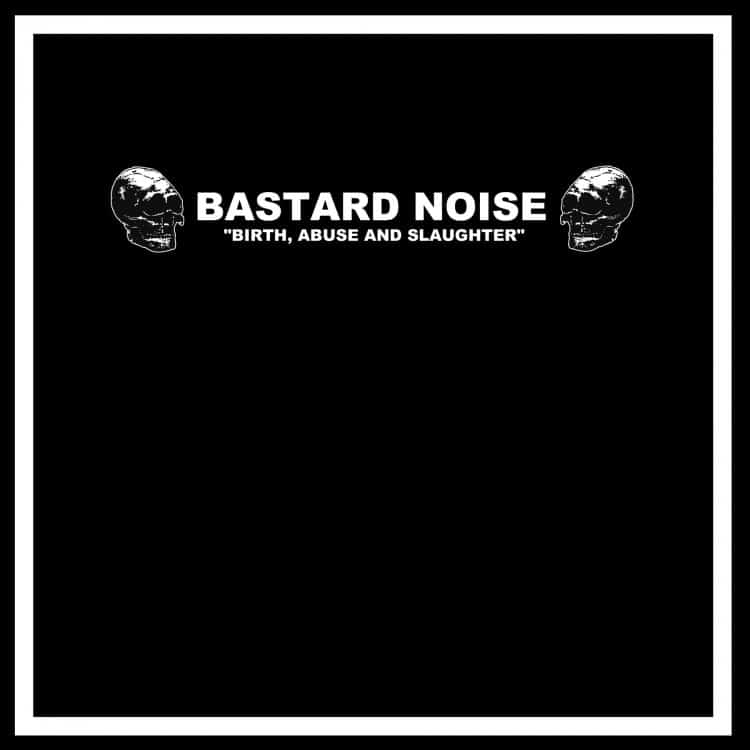 As one of the genre-defining artists of noise, Eric Wood could have rested on his laurels long ago, allowing his artistic legacy to speak for itself. Instead, he continues to push the boundaries of his own songcraft as well as those of the genre itself. He subverts what decades of other artist's choices have made into a genre expectation of lo-fidelity sound by committing to production value, taking pride in and ownership of the ultimate listening experience of the audience.
Wood says, "As I do with all recordings, consulting my producer Michael Rozon is a given strategy, as we work as a team to create the most thorough, deep, and complex recordings possible."
Like the best punk and folk musicians, Eric Wood has always put his message on even-footing with his music. His music, in its spitting passion and furious evangelism, amounts to his shouting his undergirding principle from the mountaintops: Animal Liberation.
Wood says, "Now and forever speaking out for the voiceless (i.e. factory farmed animals and animals killed or sold in the black-market wildlife trade) is paramount in the BASTARD NOISE ethos. A philosophy based on animal rights is the never ending growing 'vine' of ideas for liberation and immediate action against evil humans."
On this nearly twenty-minute-long opus, Wood invests deep thought and committed emotion to creating a soundscape that is beautiful while brutal, one that is mimetic, acting as a sound-painting of the unspeakable horrors of the abattoir, wherein the rights and lives of intelligent, emotional beings are daily disposed of for the tastes of the complacent and complicit.
Wood says, "For 'BIRTH, ABUSE AND SLAUGHTER,' our strategy was initially to lay a foundation that truly depicted the subject matter lyrically. As with any artist that realizes the critical importance of lyrics being visionary and sounds accurately representing the lyrics in question, Michael Rozon and I spared no possibility in what the final outcome of this piece would demand and bring. We built carefully around the 'beds' or bottom layers of each part and took very seriously the transitions between them. Sound, in my perception (and it's just my take), should always be treated in a compositional sense. Attempting to depict the horrors of what happens behind the walls of death and systematic slaughter of sentient beings and the endless fear and horror that surrounds them 24 hours a day was a real challenge. To raise awareness and stop the planet from burning in misery from industrial farming is a message I will eternally represent until death. 'BIRTH, ABUSE AND SLAUGHTER' is a next level examination of the brainwashed public's state of mind and being not without drastic measures against such a horrific population being considered."
Sounds that are natural and mechanical, subterranean and otherworldly, all cross-pollinate in this 4-song split that manages to touch so many aspects of the ineffable human experience, something that, perhaps, only noise can do. Throughout the varying textures, screams, synths, and gurgles, the prevailing argument is clear:
NOISE IS MUSIC. NOISE IS LIFE.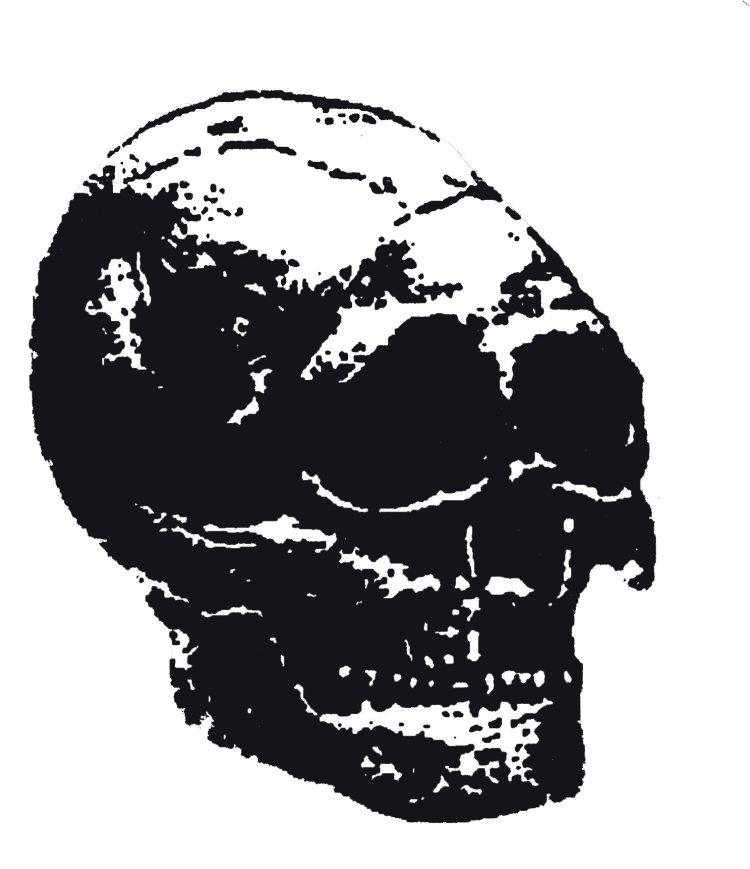 Pick up this massive split from King of the Monsters.