The word "metal" is surely tossed around with a lot of different meanings and intents these days, and it's weird to think now that forty years ago, when you said HEAVY METAL, it meant just one thing. Yes, because when metal was born in the 70's and truly developed in the 80's, all its various extreme and experimental subgenera we're used to recognizing today, back then were nowhere to be found. What existed instead was solely the archetype of it all as we know it. One of dramatic generational shifts, over the top musicianship and glamorous, insolent transgression. And that is precisely back to what Chile's Shadows (who feature members of Chilean thrash metal legends Apostasy)are taking us today with the unveiling of their spectacular debut out album, "Out for Blood", releasing tomorrow May 19 2023 on LP, CD, tape and digital formats via Sentient Ruin. Behold the exclusive full stream we're offering of the album today and get lost into its aimless, ass-kicking power:
"Out for Blood" packs in thirty minutes of ass kicking hooks and raging heavy metal, and then some. Taking unmistakeable queues from bands like Dio, Judas Priest, Scoropions, Mercyful Fate, Death SS, Alice Cooper and Ozzy, the Chilean masters have assembled and unforgettable ride back in time, and into the primordial soup of the early 80's when amplifier-worshipping, insanely loud, transgressive, often booze and drug-fueled over top hard rock was becoming more erratic and extreme, kicking up the distortion and merging with visuals and themes of the occult, evil, b-movies and serial killers and becoming that ONE thing which terrorized all puritans and every parent worldwide thereafter: HEAVY, FUCKING, METAL.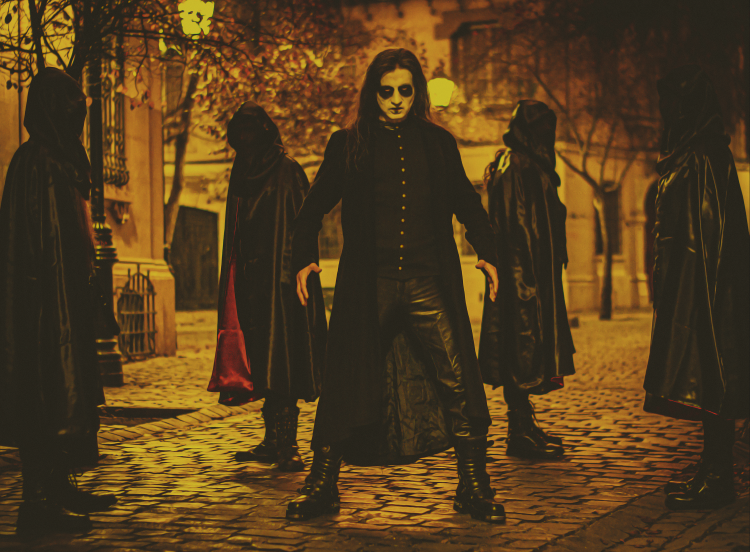 And indeed "Out for Blood" somehow in 2023, like a mesmerizing time capsule, manages to take us back to those glorious times, even nailing the production, which, while being on par and current with today's standards, hasn't suffered and inch of all the mistakes that often today's standards bring, keeping instead everything tastefully organic, natural sounding, vaguely dirty and DIY, and very pertinent and respectful to the times it aims to evoke. And the songwriting has beautifully fallen like the last piece of an incredible puzzle right in place with the rest, bringing us seven tracks and three interludes of pure fire and magic from the golden era of metal, forging an unforgettable half hour of ass kicking intensity where everything is meticulously thought out and nothing is missing: from the spooky falsetto vocals, to the razor-sharp dueling guitar riffs and blazing solos, to its gothic keyboard lines and its thundering rhythm section.
Look at it this way: if Ghost to you just sounds too mainstream and lackluster with its pumped modern production value and its alternative rock oriented songwriting and you're looking for something with a far more obscure, underground, unevolved and cult-like feel, then Shadows are just for you, as the Chilean masters have scarified everything of any sorts of contemporary music appeal or compromise to refocus their every effort instead into a loyal and devoted celebration of what 80's heavy metal was, with all its dated quirks and its unforgettable mystique.
Get "Out for Blood" tomorrow May 19 2023 on LP, CD, tape and digital formats via Sentient Ruin HERE and or HERE.