Make Punk Confrontational Again With Systemik Violence!!!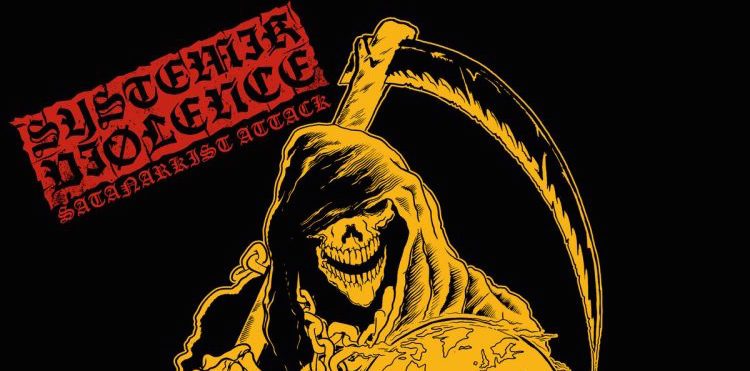 Time and again we hear the same old script about how hardcore/punk/metal is supposed to be an inclusive community that shuns racism, sexism, homophobia, and sympathies towards coercive institutions. At this point, hearing vocalists in bands spout this off online or on stage has become just a trite as ignoring the terms of service most Apple products come with. It's just there, a novelty, a legal safe-guard if you will. The same dudes who get up there and preach empty words are the same dudes who probably think "female-fronted" is an actual genre of music in 2018. However, when push comes to shove, you quickly learn that your local scene is infested with moderate fence-sitters who only claim to love real leftist politics on paper. Or worse – your local scene has become a hotbed of libertarians who believe that the free market is the answer to all our problems, as if privatizing all aspects of life hasn't already made access to basic human necessities a bureaucratic nightmare. Yeah, I get it, it's not always the most marketable thing to have militant lyrics and beliefs in your band, so you settle for the safe, generally accepted beliefs that everyone claims to be about, hoping your day never comes where you're actually forced to exercise those beliefs in a real life situation. While some bands choose to be apolitical for the sake of being well-liked or more marketable, others throw all prospects of heavy music fame (lol yeah right) in the fucking gutter and use their band as a vehicle to challenge the values of their listeners. Enter Systemik Violence' Satanarkist Attack. These Portuguese metalpunk warriors are here aggressively critique all aspects of social and political life.
Simply put, this band is here to make punk confrontational again through the guise of bands like GISM and Anti-Cimex and the politics of refusal and anti-capitalism. No need to get naked on stage, hang from the rafters or be politically incorrect, punk is done with those days and aging punk bros who proudly wear Dickies shirts need to fuck off forever. You don't need to degrade random audience members (unless they're cops) to have a great live aesthetic. Shit talking the coercive and oppressive nature of life under tech-yuppie capitalism is far more productive and eye-catching than whatever mid-set speech you were gonna plagiarize from some Netflix approved "X-rated" comedian. Satanarkist Attack is a much needed return to the primitive nature raw punk recordings mixed with contemporary anarchistic tendencies. I mean, do you really need me to explain to you what a song called "Kill All Rapists Now!" is about or even what it sounds like? There is nothing cryptic here – nor should there be. We need bands willing to put their politics at the forefront of their music instead of symbolically masking it with clever song titles, cliché album art (we get it – war is bad; thanks for the shitty pic of dead bodies on your bandcamp). For better or worse, Systemik Violence do not wish to just be another band in the punk music canon. They do not do this for fun or attention, they do this because they understand that this genre is one of the last barriers we all have to spread the gospel of total liberation. Down with moderate liberal punks! Looser chains should never be the goal. If you can't understand that then don't even both pressing play on this album. Up the black ski mask punx forever!
Enjoy this post? Donate to CVLT Nation to help keep us going!