One of the greatest strengths of the current crop of Death Metal bands is the breadth of their knowledge. While we may pine for the days of tape trading and loitering in record stores (and not without good reason), thanks to the internet today's Death Metal musicians have listened to and absorbed so many classic records, and ultimately synthesized these influences into new forms.
This is certainly the case with the Indianapolis based quartet Obscene. It's not that these guys spend all their time online listening to records, far from it. But the sounds they conjure with their debut, The Inhabitable Dark, due out on June 12th on Blood Harvest Records, show both a wide ranging Metal expertise and evidence of the blood, sweat and tears shed onstage and in the rehearsal room.
"Without Honor and Humanity" rips out of the gate with blast beats worthy of any of their US contemporaries before quickly and smoothly transitioning into a Swedish D-Beat. There is a strong sense of immediacy, a kinetic sense of physical violence driving the frenzied riffs and vocals. The last minute shows the band equally adept at constructing a head-nodding Thrash groove before peeling the paint with one last bit of speed.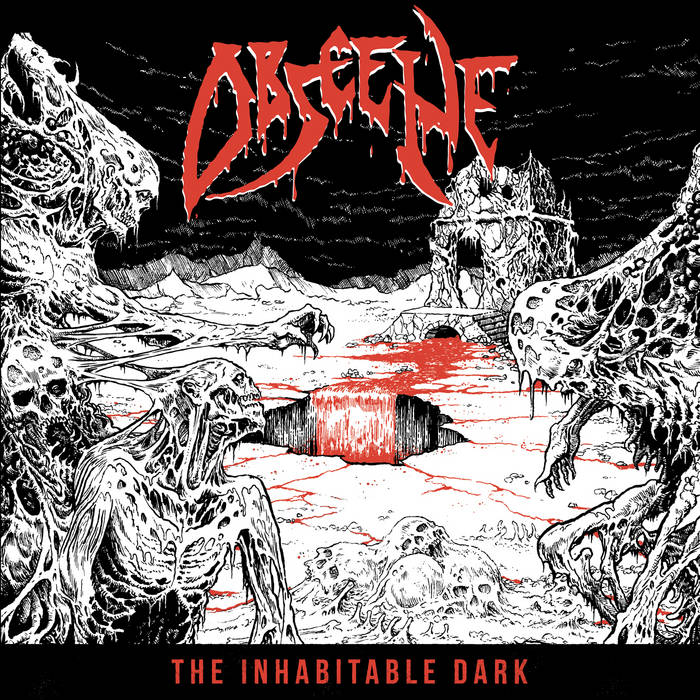 If the album opener is all about all the ways to be fast, the second track, "Bless the Giver of Oblivion" tackles mid-paced material with equal deftness. Morbid Angel is the first name to come to mind, but when the tempo throttles back about halfway through the track, Asphyx becomes equally relevant. And that Asphyx influence is probably one of the more consistent influences throughout, with the vocals in particular giving a nod to Martin Van Drunen.
There's no letting up from the assault throughout "The Inhabitable Dark". You can spot hints of Immolation's "Dawn of Possession", Monstrosity's "Imperial Doom", or Pestilence's "Consuming Impulse" alongside a myriad of True Death Metal influences, all presented seamlessly and as a coherent whole. But this isn't just blind OSDM worship. "All Innocence Burns Here" and the title track both touch on well-honed Death/Doom passages that seem to evoke both Autopsy and Candlemass with all the appropriate guitar harmonies in place, while "They Delight in Extinction" revels in a seething Hardcore Punk sense of fury and swagger. Perhaps the best track on the album is "Black Hole of Calcutta", another nod towards "Covenant"-era Morbid Angel.
Hard to say if it's any good for your mental health, but Obscene's debut is arriving just in time to claw it's way into your gray matter like some sort of brain parasite and not leave until it pulls you into the waiting darkness. As the ancient Chinese proverb states, "we are cursed to live in interesting times", but at least there's no shortage of insanely good Death Metal to keep us company in quarantine. "The Inhabitable Dark" should be at the top of any Death Metal fan's list.
Today, we are honored to premiere "Bless the Giver of Oblivion". Asked about the track the band says: " 'Bless the Giver of Oblivion' is an assault of the feeble and the complacent. While none of us could've predicted the current crisis; it's rather topical to bear witness to the usual suspects of water carriers and sycophants make excuses for the ruling class demagoguery of religion and politics. Only darkness and death is their reprieve. "