I'm a huge fan of the UK band GAME and their brand of scathing Hardcore! We're super stoked to share a playlist that they put together for CVLT Nation. Make sure to check out all of the releases on Quality Control HQ because they are the BOMB!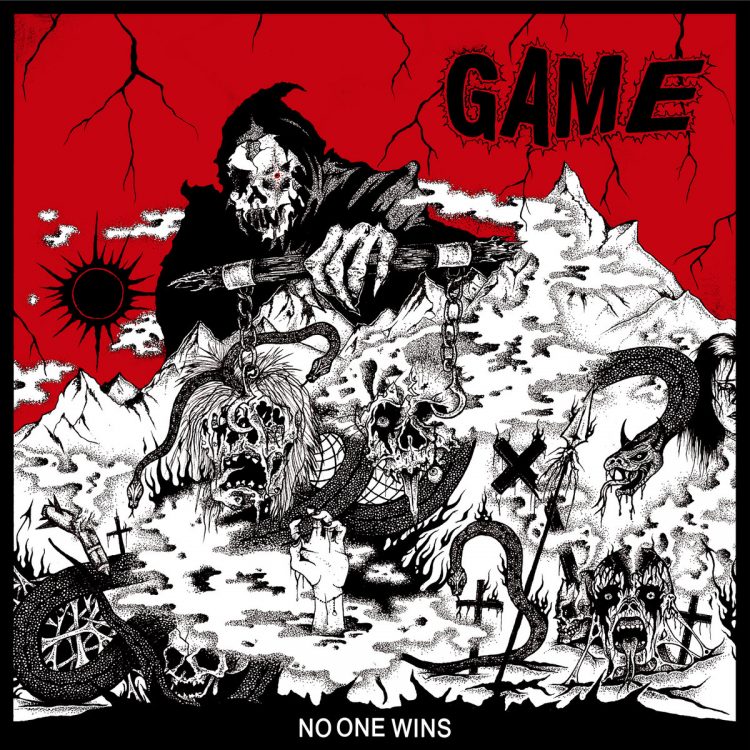 Jonah Falco (Drums):
Lip Cream "When the Punx Go Marching In"
There is something to be said for this moment of early bounce, where metal and punk start to so efficiently pollinate. This early Lip Cream offering combines a kind of heavy metal verse and a Sex Pistols chorus with all the violence and nihilism of metal and plenty of the self aggrandizing near-mockery of punk. One of my favourite punk records of all time.
The Damned "Alone"
Would be impossible for me to talk about drumming without conjuring up Rat Scabies behind his impossibly huge drum kit, burning and destroyed, with drum sticks as kindling.This particular song is like the MC5 and the Stooges starred in the roulette scene of "Deer Hunter" — the drumming in particular has always held the perfect volume and finesse for me, straddling the controlled and institutional chaos of the 60s and the unctuous punch of punk rock. Enviable!
Ola Herbich (Vocals):
Siekiera "Zabij Ty" (from their 1984 Demo)
This is the kind of hardcore I love, unhinged annihilation, killer crew chants, recorded semi-badly but in the process sounds raw as hell. Siekiera was the first Polish punk band I had ever heard, and having listened to the stories of what life was like under the Soviets in 70-80s Poland from my family, I was astonished that such radical music could even exist, let alone flourish. Game used to cover Fala and learning to scream Tomasz Budzyński's lyrics at the correct pace was really hard, along with the onomatopoeic nature of his phrasing, a total inspiration for me.
Smashing Pumpkins "Geek USA" (Live with clowns)
I have been listening to Smashing Pumpkins for 25 years, the longest out of any music I know. They really made me and have been life long companions. It's a disappointment to know what has become of Billy Corgan's views on life, but otherwise the music lives on forever in my heart. Totally unique, they didn't sound like anyone, and no one since has really nailed trying to sound like them. This video showcases everything that was great about them during my favourite era, Siamese Dream. Amazing musicians, experts in how to switch between loud and quiet sections, all with a dose of healthy sarcasm and theatricality.
Nicky Rat (bass):
Frigöra "Mardröm"
Hardcore as a form of sonic aggression. Some of the most bombastic Swedish hardcore ever from nowhere close to Sweden. Mob 47 via a sonic death wish.
Agnostic Front "Power"
Was the song named after that bass intro? There is a genre of music named after me, it's called Rat Core. It is where somehow the influence of Discharge is felt across as many sub-genres of extreme music ever and is only and always accompanied by a squat stained white t shirt and chaos crimped hair.
Callum Baird (Guitar):
GISM "Frozen Dirt"
GISM's metal punk prowess is lauded world over and displayed perfectly in this song from their second LP Military Affairs Neurotic. It charges straight into a tunnel vision inducing discordant NWOBHM style riff which is the crushing back bone of the song. Add some of Sakevi's unhinged snarls and a masterful guitar solo section from Randy Uchida and you've got a bona fide GISM stomper.
Witchfinder General "Requiem for Youth"
Witchfinder General lend heavily from Black Sabbath but absolutely hold their own as a heavyweight in the genre, and are seen as a big influence on Doom Metal. Guitarist Phil Cope manages to imitates Iommi's lead playing like no other on this offering from Friends Of Hell.