Photos: Al Overdrive from Lingua Ignota's London show
Music that is real can be difficult. Personal experiences always mould the creative perspective of an artist, but what happens if those include moments of pure darkness? Many would shy away from exposing these events, but some find a cathartic release through re-telling these stories. There is not an artist that better encapsulates that state than Lingua Ignota, who spawned into the scene in 2017 with two self-released records in Let the Evils of His Own Lips Cover Him and All Bitches Die. Combining her neo-classical background with noise and death industrial elements and an overall darkwave approach Kristin Hayter has found the perfect medium for her message. This became abundantly clear earlier this year when CALIGULA dropped like a bomb, bringing to life moments of utter darkness through agonizing noise passages or ethereal devastation via Hayter's fantastic delivery. Given the impact the experience of listening to CALIGULA, it would be interesting to see how Hayter is able to transfer that to the stage. And since she was passing by Manchester I was lucky enough to witness that.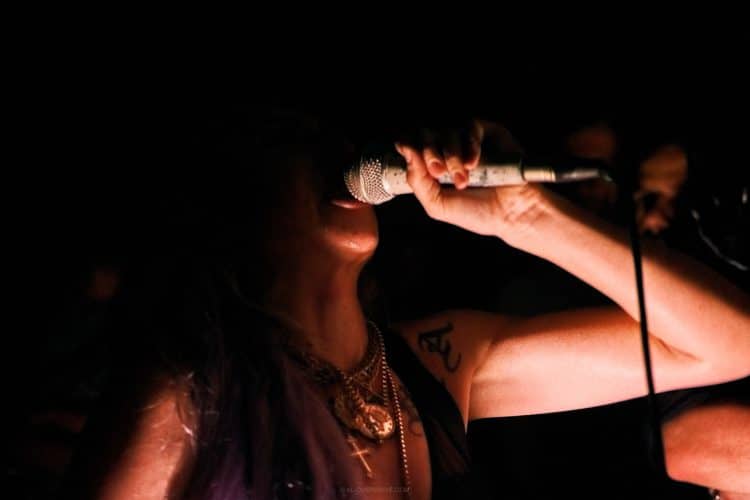 First on stage is electronic duo Soft Issues, originally from Leeds and formed in 2017 to spread extreme noise to all who dare listen. From the opening moments of their set, their performance is pure and unfiltered chaos, based around electronic structures and loops that they further manipulate to reach a completely inhumane perspective. Turning these simple beats into disfigured and multifaceted progressions, while unleashing a totally beastly vocal delivery, the duo swiftly navigates through their set. Their energetic performance owes a lot to a punk music influence, and it is definitely worth checking out their self-titled debut record from Opal Tapes.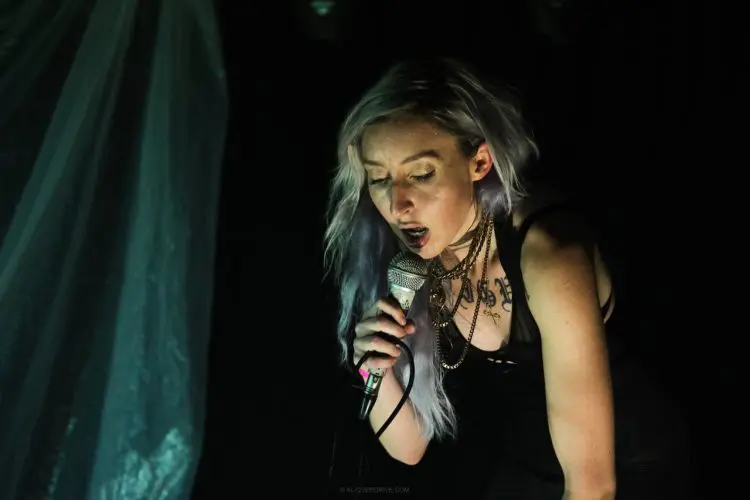 The stage is set, a veil put over the front and everyone is eager to for Lingua Ignota to come to the stage. A moment's delay, a repetitive drum loop echoing now and then before hearing a voice from the beyond: "Technical issues". It is not time yet, but Kristin Hayter is working behind the curtains. Another few moments pass and finally the lights come down again and finally the epic melodies of "FAITHFUL SERVANT FRIEND OF CHRIST" come in with Hayter's incredible voice joining in. Playing a game of light and shadow the performer remains hidden behind the veil, with a projector allowing only her silhouette to be seen. A simple but very powerful concept, as Hayter moves, her figure either retains its real shape or distorts plunging the whole scene in her shadow.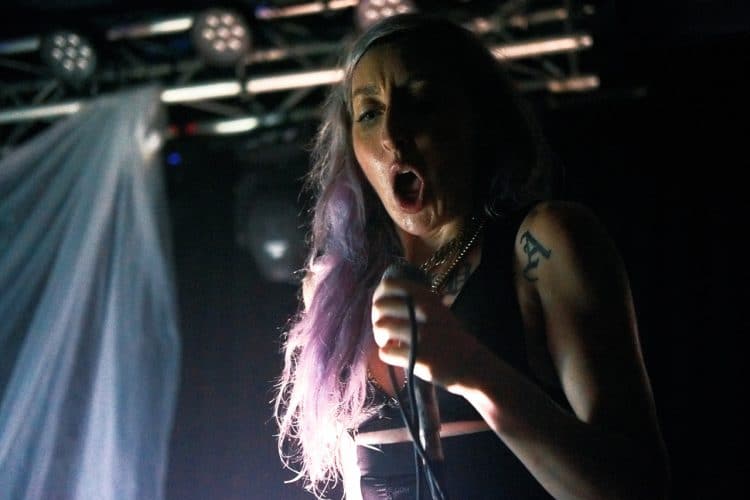 What follows is the descent to total darkness with the epic "DO YOU DOUBT ME TRAITOR", as Hayter comes from behind the veil holding the microphone and a piercing white light lamp. Starting off from subtle piano progression and emotive vocals the track explodes in waves of noise, harshly injected through the fabric of reality with Hayter excruciately screaming into the microphone. It feels like a descent into the underworld, with Hayter taking the role of one lambades, companions of Hecate, as she screams "I don't eat, I don't sleep" as a mantra that echoes through the, funnily enough, pink walls of the venue. It is at that point that Hayter comes off the stage, joining the crowd, always carrying her light, resulting in an ecstatic performance, a primal need for catharsis.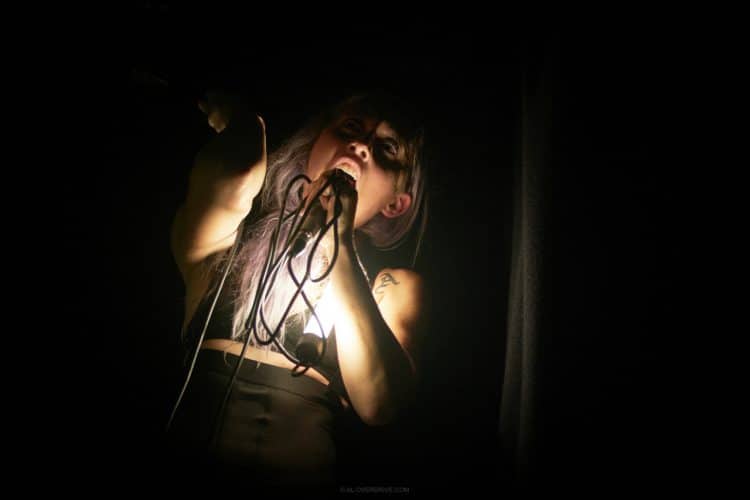 The performance carries on in full on dystopian death industrial fashion with the epic "BUTCHER OF THE WORLD". As the initial tempest of noise and debris comes to a halt, Hayter unleashes a stellar performance full of delicacy and emotion for the second part, before diving head first in the off-kilter and beautifully operatic "MAY FAILURE BE YOUR NOOSE". It is a masterful performance of high-quality story telling, binding the classical aspects of Hayter with her dark ambient essence, which leads perfectly into the funereal "IF THE POISON WONT TAKE YOU MY DOGS WILL". Starting off with the repeating chant "Kyrie Eleison" (translating to "God have mercy") amidst the heavy, steady and disfigured beating, before Hayter travels to an ethereal, minimal domain. Her voice is crystal clear, an astonishing performance that reveals her full range, from the heavenly to the downright infernal. It is a dichotomy further illustrated in CALIGULA closer "I AM THE BEAST", with its funeral doom/death presence crushing down, making it appear as the whole world is crumbling, holding together by a single, final thread. And that is when Hayter provides the most appropriate ending to the show, with a stunning cover of Chris Isaak's "Wicked Game". Funnelling all of the track's melancholy, Hayter is able to produce an equally powerful and vulnerable rendition that closes the set in a dreamlike manner. An overall stunning performance, with Hayter managing to transfer all of CALIGULA's glory to the stage.