Hey y'all — check this killer interview from SPEED, one of our favorite Hardcore bands doing it right NOW!
SPEED Labels: @lastriderecords | @flatspotrecords
Answers from SPEED's vocalist, Jem.
Take us back to your childhood—what music did you hear around your home, booming out of the cars in your hood, or your headphones?
I was born and raised in Sydney, Australia, but spent a couple of my early years in California. I think that's where my dad was put on to guitar music, so home-wise we'd have the Bee Gees, Dire Straits, and country music. I don't like country music.
Give us the science behind the title and artwork of your new album, GANG CALLED SPEED?
We approached this record as if it was our magnum opus. I think the 7" is a real defining moment for a hardcore band so it was an important milestone for us. Conceptually, it had to embody the identity and ethos of the band. The best way we felt we could communicate that aesthetically was by photographing ourselves on the record. The cover was largely inspired by the work of Chi Modu, particularly his works with Tupac and Big L.
Can you break down your creative arc from GANG CALLED SPEED to 'Hard Industrial DEMO 19'?
There's not really much to it other than writing the kind of hardcore we wanna hear… music that makes you feel like you can achieve anything in that moment. SPEED is Aaron's first time playing bass, so in some ways, the demo was deliberately written as a manual for him to learn the instrument. It was also my first time singing for a band. I guess in that way it was a natural progression.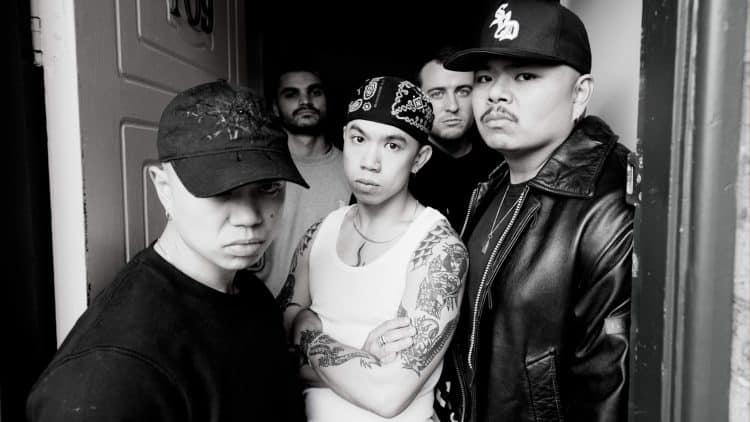 What role do the ancestors play in the way you see the world, and how do they impact the way you create?
You gotta pay respect to the classics and those that paved the path before you.
If three of your songs from the catalog were placed in a time capsule to be opened 60 years from now, what songs would you put in there, and why?
From the demo it'd be Shut It Down, I think this song best represents our style and part of our mission from the get-go. Not That Nice off the EP because of the cultural themes it explores more deeply. Probably have to throw We See U in too cus releasing that song pretty much changed our lives. 
What two historic events or subcultures have impacted your sound?
Trapped Under Ice is arguably one of the most impactful modern hardcore bands sonically and culturally within our world. Their influence on heavy, metallic hardcore changed the game forever — they were our favourite band as kids until today. 
The rise of Parkway Drive and subsequent explosion of Australian hardcore in the mid-2000s — without this band (and the generation of Aus hardcore bands that followed), close to none of the current players in our country would be here. 
What four albums have had a major impact on your creative spirit?
Hatebreed – Perseverance
Madball – Set it Off
Trapped Under Ice – Stay Cold
Parkway Drive – Killing With A Smile
Top five MCs, dead or alive?
Josh: Eminem, Machine Gun Kelly, Riff Raff, Mac Miller, Macklemore.
Describe SPEED's sound as a weapon of mass change or a superpower—what impact do you want to see it have on culture or our society?
SPEED is just hardcore music made by hardcore kids. For us by us.
What does a day filled with SPEED joy look and sound like?
Dennis: Pizza and hangs.
Who in SPEED is the biggest sneakerhead and what are your favorite sneakers ever made?
None of us are big "sneakerheads," but Dennis loves Jordan 1s, Jordan 6s, and Jordan 3s. 
SPEED's merch game is fire — who handles the design duties? Do y'all ever look to streetwear for inspiration?
Thanks! All our merch is done by us via Aaron's brand, Del Saato. We'll get friends or up-and-coming artists that we see talent in to help with illustrations and then do everything else ourselves, from layout to colouring and mock-ups. 
Talk to us about the siblinghood that exists amongst the SPEED crew.
Jem and Aaron are brothers by blood, the rest are brothers by nature .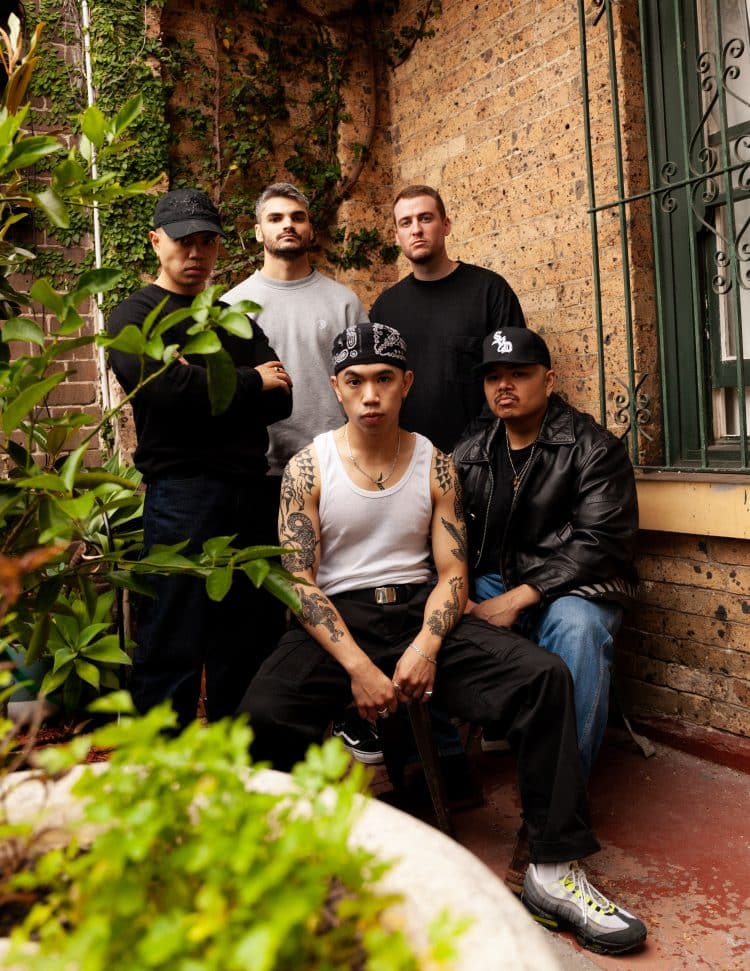 What can the Sound and Fury crowd expect from your upcoming show? When will we get a full west coast tour?
Just straight-up Sydney shit. Hope to hit more dates in the near future!
What are some of the biggest lyrical themes you like to deal with? 
Self-confidence and living with compassion.
Break down the creative process for "Know Your Foe."
This song was the last song off the EP to be written and was intentionally made as the closing track. I wanted something more through-composed with less structure, a mosh part at the beginning, middle, and end. 
I know we're living in crazy times, so what do you do to keep your Mental Health on point?
Talk openly to my friends and family every day. Practice more kindness to myself and others.