By members of the Parisian musical collective Non Serviam, January 2022
As in Russia, some time after the victory of the workers and peasants masses, the leaders of the Communist Party declared that it was necessary to take a step backward and restore the value of the currency. This first step was followed by many others, and the Russian people only changed their master: After the tsar father of all the Russias, the little father of the people: Stalin. Barcelona only increased my bitterness: the ramblas were full of people […] The militiamen on leave […] filled the streets with their songs and laughter without seeing that the cause was betrayed, the revolution dead. All that remained was the war against fascism, the war between two forms of slavery.

Antoine Gimenez, Les fils de la nuit. Souvenirs de la guerre d'Espagne, 1974–1976.
This essay will draw from our experience as a band to provide an analysis that goes far beyond Non Serviam and us as individuals. We are often described as experimental Black Metal and anti-fascist; that doesn't bother us because we are opposed to any form of fascism, and Black Metal is very clearly a significant influence on our experiments.
Associating our music with Black Metal, when you are open to the intersection of all kinds of genres and styles, is to propose a reference point; to designate a horizon of reference for the listener. Our association with Black Metal is subjective, depending on where the listener places their stylistic purity requirements. And if one doesn't comprehend the meaning of "experimental," they may even refuse us this affiliation. People can laugh about it, discuss it, and get angry about where music falls on the genre spectrum. The genre debate can be seriously fascinating or terribly disappointing. In either case, what it can't be is too serious. It is at best an aesthetic question, and at worst a nominalistic one. At least, it's serious only in the relatively separate space of aesthetics.
On the other hand, the same cannot be said of our association with "anti-fascist."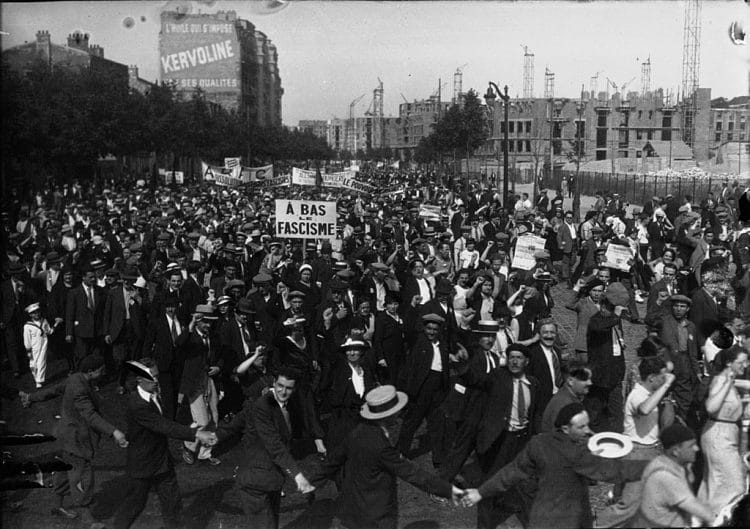 In a way, anti-fascism is much less present in our musical practice than Black Metal. We don't make "anti-fascist music" as such; our lyrics are not "anti-fascist," neither are the melodies, harmonies, and rhythms in themselves. And yet, for several reasons, this characterization is particularly important to us, and it seems necessary for us to make it explicit.
First, Non Serviam is an anti-fascist band because the individuals who make up the band are anti-fascist. Anti-fascism is almost too precise for us; we fight against capitalism and all forms of domination and exploitation it engenders and relies on. We fight against authority in all forms, against those who exercise it, and against those who dream of it. Therefore, it's clear that we're against fascism.
However, as we make music while being (among other things) anti-fascists, others in the Black Metal scene make music…while being fascists. Others still believe that music can be neutral ground in the political fight. These people consider themselves apolitical while shaking hands with neo-Nazis who are far from apolitical—no matter how they try to manipulate the ambiguities. And this is where our anti-fascist stance becomes serious and grave.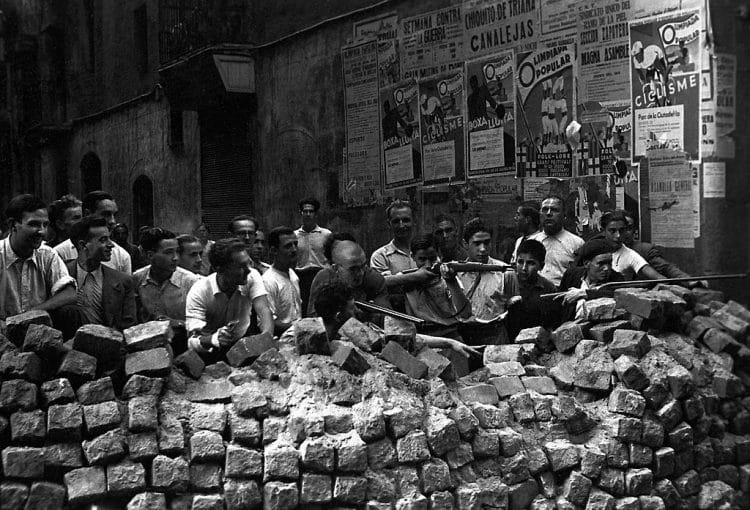 We don't believe music itself is ideology, or that ideology itself makes music good or bad (although today's NSBM is not very convincing musically). Despite this, we believe it is urgently necessary to fight Nazis on all fronts, including when they make music that bolsters and promotes their fascist and white supremacist ideologies. Regardless of the quality of the music they make, they are Nazis to fight. It is not because they make their music, or because we make "our music" that we must attack them — it is because they are Nazis.

If we feel the need to rephrase these obvious points, it's because the Black Metal scene is muddled with confusion and manipulations. In Black Metal, fascists deliberately confuse ideas and practices that should remain radically clear in order to obscure their ideology. The guise of "apoliticism" is used by fans, dilettantes, or unscrupulous bands and labels to allow them to support, appreciate, and promote Nazi music. Making, promoting, and consuming music while anti-fascist means it's necessary to refuse all blindness to and complacency with fascist music.
On the other hand, we refuse the vain attempt to rewrite what musical genres are and what their history is. If nothing is to be erased, then it is to be confronted, and its residue is to be fought. This is why we will not contribute in any way to "cleansing" Black Metal of its violence and its deviance. We are not claiming to cancel the ideological wanderings of the misguided young Norwegian church burners, or are we trying to promote the possibility of a "non-violent" or "safe" Black Metal. For better or for worse, this genre is not "safe," and it is the violence of its rage against existence that we instead turn against those who create it with fascist goals. As such, thinking that anti-fascist Black Metal should strive for non-violence is an aberration on two levels: if the music was non-violent, it would no longer be Black Metal; and above all, it would be incapable of fighting fascism.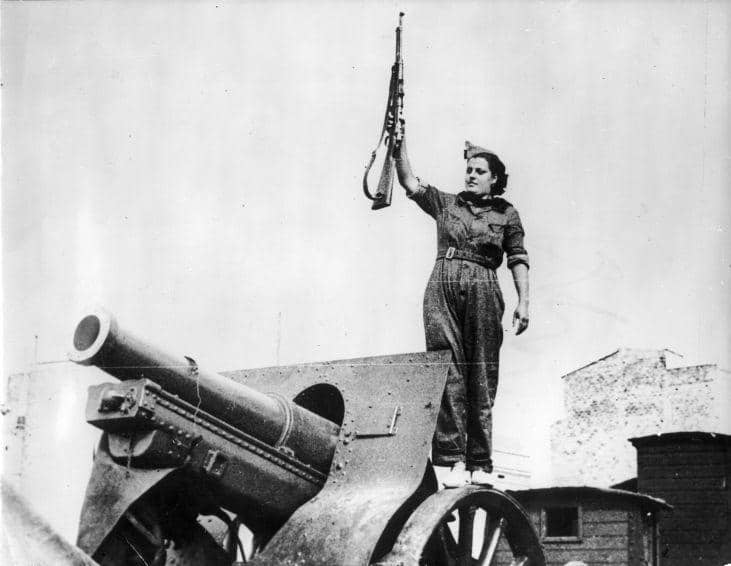 Faced with fascism, social media condemnations and "canceling" are only tools for a liberal good conscience. We must fight it within the world that produces it, and needs it. Non-violence and democratism — even more so in relation to fascism — are bourgeois, capitalist pathologies which, through their complacent inaction, have already proven to have absolutely tragic results in the 20th century.
As with fascism, capitalism and the state are not just cultures and ideas, and they will not be destroyed by cultural means (let's leave the issues of cultural hegemony to the Gramscists of the Nouvelle Droite and their neo-Nazi and neo-fascist allies), but as the anarchist Joseph Déjacque stated in The Revolutionary Question (1854):
By the arm and the heart, By speech and by the pen, By dagger and rifle, By irony and imprecation, By pillage and adultery, By poisoning and fire, Let us make, – on the highway of principles or in the corner of individual rights, – by insurrection or by assassination, – war to society! … war to civilization!…
The old world has to burn!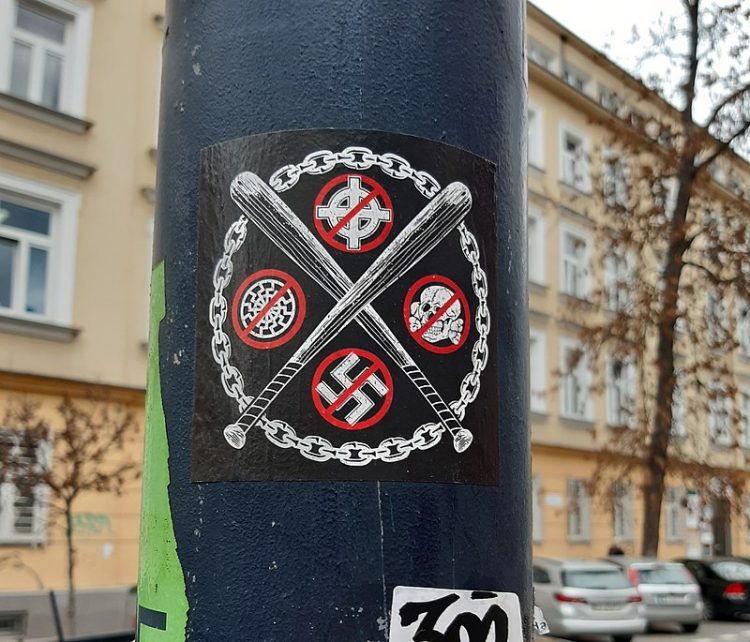 ---
En français:
Dans l'éclipse nocturne des faux-semblants
A propos de Black Metal, d'antifascisme et de « non-violence »
« Comme en Russie, quelques temps après la victoire des masses ouvrières et paysannes, les chefs du Parti Communiste déclarèrent qu'il fallait faire un pas en arrière et rétablir la valeur de la monnaie. Ce premier pas avait été suivi de beaucoup d'autres, et le peuple russe n'avait fait que changer de maitre : Après le tsar père de toutes les Russies, le petit père du peuple : Staline. Barcelone ne fit qu'augmenter mon amertume : les ramblas regorgeaient de monde […] Les miliciens en permission […] remplissaient les rues de leurs chants et de leurs rires sans voir que la cause était trahie, la révolution morte. Il ne restait plus que la guerre contre le fascisme, la guerre entre deux formes d'esclavage. »
Antoine Gimenez, Les fils de la nuit. Souvenirs de la guerre d'Espagne, 1974–1976.
Dans ce texte nous partirons de notre expérience en tant que groupe pour fournir une analyse qui dépasse largement notre groupe et les individualités qui le composent. Nous sommes souvent décrits comme un groupe de Black Metal expérimental et comme un groupe antifasciste, cela ne nous dérange pas car nous sommes opposés à toute forme de fascisme et que le BM fait très clairement partie des influences majeures de nos expérimentations. S'affilier à un genre comme le Black Metal, quand on est ouvert aux croisements de toutes sortes de genres et de styles, c'est proposer un repère, désigner rapidement un horizon de référence. Chacun peut juger de la pertinence de ce choix, et éventuellement, selon l'endroit où il place ses exigences de puretés stylistiques, le discuter, voire, aveugle à ce que peut vouloir dire « expérimental », nous refuser cette affiliation. On peut en sourire, en discuter aussi, s'énerver de certains sectarismes qu'on juge mal placés, tout ça peut-être sérieusement passionnant ou terriblement décevant, en tous les cas ça ne peut pas être très grave. C'est une question au mieux esthétique, au pire nominaliste. Du moins ça n'est sérieux et grave que dans l'espace relativement séparé de l'esthétique. En revanche il n'en va pas de même pour l'appellation « antifasciste ».
D'une certaine manière l'antifascisme est beaucoup moins présent dans notre pratique musicale que le Black Metal. Nous ne faisons pas de la « musique antifasciste » à proprement parler, nos paroles ne sont pas « antifascistes », les mélodies, harmonies et rythmiques en elles-mêmes non plus, et, à part un peu de folklore dans les lyrics, nous sommes même à peu près certains que des paroles, des notes et du rythme ne peuvent pas être « antifascistes », ni même le devenir. Et pourtant, pour plusieurs raisons, ce choix de définition nous importe particulièrement, et il nous semble nécessaire de l'expliciter. D'abord parce que ce qui fait de Non Serviam un groupe antifasciste, c'est que nous sommes sérieusement et depuis longtemps, avant que le groupe existe, contre le fascisme. Cette définition est d'ailleurs presque trop précise pour nous : nous luttons contre le capitalisme et toutes les formes de domination et d'exploitation qu'il engendre et sur lesquels il s'appuie, nous luttons contre l'autorité sous toutes ses formes, contre ceux qui l'exercent et contre ceux qui en rêvent, donc, et c'est alors une évidence, contre le fascisme. Alors si c'est ainsi que nous éprouvons le besoin de nous définir, c'est parce que ce qui est une évidence minimale pour nous ne l'est pas pour l'ensemble de la scène Black Metal, loin de là. Comme nous faisons de la musique en étant (entre autres) antifascistes, d'autres font de la musique… en étant fascistes. D'autres encore considèrent que la musique fait trêve dans le combat politique, et qu'on peut se considérer comme apolitique tout en serrant la main de néo nazis qui eux n'ont rien d'apolitique, quoi qu'ils en disent parfois pour jouer de ces ambiguïtés. Et là, ça devient sérieux et grave.
Nous ne sommes pas de ceux qui considèrent que la musique elle-même est idéologie, ou que l'idéologie rend la musique bonne ou mauvaise (quoique ce qui sort aujourd'hui du côté du NSBM n'a rien de très convaincant au niveau musical), mais nous pensons qu'il est nécessaire et urgent de combattre les nazis en toutes occasions, et aussi quand ils font de la musique, et même en envisageant la possibilité de reconnaître parfois à la musique qu'ils font des qualités… musicales. Quelle importance après tout ? Nous ne respectons aucun « auteur » et ils n'en restent pas moins des nazis à combattre. Ce n'est pas parce qu'ils font de la musique, ou bien de « notre musique » qu'il faut les attaquer, c'est parce que ce sont des nazis. D'ailleurs, les nazis qui ne font pas de musique ne sont pas moins dangereux à notre connaissance…
Si nous éprouvons le besoin de reformuler ici ces quelques évidences, c'est aussi parce que la scène Black Metal est embrouillée de certaines confusions (et ça fait partie des méfaits des fachos de s'entourer d'une brume faite pour rendre confuses des idées et pratiques qui devraient rester radicalement claires). Ainsi le prétexte « apolitique », qui sert tout particulièrement à dédouaner des fans, amateurs dilettantes ou même des groupes ou des labels peu scrupuleux et à leur permettre de soutenir, d'apprécier et de produire des nazis qui font de la musique, impose d'être clairs sur la question. Faire de la musique en étant antifasciste, c'est évidemment refuser tout aveuglement et toute complaisance envers ceux qui font de la musique en étant fascistes.
Par contre ce n'est pas contre la musique que nous combattons (ou alors sur d'autres plans, contre son industrie, contre sa réification, son intellectualisme parfois stérile etc..). Nous refusons les vaines tentatives de réécrire ce que sont les genres musicaux et ce qu'a pu être leur histoire. Si rien n'est à effacer, certains héritages sont à affronter, et leurs résidus à combattre. C'est pourquoi on ne contribuera en aucune manière au projet stupide de laver le Black Metal de sa violence et de sa déviance originelle, que ce soit en prétendant annuler les errements idéologiques de ces jeunes égarés norvégiens brûleurs d'églises, ou en cherchant à construire l'illusion d'optique de la possibilité d'un « Black Metal non-violent » ou « safe ». Pour le meilleur et pour le pire, le BM n'est pas « safe », et c'est la violence de sa rage contre l'existant que nous pouvons retourner contre ceux qui, héritiers aussi à leur manière d'un courant aux aspirations contradictoires, l'incarnent en projectualité fasciste. De même, considérer que le BM antisfasciste devrait être non violent est une aberration, sur deux plans d'ailleurs : s'il était non violent le BM ne serait plus du BM, et par dessus tout il serait incapable de combattre le fascisme.
Face au fascisme, les dénonciations virtuelles et le « cancelling » sont seulement des outils de la bonne conscience libérale. Il faut le combattre en même temps que le monde qui le produit et qui en a besoin. La non-violence et le démocratisme, plus encore par rapport à la question du fascisme, sont des pathologies bourgeoises et capitalistes qui par leur complaisante inaction ont déjà donné des résultats absolument tragiques au cours du 20e siècle.
Aussi vrai que le fascisme, le capitalisme et l'Etat ne sont pas seulement des cultures et des idées, il ne seront pas détruits par des moyens culturels (laissons les problématiques d'hégémonie culturelle aux gramscistes de la Nouvelle Droite et à leurs alliés néo-nazis et néo-fascistes), mais comme l'affirmait l'anarchiste Joseph Déjacque dans La Question Révolutionnaire (1854) : « Et par le bras et le cœur, Par la parole et la plume, Par le poignard et le fusil, Par l'ironie et l'imprécation, Par le pillage et l'adultère, (B) [les notes B, C, D et E de Déjacque se trouvent à la fin du texte] Par l'empoisonnement et l'incendie, (C) Faisons, – sur le grand chemin des principes ou dans l'encoignure du droit individuel, – par l'insurrection ou par l'assassinat, – la guerre à la société !… la guerre à la civilisation!… »
The old world has to burn !
Janvier 2022,
Des membres du collectif musical parisien Non Serviam.