Hear the brilliant new single from DEATH BELLS "Around The Bend"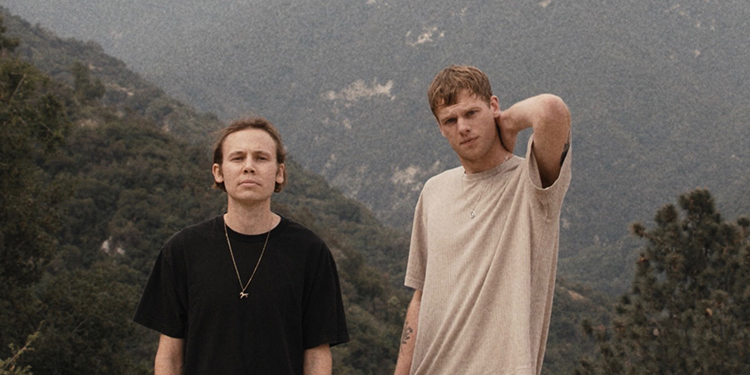 It's hard to believe it's only been two years since DEATH BELLS released their first full-length via Funeral Party Records. When I first heard that record, I knew I had found one of my favorite bands – this addictively uplifting, melancholy, catchy music that suddenly entered my life and that I couldn't get enough of. I still spin their record Standing at the Edge of the World on a weekly basis, but I've been waiting anxiously for them to give me something new to obsess over. After leaving their hometown of Sydney, Australia for the hot streets of L.A., and touring North America pretty . much non-stop for a while there, Death Bells have a new single available and we get to share it with you today in the form of this brilliant video for "Around the Bend." They've paired down their members and their sound, but you can hear the same bleeding, broken hearts beating in this track. Long-time members Will Canning and Remy Veselis have crafted this new incarnation of the band, and are about to head up the coast this week, so check the dates below. Right here and now, check out our stream of "Around the Bend," and you can pick up this single wherever you stream your tunes right here.
Directed by Marfisia Bel
DEATH BELLS 2019 Tour Dates:
June 15 – Cellar Door, Visalia CA
June 16 – Bunkhouse, Las Vegas NV
June 17 – Urban Lounge, Salt Lake City UT
June 19 – Ole Beck VFW, Missoula MT
June 21 – Sled Island, Calgary AB
June 23 – High Dive, Seattle WA*
June 24 – Black Water, Portland OR*
June 25 – The Astoria, Vancouver BC*
June 28 – Thee Parkside, San Francisco CA*
June 29 – Chewing Foil, Los Angeles CA*
* With Collapsing Scenery
Enjoy this post? Donate to CVLT Nation to help keep us going!