Australian dark death metal conjurors Golgothan Remains are back with Adorned in Ruin, their most accomplished and definitive work to date, and today we're proud to unveil the work in full via the player below. The massive blackened death metal cataclysm drops tomorrow Friday, April 1st for Bandcamp Friday on LP/CD/MC/digital formats worldwide via Sentient Ruin (order HERE) and via Brilliant Emperor Records for Australia/NZ (order HERE). Behold:
Adorned in Ruin presents us Golgothan Remains with all its staple and recognizable traits we'd loved so much from their debut LP "Perverse Offerings to the Void" and then some. The imposing album comes enshrouded in a massive maelstrom of dissonance and atmospheres discharged through a truly masterful guitar performance by axeman Matt Hillman, all while the monstrous and tectonically shifting rhythm section of skinsman Aled Powell and bassist Adam along with the bellowing and shapeshifting vocals of Matthieu Van den Brande complete the crushing design adding loads of destruction to the album's unimaginable yield.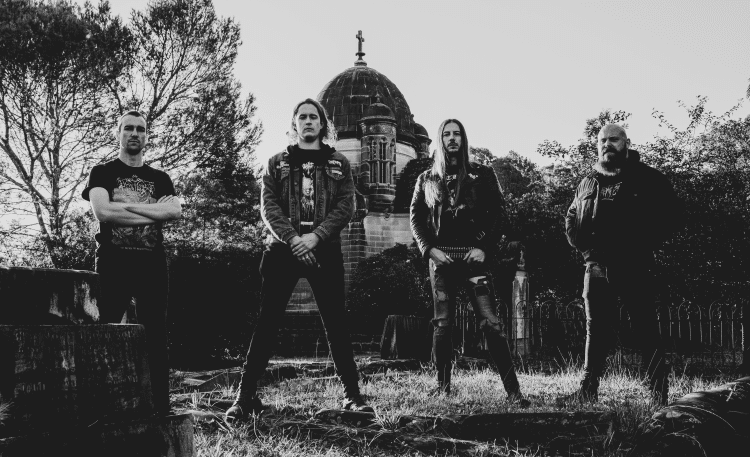 Echoes of old and modern reverberate throughout, materializing an ambiguous yet devouring hellscape lost between worlds and times of extreme metal. The darkness and ominous atmospheres of bands like Immolation and Dead Congregation form the backbone while shards of dissonance and of twisting abstract terror seemingly derived from the likes of perhaps Deathspell Omega, Portal, and Ulcerate punctuate the album's war-torn sonic canvas with hallucinatory digressions. Then comes the old, with a marked and clear emphasis on the heaviness of riffs and of the inescapability of pure concentrated death metal violence that can be traced back to bands like Morbid Angel, Incantation, and Decide.
All in all "Adorned in Ruin" is a modern and transformative work of dark and otherworldly death metal that has bridged worlds and brought to fans an encompassing sonic onslaught. An album that will sound fresh, modern, yet already unforgettable due to its deep connections to the historic glory of the genre juxtaposed to a modern and experimental approach that projects the band undoubtedly forward and at the forefront of the genre's most exciting realms of development and transformation.
Enjoy "Adorned in Ruin" vinyl, CD, tapes, shirts, and digital downloads/streams starting tomorrow Friday, April 1st, for Bandcamp Friday worldwide HERE and HERE. DEATH!