Glyphs of Death! New Mark Riddick Book "Logos From Hell"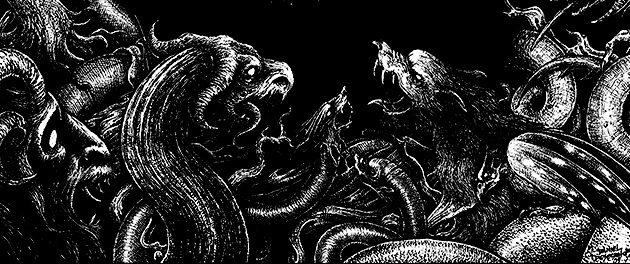 When it comes to illustration, it doesn't get much more fucking metal than Mark Riddick. His Compendium of Death book is one of my favorites to sit down with and flip through (often with my 4-year-old, who loves it…some may judge me…), marveling at the grotesque and diseased visions that he puts to paper.. I do it while wearing one of the awesome tees he's drawn for us. Mark is living proof of one of my assertions about many people who love the darkness – that by embracing the "evil" side of humanity and human fantasy, you are better able to also embrace your "good" side and be a genuine and down-to-earth nice fucking person, which Mark definitely is. There are exceptions to the rule, but I'm not trying to start a debate…anyway, he has the second edition of his book of Logos From Hell out now on Doomentia, a 600-page chronicle of band logos drawn by more than thirty highly respected artists, including Chris Moyen, Toshihiro Egawa, Daniel Corcuera, Putrid and Kris Verwimp. A logo is the most fundamental visual statement a band makes, and Mark has been hugely influential in extreme music through his ability to conceive of and produce thousands of sickening logos for bands around the world, so it makes sense that he has compiled a collection of some of the best logos extreme music has to offer. Check out photos of this devastating book below (taken on a carpet in trve kvlt style!), and support someone who has always been there for the underground! You can order it directly from Mark here if you're in the US, and in the EU order it here or here.
Enjoy this post? Donate to CVLT Nation to help keep us going!