Djunah's Ex Voto album comes out on Nov. 1st Triple Eye Industries and it's emotionally charged noise rock that you need to hear! If you don't believe me, we have the full package below to prove you wrong. We are streaming Ex Voto in full, plus Donna Diane has broken down the meaning of each track. You also have the chance to peep their new visual for the song "Animal Kingdom." Now it's time for you to enter the powerful universe of Djunah…make sure to order Ex Voto HERE.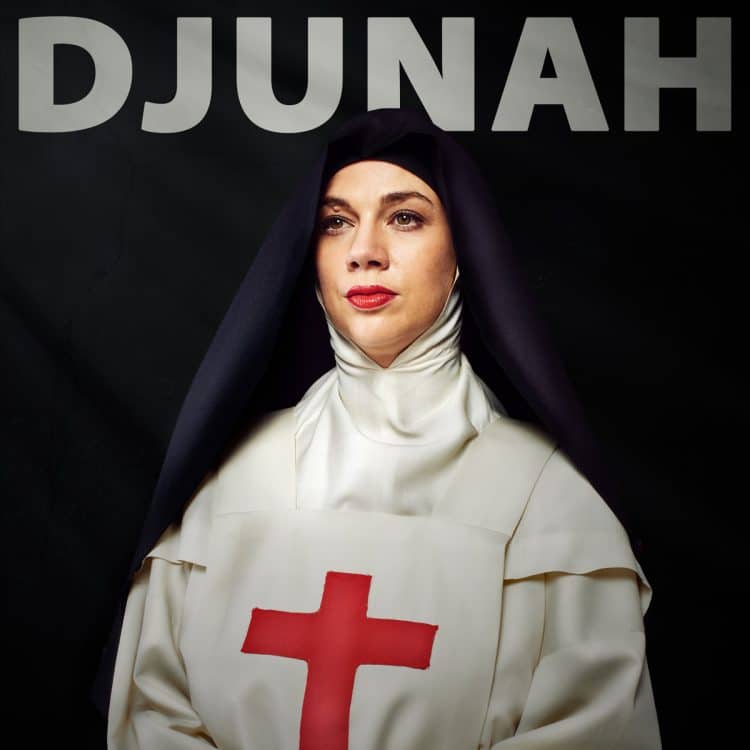 Ex Voto – Track by Track commentary:
Animal Kingdom
I love starting the record off with a character with a really strong perspective. It's based on Myrna Loy's character in the 1932 film "The Animal Kingdom." I like that she's hungry and unsettling and a little melodramatic. This song sets off a lot of the themes of sex, power, and aggression that recur on the album. I love that Kurt Ballou, who recorded the album, kept everything pretty raw sounding. It really captures the spirit of what we do live.
Yarn
This song is very emotional for me. It reminds me of times when I was younger and I'd be so upset, I'd obsessively listen to a ripper on repeat 20 times straight. Sometimes my brain gets stuck on things and it's hard to pull myself out of it, like I'm just unspooling the same mental yarn over and over again.
Laud
I love all the pedal noise on this track. One of my favorite parts about recording with Kurt was watching the way he works with pedals. You can actually hear him manipulating the feedback and noise while I'm playing, which is the kind of thing that I think puts his stamp on the record. Those kind of instincts are what make him one of my favorite guitar players and producers.
Nurse and Nun
This is my personal favorite on the album. I love songs that refuse to break into a chorus; they just circle around the same verse over and over again. I also love the idea of writing something that sounds epic but at its core is actually just two simple parts. The rant at the end was the last bit of vocals I recorded in the studio. You can literally hear my voice dying; I gave everything I had during that session.
July's People
This was inspired by Nadine Gordimer's 1980 novel of the same name. It's set in a fictional postrevolutionary South Africa where power has transferred to black South Africans and the "well-meaning" white liberal characters have to confront their own latent racist attitudes. I was reminded of this novel a lot in the summer of 2016 with the insane backlash against Black Lives Matter.
Cradle
This is just a short, dark nursery rhyme that reminds me a little of Brainiac's "Fucking with the Altimeter." It's about creative paralysis—wasting away in bed while your creative self is metaphorically starving. I wrote it one morning and then turned on the news to learn Anthony Bourdain had died. The themes of food and death in the song still resonate in an eerie way for me because of that.
Bless Your Money
Side B of this record is especially politically charged. I hope the backlash against billionaires never ends. Their role in fueling the rise of the ultraright is undeniable. Jane Mayer's "Dark Money" was one of the most frightening books I've ever read. This song sums up the utter powerlessness I feel. So many of these people will be dead soon, and yet we'll still be stuck with the consequences with their gassed-up guns/religion/nationalism exploitation machine.
Brother
We initially recorded a version of this right after the Kavanaugh Supreme Court hearings that included the voices of Anita Hill, Christine Blasey Ford, and several protestors. We wanted to honor all of the women who coming forward with their personal stories of sexual assault. We rerecorded the track again with Kurt without the voices, but I think the entwining of the personal and political experience of women in this song remains clear.
Built
This song was initially supposed to be a funny song about a guy with a big dick who just can't stop hinting at it. But right after I started writing it, Trump ruined it for me with his whole "I guarantee you there's no problem" thing. So it eventually morphed into an excoriation of the anti-immigrant set and his border wall "size queens."
Hand Videos
I get weirded out by selfie videos, but I love hand selfies. I don't know if there's an actual term for it, so I just call them "hand videos." It's basically when people film their hands making or playing something. I used it as a conceit for a love song about two people who communicate about their feelings for each other only through these videos of their hands. Totally weird! But I love the idea of technology allowing us to communicate more than we can in person but at the same time creating all of these misunderstandings that make relationships way messier.
Kiddo
This one was very tough for me to sing in the studio. It's so much more vulnerable than all of the other songs on the album. I think I was being too timid with it. Kurt could see I was struggling, so at one point, he said something like, "I think the problem is the difference between you singing it like a girl and you singing it like a woman." Then it clicked for me. I was kind of stunned that he was able to see that and I couldn't. He's a really good producer in that way. I don't know if many people know about that side of him.
Mirrors for Narcissists
A lot of people remember this song when we perform it live because of the question, "When do you destroy the government?" To me, it's as much about destroying the literal government as it is about destroying the parts of yourself that keep you in line or compliant. Women especially are raised to venerate male narcissism. I think they learn it early on as a way to avoid being beaten, raped, and otherwise degraded. It's a powerful moment in life when you stop being afraid of that threat and stop being a mirror for the people in charge. That's what #MeToo was about to me, destroying a form of unconscious social government.
Upcoming Djunah Tour Dates
11/01 – Madison, WI – Wisco
11/02 – Milwaukee, WI – X-Ray Arcade
11/04 – Chicago, IL – Empty Bottle