Fucked In the Head Sludge! Karcavul Review + Full Stream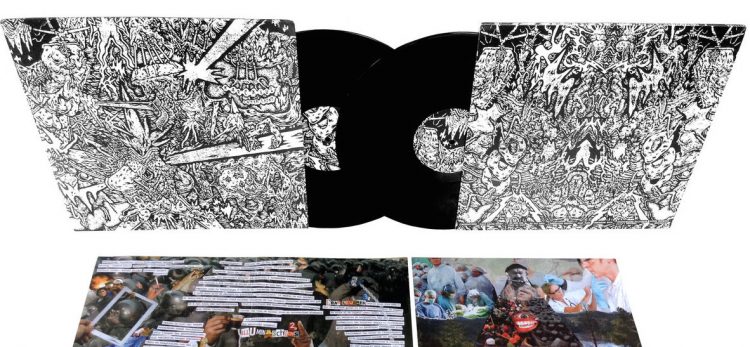 Generally speaking, most things suck. Your job, your band, your car, your bills…you get the idea. Luckily for all of us, our shitty existence has brief, but wonderful events scattered throughout it. With that being said, it is my pleasure to bring to you a band that is guaranteed to, at the very least, make your life bearable for one more day. Punishing all in their path, Karcavul have birthed their second offering of eardrum destruction amply titled Intersaone. While their offering of unholy carnage is only three tracks deep, Karcavul manage to unleash the same amount of sonic destruction as a benchgrinder and Marshall full-stack making sweet, sweet love. There is no time for genre elitism in these songs, as they both embody musicianship just as much as they do brutality. To combine the most provocative elements of Doom, Death, and Black metal is no small feat, and Karcavul rise to the occasion effortlessly.
For those who have experienced the fascist slaughtering sounds of Wolvhammer, Coffinworm, and Undergang, Karcavul is the missing link to total eardrum extinction! There is no time for bullshit on this release, there is only time to embrace the abyss of sound that forces its way into the depths of your inner being. Light up a joint, crack open a beer, or having a fucking soda for all I care – just give these songs the consideration and time they deserve. For all the garbage bands and people in this world, its rare to just be able to enjoy a sincere bunch of songs. Conversely, Karcavul does just that: they offer their best and most sincere efforts to listeners, and they don't disappoint. Let the pain, suffering, and sincerity of Intersaone consume you. Become one with the chaos and embrace the unique genre blending of Karcavul until your eyes bleed and your brain swells.
Labels:
_
Sentient Ruin (US)
sentientruin.com
_
Crustatombe
crustatombe.free.fr
_
Deaf Death Husky
deafdeathhusky.wordpress.com
_
Et mon cul c'est du tofu
moncul.org
_
No Way Asso
nowayasso.blogspot.fr
_
Repulsive Medias
repulsivemedias.blogspot.fr
_
Saka Čost
www.facebook.com/saka.cost
_
Underground Pollution Records
undergroundpollution.e-monsite.com
_
Witch Bukkake Records
witchbukkakerecords.blogspot.fr
Enjoy this post? Donate to CVLT Nation to help keep us going!