Future of Despair: Hell City
No Cap, Future of Despair is un-fucking-REAL!!! WTF—why is this not a full length? These four tracks featured on Hell City remind me of picking up my first Venom record in the '80s while still being in full-on Discharge mode. Every second of this release gives me fucking chills and makes me want to turn up the volume to 10!!! Here is a challenge—press play on "Nothing Ever Changes" and tell time the hairs on the back of your neck don't stand up straight! I can't front that Future of Despair is fast as fuck, but they also have killer riffs that are catchy as HELL. Gimme Gimme Gimme some more Rage from this band because they kick fucking ASS. The last song on the tape, "Displaced," is a sewer pit anthem and screams I don't give a shit! Get with the program and tell all of your homies that you found a new favorite band called Future of Despair. Make sure to check out all of the releases from 1753—Boyle Heights in the house! Webstore HERE!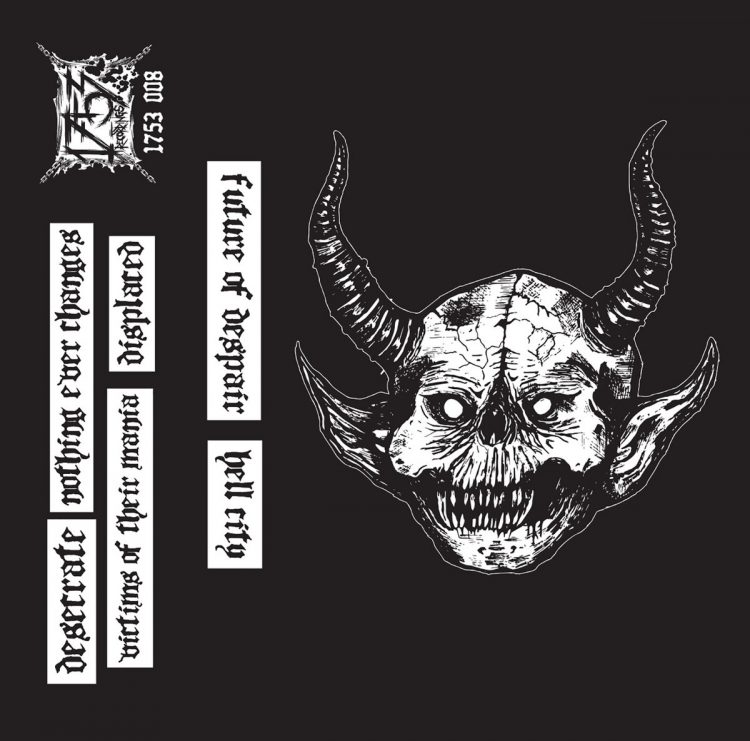 IDIOT BEAST: BONE AXE BLODDE
Unholy fuck—IDIOT BEAST is bonkers and gnarly all at the same time! Imagine if EYEHATEGOD decided to make out with CAVEMAN CULT, the end result might be this band. I love the negative space in their sound and the way they've deconstructed Sludge in their own filthy likeness. IDIOT BEAST is one of those bands that remind me why we do CVLT Nation so that we can turn y'all on to awesome shit you might not hear otherwise! God damn, I can't get enough of this sonic stench. There's no need to fight the feeling—immerse yourself in the ooze that's coming out of your speakers!!! BONE AXE BLODDE is a project that needs to be blasted by all you humans that love sick in the motherfucking head music!