The bastard inception of extreme music and its filiation with grindcore are rooted on the career's family tree of Shane Embury. Now, the Napalm Death bassist finds solace for the death of his father conceiving a new project. It's Dark Sky Burial, an less aggressive outlet than Brujeria, Lock Up and Venomous Concept, but as intense as these groups. The new brainchild from the english lord of the lows have more experimental approach, with ambiences and electronics elements tripping from meditative to perturbator.
According to Shane, to get lost on loops of melodies and beats that now are born as the album De Omnibus Dubitandum Est was therapeutic. It was a need to express the discomfort that the passage of his progenitor left, added to a musical anxiety that for years has been gestated in an eclectic way. We reach out to the man — who was either the Unseen Terror drummer — to understand the genesis of DSB, which you can here bellow:
Some may think it's strange a guy like you known for extreme bands (Napalm Death, Brujeria, Venomous Concept…) dedicate time to an experimental/ambient electronic project. But seems natural to the ones who have follow your career. I remember saw you wearing t-shirts from bands that's not necessarily metal/hardcore, like Cardiacs, Cocteau Twins and Jane's Addiction. That in a time you could be considered not 'true' for a guy who handles the bass in an aggressive band. Do you remember how and why your taste for some more experimental stuff started? And how was the repercussion between your friends from bands who who are more narrow minded?
Shane Embury — Fans of Napalm Death probably don't realise that as way back as From Enslavement to Obliteration all 4 of us liked all kinds of music. My tastes in music have not changed they have just grown to incorporate other genres. For me it's always great to listen to different kinds of music. I am a restless musician and as I get older the worse or better (Ha!) I have become. I love loops and sounds and electronic music and have done this for 30 plus years. Dark Sky Burial I have dreamed of creating forever!
There's never been too much repercussion with other people I work with, but Nick (Barker) and Anton (Reisenegger) from Lock Up look bewildered at me sometimes as I like some out there stuff. I mean they like all sorts of rock/ metal but I go that one step further I guess (ha!).
Why put out a project like Dark Sky Burial just now? Did you feel some kind of need to do that at these times we're living?
Shane Embury — I have been working on DSB for 5 years — well the ideas and concept, I suppose — without trying to sound too pompous. It's like an extension of my daily thought process but with music. The ideas for the music have been around in one form or another for around 3 years as I put a lot of it together on the road. The tracks being initially loop based it's easy to get lost and create a track daily on tour. I have probably another 3 or 4 albums roughly recorded. But yes this time frame seemed ideal for the soundscapes of DSB.
Tronos, one of the many bands you are involved with, already shown some dark/trippy elements we can hear on DSB. Is it right to say the second (DSB) is a kind evolution/progression compared to the first one (Tronos)?
Shane Embury — I have thought over the years late at night mostly that DSB is like a distant cousin to Tronos in some ways. A lot of my melody's or signatures, if you can call them that though, appear throughout songs I have written. Possibly on the next Tronos we might witness more electronics mixed in with the heavy parts. I have been on a rollercoaster of creativity lately which I am fortunate for.
You have create the songs for DSB on tour and recorded De Omnibus Dubitandum Est on your home studio. How's it work your conceiving process for these songs on the road and why to choose capturing them on your house?
Shane Embury — I have a million sounds with in my laptop but really want to get into contact recording on my travels also. All of that get to start the ball rolling but time can be limited to what I can actually mix together on tour. So at home with hindsight and less distraction new ideas appear and with studio speakers I can grasp a better idea of the separation and panning and stuff like that. And also play it fucking loud! This is a learning process for me still and I have a long way to go as each album develops.
I host a program where i talk to some musicians about parenting and music. It's called O Ben para todo mal (kind of The good for all evil in a free translation and an homage to my son Benjamin). I know you have two kids and hope to speak with you personally someday for this project. For now, i'd like to know: how was work on music, mainly the recording sessions for DSB, at home with the children in there? Do you use to listen music that you like with your babies?
Shane Embury — I have a separate studio for my music which is the old house the Napalm guys used live in. Now me and my drummer own it but at times my children join me. My son Hiro can be very inspirational to me and they love sounds for sure.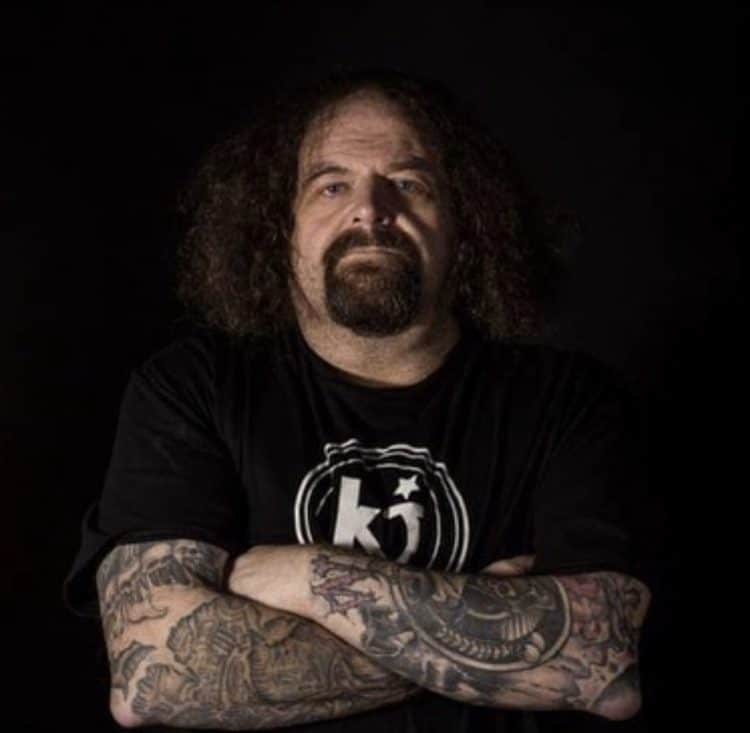 You did work with your friend and longtime partner Russ Russell, who produced many Napalm albuns. How was his role on De Omnibus Dubitandum Est?
Shane Embury — Russ mastered the album for me and boosted some frequencies and added some nice ambient links to let the album drift together more smoothly from track to track, which was great. If I could win the lottery me and him would buy some old castle in he mountains, we joke and just make some crazy music. (ha!)
Was there any criteria do you use to set up the music order on first DSB album? I mean, "Commands from Beyond" is calm as lullaby but is proceeded by the abruptous and almost nightmarish stomps from the title track. The rest of the record for the listener is like internal journey of the inner self in a roller coaster of emotions.
Shane Embury — I would be lying if I said that the past few years have been simple. I mean life is not a simple journey for anyone of course. My father passed away and this had an effect on me and my perception of time left on this earth. But I tend to just see what comes out on the day and these tracks just manifest themselves over time which is the beauty of reflection I think. There's no criteria other than making a piece of music that helps me think and view my life as its stands at that particular moment… It's very helpful.
Do you think of playing live with DSB?
Shane Embury — No plans for DSB to perform live. I do feel though that DSB could move forward into different directions that might attribute to life performance but not just yet.
Another ex-members of Napalm like Justin Broadrick (Godflesh, Jesu, JK Flesh), Mick Harris (Scorn) and even Mitch Harris (with Menace) already took the experimental dark road. Do you exchange ideas/experiences with some of them?
Shane Embury — I don't exchange ideas with them but love their approaches! DSB for me really has been therapeutic. I won't get into it totally but possibly since my dad passed away the need to express myself in this medium has grown in me more every day. It's meditative to me making the loops, i get lost in the sounds and the titles usually spontaneously created on the spot. It sounds corny but at times I feel possessed.
Talking about Mitch.. He is ok? He was part of the recordings of the Napalm upcoming album? And he will get back to play live with the band? Is that possible to talk why he moved away?
Shane Embury — He played on the new Napalm but did not compose any of the music unfortunately which left me with that job. I wrote 22 songs for the sessions and Mitch helped with some guitar parts on one of the tracks. I doubt he will play with us live again but you never know. His reasons for not being with Napalm are many but life got heavy for him. He is my brother and we talk via Skype when we can. There is an intense unspoken bond between us, we know we are the greatest of friends and when we do talk it's like time stopped still since the last conversation.
To finish, let us know what's happening with these other projects of yours:
Brujeria — Brujo is recording vocals on the new 5th album for Brujeria.
Tronos — We have recorded some new ideas.
Venomous Concept — a new album is coming out in July on Season of Mist.
Born to Murder the World — maybe a new BTMTW record.
Napalm Death — New Napalm hopefully in september.
That's about it for now mate but I always have something in the works.