With cover art consisting of a .44 magnum and an album titled Killers Like Us, it's not a great leap to assume the music contained within is going to be threatening. And for all the various kinds of heavy music out there it's groups like Buñuel, groups that are willing to color outside the lines that seem able to conjure the most menace.
The group consists of a bevy of seasoned musicians with Andrea Lombardini on bass and drummer Francesco Valente, along with guitarist and sound manipulator Xabier Iriondo and American vocalists Eugene S. Robinson. While Robinson is best known for his work with noise rock experimentalists Oxbow, Lombardini, Valente, and Iriondo are extremely active in Italy with groups such as Il Teatro Degli Orrori and Afterhours.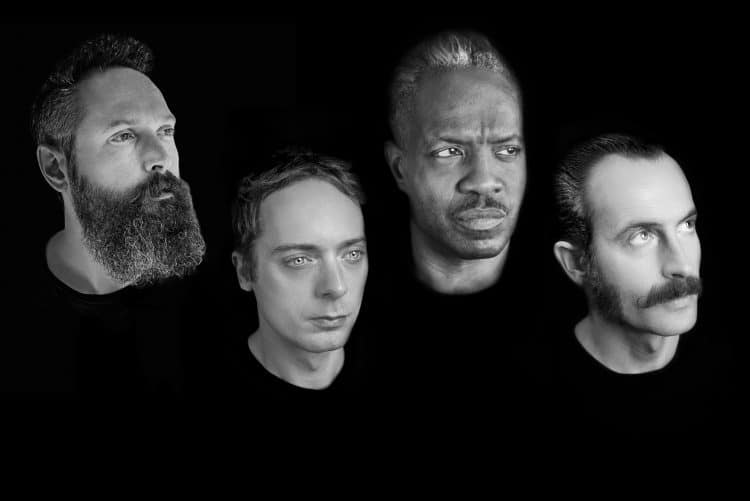 Killers Like Us is the completion of a trilogy of records that started with 2016's The Easy Way Out and was followed by 2018's A Resting Place for Strangers. While the previous albums were released by Italy's La Tempesta records, Profound Lore has joined in to help give this new album more exposure in the English-speaking world.
The group's sound draws from a variety of sources from no-wave and noise rock to doom metal and beyond to forge an identity uniquely its own. For those familiar with Eugene S. Robinson's work with Oxbow, it won't be a surprise to find his voice a defining factor of every song here. He's not quite as theatrical as he is with his main group, yet his voice is constantly shifting from howls and growls to whispers to everything in between. He conjures a variety of emotions and none of them sound healthy. Often he fulfills the kind of role that Michael Gira's voice does in Swans, a kind of high priest of a subterranean ritual, or the ringleader in an insurrection.

The others meanwhile construct a harrowing musical platform. On pieces like opener "Hornets" or "When We Talk" they bring to mind doom heavyweights like Sunn O>>> or Graves At Sea, but at other times such as on "For the Cops" they lean more towards a no-wave sound a la Suicide. Guitarist Xabier Iriondo manages to go from cutting melodies to noisy screeching at the drop of the dime. "When God Used a Rope" feels like one of many showcases for him as he oscillates between a Grinderman-like boogie to High Rise style eruptions.
Meanwhile, the rhythm section works its own magic. They seem somewhat indebted to the legacy of Big Black in the relentless quality of their beats, yet with the nuance of the criminally underrated Dazzling Killmen. Lombardini in particular harnesses the power of his instrument with a Godflesh-like power. The bass is omnipresent and awe-inspiring.
Buñuel derives their name from Spanish film director Luis Buñuel and while many may not be familiar with his work, one can only imagine what strange madness his films captured based on this music he inspired. Killers Like Us sounds like a fever dream, Robinson a nocturnal entity both whispering and screaming in the sleeper's ear. For many, Killers Like Us will be their first exposure to the group and it is a great place to start, but upon investigation, their whole discography is incredible. Hopefully, the completion of this trilogy won't keep them from coming back together in the future.