There's broootal and then there's Brutal, and if you've listened to Death Metal long enough, you know the difference. The former is fun and sort of sleazy, while the latter is stone-cold murder on a plastic slab, the kind drenched in suffocating pain and misery. Vancouver four-piece Grave Infestation tends to the latter description, although they flirt with the former just enough to keep things from careening into a corner so black and dark that there is no hope. This band does not mess around, and when it comes to the Death in Death Metal, they definitely skew towards the early days, Morbid Angel coming most to mind here. They released a couple of demos that got the underground all hot and bothered and now they have finally released their first, official full-length, Persecution of the Living. And here, they have brought to the world a glorious concoction of old school with a smidgeon of Swedish and new school.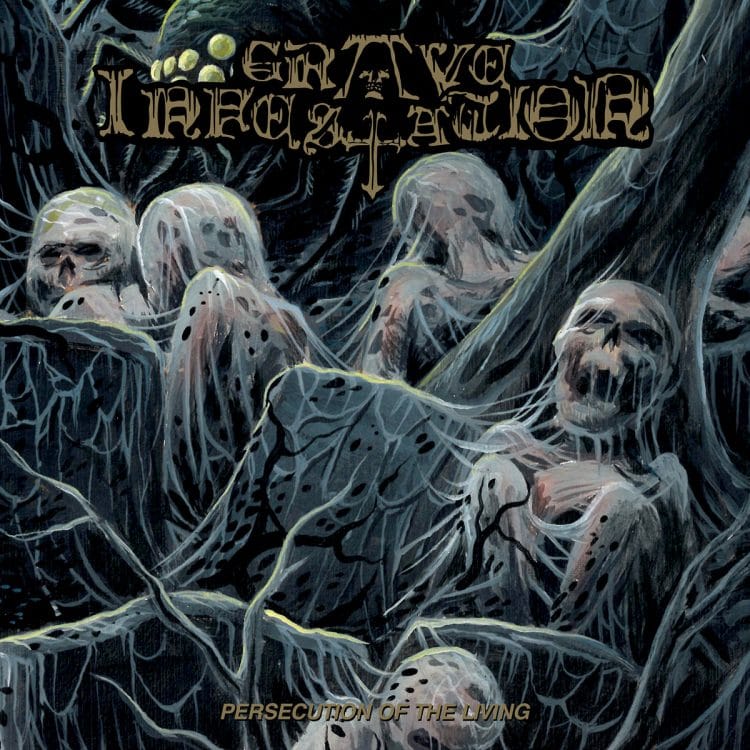 "Intro" is just that, a slight track of atmosphere to get your mind right for the beat-down that is to come. You only get a few seconds before "The Conquest of Pestilence" begins its unrelenting assault. Heavy, smashing, fast, guttural, and gruesome, it's kind of everything you want when you're looking to this style of Death. A three-minute barrage of sonic onslaught, there is no mercy shown here (although it does find a sort of groove towards the end).
"Slaughter, then Laughter" follows, slow and uneasy. After the raining of blood on the previous track, this one almost feels like whispers of assurance that everything will be okay, just catch your breath. The song rolls into a sweet mid-paced swagger, ugly and nasty but, yes, groovy. It isn't long before it gears up and gallops away, though.
"Persecution of the Living" blazes right out, all Slayer and Morbid, thundering like a herd of ghostly steeds across a haunted prairie, before slowing to a Doomy crawl, a festering boil slowly erupting and bubbling over. This is the kind of track that shows the band flexing their dynamics. What could be a soup of blurring riffs and brutality instead becomes a full-course meal with plenty of potatoes to go with all that meat.
"Can You See the Pale Horseman in the Distance?" is the midpoint of the record. Fast, crushing, racing like a speeding car out of control, it rolls into a lurching rut that will make your head bang and your blackened heart soar. Timeless Death Metal.
"Plague of Crypts" laces some eerie melodies into the Death stomp (I don't know how AS's drum kit survived this recording as she literally beats the living shit out of it in song after song) they have perfected. Slow, fast, slow, fast, they always keep things moving here.
"Death of the Last Individual" keeps that eerie thing going, the guitars almost queasy at the beginning here, sliding into a sweet swing and then off to the races again. A little reminder (in case you forgot) that they can handle unrelenting brutality just fine, thank you.
"Human Jigsaw Puzzle" is a rolling tank, turret firing, with lots of rumbling melody and foreboding creep, eventually spiraling into a swirling chaos of riffs and Death.
"Eternal Oblivion" is the actual last song on the album, not counting the "Outro" that sort of serves like the "Intro," a brief moment to catch your breath.
"Oblivion" continues the trend of the second side of this record brining a little more melody to the proceedings and some Doom to give everything a bit more heft. This is as fine a goodbye as this band can muster, doing a little of what came before through the whole track. It will leave you breathless and exhausted.

What we have here is a debut album that should make a lot of end-of-the-year best-of lists. Death Metal that is grimy, ugly, and unforgiving, but just light and melodic enough to not totally crush your testicles or ovaries and grind them into a fine powder. They teeter along that line of becoming almost unlistenably grim and hateful but never quite cross it. That means you get a Brutal Death Metal album that you can still have some fun with, which is kind of invaluable anymore. It seems that most bands are going for one extreme or the other, so it's nice to find a band that, while not treading middle-ground territory, is just the right amount of hostile and brutal and fun. This one is a banger, a swinger, and a blow to the skull, but there's enough wink and nod here to keep you being totally buried in the grave.