Experience Outer Heaven's Realms Of Eternal Decay + Full Set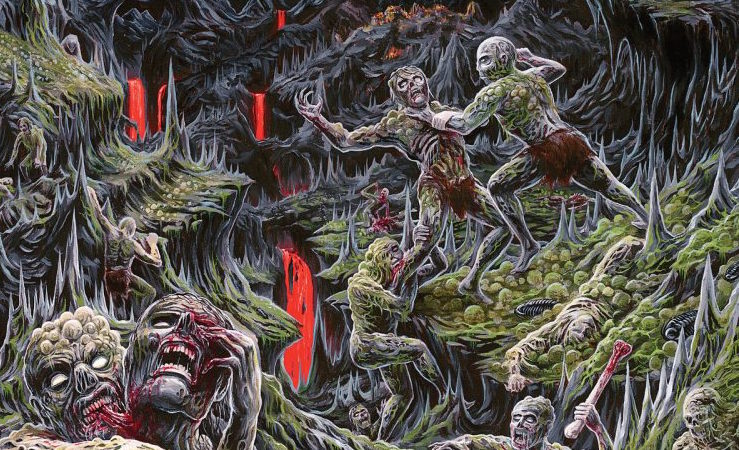 Its 2018 and you absolutely love death metal. In fact, its your favorite genre and unbeknownst to everyone else you are the undisputed death metal champion of the internet. I mean who else is wearing an extra baggy Grave shirt with camo pants and Vans hi tops? The short answer is no one. You're a true original, great job! Whats that? Blood Offerings was number one on your best albums of 2017 Facebook post? That's crazy! Can't wait to see sift through all your "hardcore and metal ain't for sissies" rants just to see what your best of 2018 post looks like. I guess I shouldn't talk shit, if the same people who used to love crowd killing and sub par New York hardcore wannabe bands now want to claim that they've loved Dying Fetus since birth so be it. Death metal is en vogue and where we once saw the genre represent a rejection of popular culture its now working parallel to it. We can debate the positives and negatives of this all day but in all honesty, it is a dead end conversation. What we can do instead is embrace the savage new jams from Relapse newbies Outer Heaven.
The Pennsylvania maniacs have a new sacrifice titled Realms of Eternal Decay that reinvents old cliches while maintaining a fresh dose of misanthropic energy. Ten tracks of torment, disgust and despair that will have you frantically editing the death metal Wikipedia page to simply say "Pay sacrament to Outer Heaven, become cleansed" over and over again. There is a sense of depravity in this record that cannot be ignored. Groove infested, yet punishingly old-school, Realms of Eternal Decay pays homage to every aspect of the death metal tradition. Tracks like Pulsating Swam and Putrid Dwelling serve as the apex of contemporary metal while tracks Decaying Realms and Sacrificial Evolution are essentially a synopsis of the recent UN report on climate change. No death metal band enters the studio hoping to show off their sensitive side and Outer Heaven are no exception. This band eats nails for breakfast, their blood type is bourbon, and they have most definitely eaten road kill at one time or another on their current tour. Not because they had to, but because wanted to. Some people flex with their shitty online persona, Outer Heaven flexes with riffs. The bar for brutality has been set, all remaining "heavy" releases scheduled for 2018 have been postponed indefinitely. As I type this, labels and managers alike are calling their talent rosters in for meetings to begrudgingly declare that Out Heaven has conquered all and that they all need to furiously eat nails for breakfast and try again next year.
CVLT Nation endorses all edits to this page in the name of paying sacrament to Outer Heaven:
Tour dater with FOH
10/17 Miami,FL-Gramp's
10/18 Orlando,FL-Will's Pub
10/19 Atlanta,GA-529
10/20 Charlotte,NC-Skylark Social Club
10/21-Chesapeake,VA-Riffhouse Pub
Enjoy this post? Donate to CVLT Nation to help keep us going!