Exclusive
CVLT Nation Streaming:
HOLY "Seclusion MMXIV" EP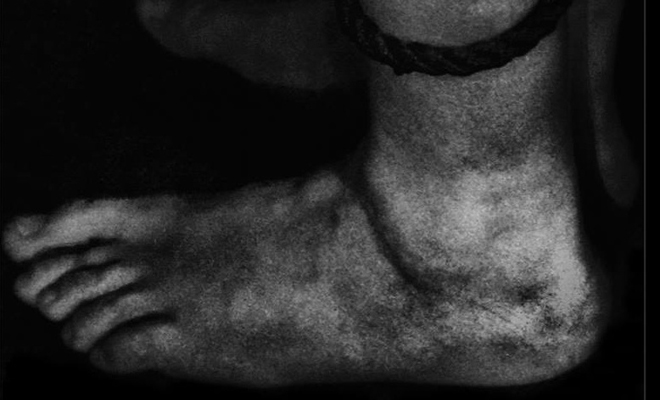 The revolution might not be televised, but it will played at maximum volume by Italy's HOLY. This is one of the most incendiary records to be released this year. The amount of seething feral rage with the corruption of this world can not be contained and every track is a weapon of mass change. HOLY creates the kind of d-beat-charged hardcore that is full of grooves that get me hyped. CVLT Nation has been given the honor of streaming this kick ass HOLY EP titled Seclusion MMXIV, which drops in July through Adagio 830 in Europe and Vitriol Records in the USA in full below…To get get where the band is fully coming from also peep their thought-provoking lyrics!
RUINS
We attacked dead cities,
climbed the walls
we feasted on ruins
but no one was waiting for us
nothing but silence and imaginary monsters
haunted the wilderness
this nightmare is now our daily routine
Spechless and emptied
sleepwalking at the end of the world
what choice do we have?
Now nothing matters, no more
we fall in line not to fall apart
it's futile to persevere
Speachless and emptied
sleepwalking at the end of the world
what choice do we have?
IN THE DIRT
Walk the same mile everyday
Barefoot in the dirt
Ready to die, everyday
until you die and then die and die again
War has been declared
was has begun
war will never end
Let the poor kill the poor
Let the poor eat the poor
BLANK STARE
we're disposable beings
part of a yielding culture
the weeping middle class herd
ruled by the hypocrites, abuse by the mediocre
we're the expendables
we are blank stares
We're greedy creatures
as we revel, we will decay
We're stuck in the hives at border of the city
we 're rotting
we are the expendables
hell ain't a place where we go
hell is a place we made
and as our lords feast we starve
PRISONS
Primates obsessed by cages
silly bald apes
driven by god complex
we build the prison for the wild
and now there's nothing where we belong
nowhere behind, nowhere beyond these bars
we deserve fangs in our flash
and maggots all over our bodies
we deserve rivers of blood
the end of our amusement
what wild is bord
must die wild
CAPTIVITY
Oh dead motherland!
I'm the son you wish was never born
I'm the product of failure and disappointment
Oh dear motherland!
I'm the product of captivity
I'm here to kill all my peers
I'm wrath and knives
I'm garrote
So dear motherland
You know everything about me
I'm lead, fire and fear
I'm oil, guns and bullets
I'm booze and gamble
I'm blind and I don't wanna be seen
I am depression and alcohol
I'm the product of school and education
Enjoy this post? Donate to CVLT Nation to help keep us going!