Have you heard of the UK Noise Rockers Modern Ritual? Today you get to see the kind of music that inspires these creative humans!
Label: Holy Roar 
Modern Ritual's This Is The History 
Release Date is March 20th
Pre-order HERE!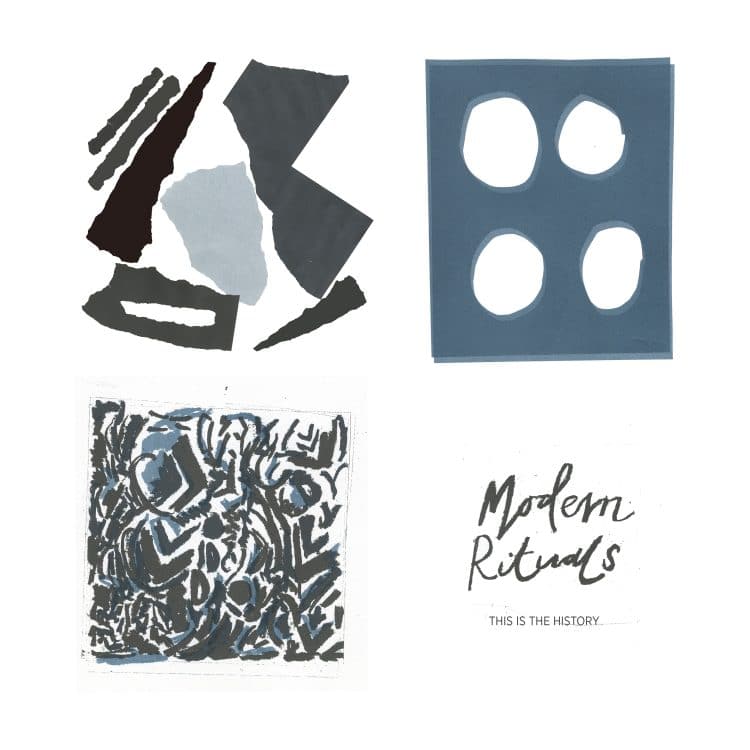 JAKE (Drums):
Henry Mancini – Pink Panther Theme Song.
A band came and performed this at my primary school when I was about 7. It was after seeing the drummer perform that I decided the drum kit was for me. Bit of a strange one. The song is a banger though and has some great jazz drumming in it.
Edwyn Collins – A Girl Like You
This is the first song I can ever recall hearing. It was released in 1994 so I would have been 3 years old. Apparently whenever it came on the radio in the car I would do a jig in my seat. It's full of huge hooks and has a cracking vibraphone part.
Pile – Firewood
We all have a pretty varied musical taste in Modern Rituals but Pile are a band that I'm certain we unanimously love. They tick all the boxes for me and have become one my favourites. It's also fairly unlikely I would have come across them if it wasn't for being in Modern Rituals.
ROB (Bass):
Hot Water Music – Jack Of All Trades

This blindsided me when I first heard it in 2001 – miles apart from the grunge scene I was obsessed with, and the nu-metal dominating contemporary airwaves. Emotionally raw but tough and hopeful, and with an incredible bassist – Jason Black – whose part I set about learning immediately. It remains an enduring favourite.
Daughters – The First Supper

Our most recent single 'Scratcher in the Mash' has always had something of a Daughters vibe about it, to me. Harry first played this to me over the PA at JT Soar, Nottingham, after a show with Fawn Spots in 2017. Its minimal, sludgy groove has stuck with me ever since.
HARRY (Guitar, Vocals):
Talking Heads – And She Was

I've picked two songs that got me into guitar music, both of which I got my hands on as a child. This one was on a record my Dad had and I used to put it on all the time. I think the colourful artwork led to me choosing this record out of the others he had. This was the first song on the album and even listening to it now it reminds me of being 8. Probably fairly responsible for getting me into lots of other punky/rocky music and I still reckon the chorus bangs.
Simon and Garfunkel – The Boxer

This I had on a 60s compilation tape that I listened to on a Walkman. I think this probably had a hand in me getting into stuff like Elliot Smith and I think still has a role in my songwriting now. The guitar playing and vocal melodies are amazing and still hold up massively.
TOM (Guitar):
TTNG – Whatever, Whenever
I first found TTNG when I was 16, adding other bands as friends on Myspace (lol) and found it hilarious that their song titles were all animal names. Through TTNG, I found Big Scary Monsters… through BSM that I found Holy Roar. Through BSM and HR I discovered an active and thriving independent music scene… getting involved in this totally shaped my life trajectory, ultimately leading me to being self-employed running my own recording studio, The Bookhouse, and being in Modern Rituals. 'Whatever, Wherever' is my favourite song off their most recent LP.
The Jam – That's Entertainment

The Jam were always on at home and surprisingly I grew to love them, not hate them. I respect that their sound album to album changed considerably rather than just sticking to a formula, and that they broke up at the height of their commercial success because Paul Weller simply needed something new. I also respect Paul's refusal to cash in and reform the band – he just put out an ambient EP for crying out loud. Dude does what he wants.

See for yourself why we like Modern Ritual!
Modern Rituals 2020 dates
28.03.20 – New River Studios, London 06-07.06.20 – Portals Festival