"Untouched by evolution." These are the words that most resonate and stand out from the press release introducing IMPUGNER's debut release Advent of the Wretched being released tomorrow Friday, November 4th on CD via Sentient Ruin and on cassette tape via Caligari Records. Before and while we unpack why, witness the full majesty of this putrid slab of timeless extreme metal from the player right here via our exclusive full premiere today:
And "untouched by evolution" indeed it is. Like a time capsule, IMPUGNER seems to have frozen death metal in time. The sound, the execution, the style, the vibes, and overall delivery appear to have been unearthed directly from a dusty basement sealed shut since 1987 complete with cobwebs and mummified rats, having emerged from the same primordial soup which birthed bands like Possessed, Death, Autopsy (appropriately included is a cover of "An Act of the Unspeakable"), Nihilist, etc, along with all the other very ones which invented and defined the death metal craft thirty plus years ago. IMPUGNER's music oozes with filth, perversions, and disease but it is also still anchored firmly to the exceptional unpredictability and musicianship which defined the early death metal forefathers, as back then, death metal was mostly still very much of an experimental form of music derived from thrash, hardcore punk and speed metal, with an added deranged, schizoid and morbid new approach to the craft as the shock value and gore/death element was introduced to the mix as a centerpiece. And at the same time technicality was exaggerated and emphasized throwing off some quirky primordial "prog"-like vibes (as we've seen in other similar contemporary bands like Morbus Chron and Obliteration, to name a couple).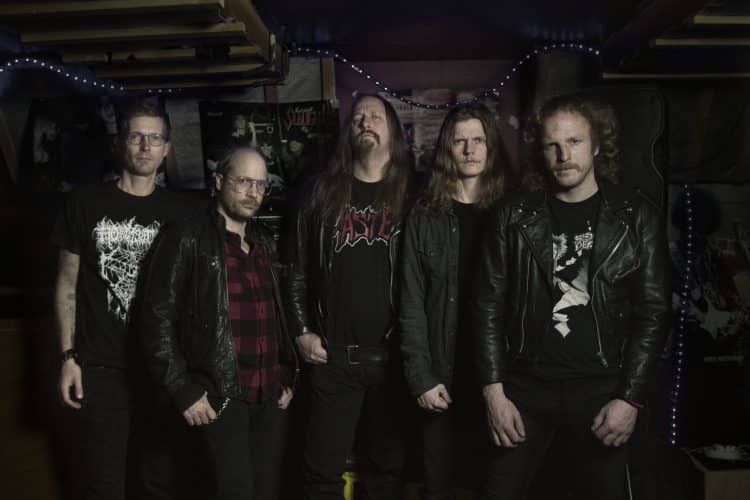 All this is purely evident in IMPUGNER's atavistic and depraved form of rudimentary death metal, and its absolute timelessness and the care and taste with which this timelessness is achieved and conveyed are the real standouts about "Advent of the Wretched". There is something about the meticulous taste in assembling the demented leads, the hysterical drum patterns, the morbid vocal patterns and tones, and the overall mummified and moldy but heavy as fuck sound and production quality, which make this release sound like an exceptional experiment in musical time travel. A marvelously evocative work that will make the listener travel back in time and reconnect with one of the times in music history (with diametrically different writing and production techniques from now) we all love and cherish the most: the very beginning and origin of death metal.
A final observation can be made about the band's origins: Norway. Make sure to keep this in mind when listening and not to miss the Edvard Munch artwork appropriately gracing the release's cover and note the press release's mention of Darkthrone's "Soulside Journey" — all very pertinent and valuable further pieces to the puzzle which will give you an extra idea of the uniqueness and quirkiness of this beastly slab of involved death metal mastery.

"Advent of the Wretched" drops tomorrow Friday, November 4 2022 on CD via Sentient Ruin and on cassette tape via Caligari Records.