Danza Macabra Europea
Disturbing WWI Anti-German Propaganda Postcards + Much More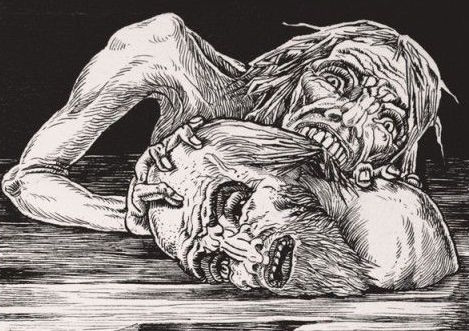 Modern warfare is a tool of the elite, and one of their most masterful PR campaigns. They have convinced huge swathes of society that it encompasses the most noble of all human actions and emotions, and is something to revere and respect. All the while, it reduces humanity to our most debased and violent state, encouraging in us everything that we know is wrong and immoral. These days propaganda disguises itself as "news" delivered to us by "experts," carefully alluding to atrocities committed by the enemy in a highly calculated way. But during WWI, propaganda took a more obvious form, as you can see below with the amazing Danza Macabra Europea postcard series crafted by Italian illustrator and printmaker Alberto Martini. He created 5 sets of anti-German postcards that were shipped out to the front lines to give heart to the troops fighting the Kaiser. They showed how heartless and terrifying the enemy was, a demonic force of degrading sexuality and cannibalistic murder. These postcards were meant to fuel hate in the hearts of the weary, exploited soldiers who lay suffering in disgusting, disease-filled trenches with their limbs rotting off. Taken alone, these are amazing works of art. Paired with their purpose and they become truly disturbing.
via Dangerous Minds and WWI Propaganda Cards
Enjoy this post? Donate to CVLT Nation to help keep us going!