When I think of entertainers flossin' with their rides, I think of rappers standing in front of their pimped out whips. So when I saw the D.C. Punk Photographer Cynthia Connolly had created a set of postcards that featured the underground musicians of DC posing with their cars during the 90's, I had to post it! Check out what Cynthia had to say about this project below…
"Musicians from DC and their Cars" (or later renamed "favorite mode of transport") was first created for the Chicago based and nationally distributed 'zine, "Speed Kills" in about 1994. I wanted to contribute to my favorite 'zine at the time, called Speed Kills, of which its' topics usually covered indie and punk music and old cars. I owned a 1963 Ford Falcon, and at the time, my musician friends were all buying old cars. I then decided to create a photographic body of work that included the obvious: musicians from DC who owned old cars. I showed the original exhibit of about 13 images in Sidney, Australia in December 1995 and also at the Washington Project for the Arts in 1996. When I exhibited my show in Sidney, I created a small postcard packet of Silver Gelatin photographs in a set made to be used as postcards. I liked the idea so much, that when I returned from Austrailia, I worked with a printer in North Carolina, using non bleached recycled paper, and newly introduced soy ink, to create ecologically sound postcards in an edition of 1500. As the tour with Pat continued, I created in all, four sets with seven images each, all of which sold out.
 
Captions by Cynthia Connolly
Allison Wolfe of Bratmobile w/ her 1979 Pontiac Catalina, WDC 
Guy Picciotto of Fugazi w/ his 1976 Chrysler Cordoba
Ian MacKaye of Fugazi w/ his 1978 Toyota Corolla Station Wagon, Arl VA
Jennifer Toomey of Tsunami w/ her 1985 Mercury Marquis Station Wagon
Kathi Wilcox of Bikini Kill w/ her 1965 Plymouth Valiant, WDC
Mark Robinson ex Air Miami & Unrest w/ his 1988 Dodge Ram 350
Christina Billotte of Slant 6 w/ her 1981 Datsun 210, WDC
Ted Leo of The Sin-Eaters with his 1965 Chevy Nova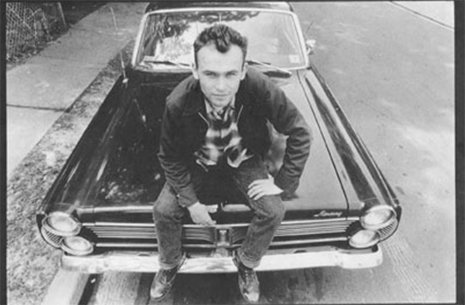 Alec MacKaye of the Warmers w/ his 1967 Mercury Comet, Arl VA 
You can peep the whole collection here.