CVLT Style!
6 Totally Unboring Ways to Wear All Black!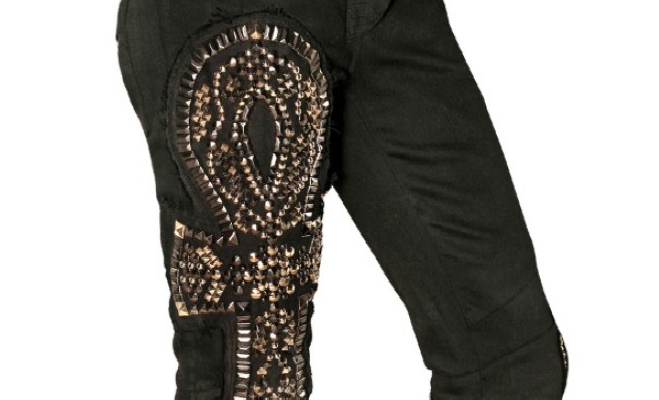 CVLT Nation has a new category launching today, CVLT Style! And to kick off our first fabulous style article, we have 6 Totally Unboring Ways to Wear All Black! Do you open your closet, day after day, and notice your drab, all black everything wardrobe is getting you down? You're like, omg, what am I going to wear today – a black shirt, black jeans, black shoes, a black hat? Fuck! Well here are 6 ideas to spice up that black wardrobe with items that will fit into any metalhead's wardrobe…
1. Mexican Pointy Boots

A fabulous pair of Mexican Pointy Boots will jazz up any all-black outfit! These would be great for work, but also for that show you're going to after work. No one in the pit will fuck with you wearing these babies, because you could literally impale their asses.

2. Fake Dreads

Another way to add some pop to your all black duds is to add some color to your hair, and instead of messing with bleach and messy permanent dyes, why not get a neon fake dread weave? If you don't have the cash for the real hippie hair dreads, just get some colorful yarns at your local dollar store and you and your bestie can do wooly hair wraps!
3. 3D Manicures

This one's more for the ladies and new wave/gothic/metrosexual men – an awesome 3D manicure will add pizazz to an otherwise bleak wardrobe! Pick your favorite sea creature, forest foliage, serial killer memorabilia or album cover art and construct some fancy, extra-long fake nails inspired by it! You could even cut up some patches from your favorite band and glue them to your acrylics for a "diy" touch. Just remember, longer is better, so go for at least 5 to 6 inches in length.
4. Animal Hats

Need I say more? How many times have you clocked some dude or girl wearing an epic animal hat and been like, that is fucking awesome!! This is me officially giving you permission to go to your local junky mall kiosk and pick one up. Everyone love to see a someone with their head shoved up and animal's anus.
5. Funky Backpacks

A bag or backpack is a great way to spice up an outfit while being totally useful too! You can keep all your schoolbooks or LPs in a cute backpack inspired by your favorite cartoon character! And I am digging the eye mask too.
6. Embellishments

People pay a lot of money for embellished clothing, like these $8,000 Balmain Ankh Jeans that are meant for "the rich fashionista known for an excellent dressing style." Bedazzling your favorite black jeans or leather jacket is a great way not only to add some excitement to your style, but also to look like a rich fashionista!
Let us know what you think of our new CVLT Style feature and what you want us to cover next!
Enjoy this post? Donate to CVLT Nation to help keep us going!