All reviews written by Bruce Hardt except where noted.
SIX: THE BANNER - Greying
Here we have it. Finally, the long awaited, highly anticipated fourth full-length from NJHC veterans The Banner. After six years, a brief break-up, line up changes and a satiating cassette, Greying is here, and it's all that it was cracked up to be. The Banner has been a constant touchstone in this writer's life for nearly a decade, and my excitement for this record has been explosive. Frailty, another explosive item, was the first vinyl I ever owned, and that album was punishingly heavy, tearing their fan base wide open with its sledgehammer breakdowns and unrivaled fury. In short, Frailty was pissed, and executed it well. The Banner arguably reached their hallmark sound with their second LP, Each Breath Haunted, which wrapped their classical horror themes and self-loathing into a neat, bleak package. Greying sits between those two albums, combining Each Breath Haunted's icy worldview with Frailty's palpable wrath, creating eleven torturous songs dripping with venom.
FIVE: CODE ORANGE – I Am King
Code Orange returns, though not as kids, but rather as a furious, new entity with its older, familiar parts grafted on seamlessly. 2012's Love is Love/Return to Dust was explosive and strange, a strong debut from a band whose sound has no immediate peers. That album was easily segmented, each of its parts discernible while contributing to the greater work. Their second album, I Am King, is a thirty-minute blur of savagery, unrestrained with an unquenchable thirst for human blood. Like an autonomous corpse, I Am King can be dismembered, though its parts will keep fighting, tooth and nail, blood and spit. Despite its monstrous facade, the collection is underscored by a human heart that beats deeply and resoundingly.
FOUR: HIEROPHANT – Peste
Italy's Hierophant waste no time when it comes to following up their albums with further madness. 2013 saw the release of their second album, Great Mother: Holy Monster, with 2010 debuting their self-titled onslaught. With barely a year and a half gone by, Hierophant end 2014 with their third LP, Peste, which translated from Italian means "plague," an apt title considering the ailing, though welcome, effects this record will have. This album is pissed from open to close, with zero gimmicks or atmospherics for fluff and padding, these ten tracks were not made for the faint of heart.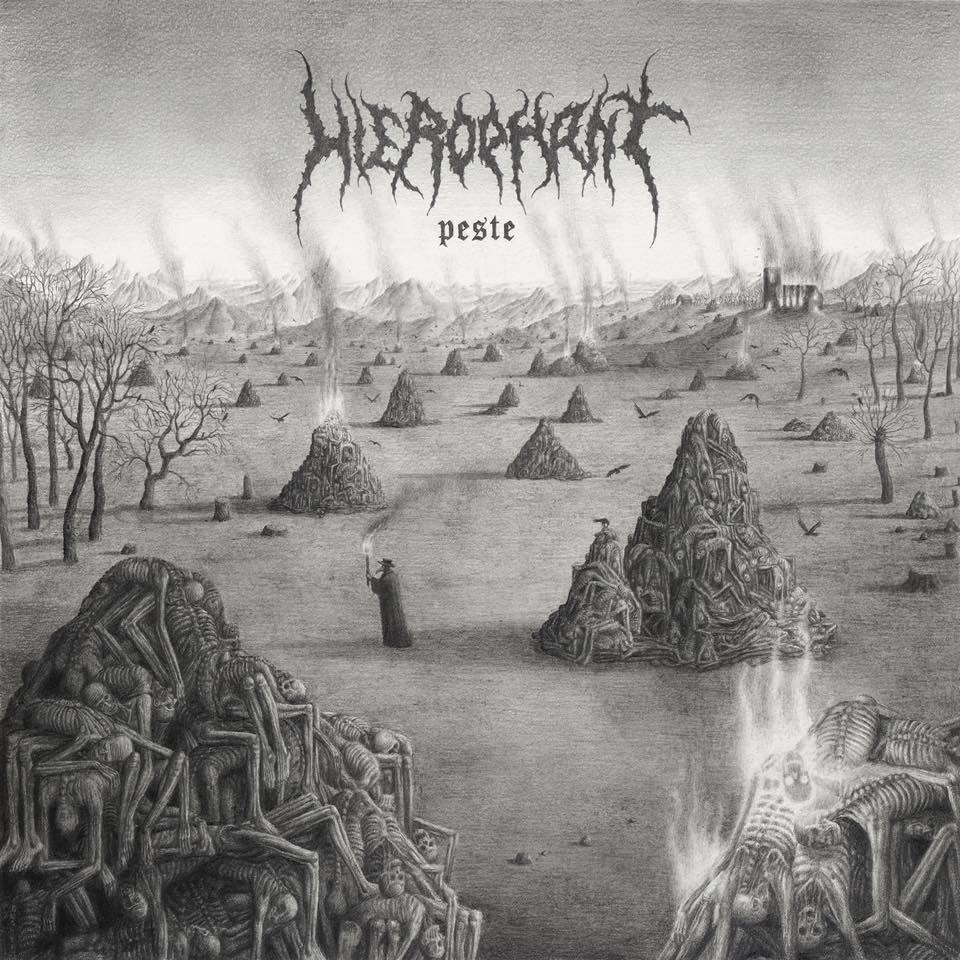 THREE: TORCH RUNNER – Endless Nothing
Endless Nothing is good for one thing and one thing only: Caving in your damned skull, crushing all of your vertebrae, spilling your guts, and setting them on fire. Or maybe that's four things.
Thirteen songs, most of them short, all of them tremendously heavy and brutally destructive — that's what the new second album by North Carolina's Torch Runner delivers. The riffs alternately hammer like giant mallet blows or roar like smoking concrete saws, and at all times they vibrate with radioactive levels of distortion. The percussion follows the same kind of tag-team format — pounding with enough force to split asphalt or blasting away like heavy artillery.
Read more here…Text Pinched From No Clean Singing
TWO: BAPTISTS - Bloodmines
2014 has been quite the year for solid releases. Even within its last quarter, this year continues to host astounding outputs by artists across the genre board. Baptists newest full-length, Bloodmines, is one such release. The sequel to 2012's mysterious and dark debut LP, Bushcraft, Bloodmines is everything you'd hope for in terms of a second album. This album amplifies all that made Bushcraft what it was: it is darker, faster and angrier, elements that combine to create a work that altogether avoids the enigmatc "second-album-slump." Pulling their threads from an array of hardcore and metallic hardcore outfits, Baptists utilize the tried-and-true formula introduced by Converge on Jane Doe, flipping from bombast to dirge at the drop of a hat, while infusing world-weariness into every second. This is best exemplified on the title track, scarring itself with agonizing doom over its three minutes. Baptists continues the natural-world-versus-man aesthetics found on Bushcraft, applying an almost black metal dedication to their message.
ONE: TRAP THEM – Blissfucker
Salem, NH's Trap Them comes swinging into 2014 with their fourth full-length, the savage Blissfucker. Following 2011's Darker Handcraft, Trap Them poise themselves with authority, while flavoring their sound with flaring intensity. Blissfucker continues their trend of producing unabashed hardcore that flecks itself with crust punk's bloodlust and grindcore's palpable rage, always with solid results.
"Salted Crypts" rides upon a steed wreathed in black fire and twisting flesh, meandering through a battlefield bombarded with knuckle-scrapping riffs and other-worldly wails. "Habitland" is uninviting, with a flurry of blast beats, ear-scratching reverb and a moment of minimal noise that borders on peaceful insanity. "Habitland" swells into the energetic and entertaining, "Gift and Gift Unsteady," which dances on primordial thunder and a lifeless spring of melody. "Lungrunners" is Trap Them by-the-numbers, every bit as mean as it needs to be, while doing little with the scarring heights that Blissfucker offers within its earlier annals.