CVLT Nation Top Ten SLUDGE Releases of 2015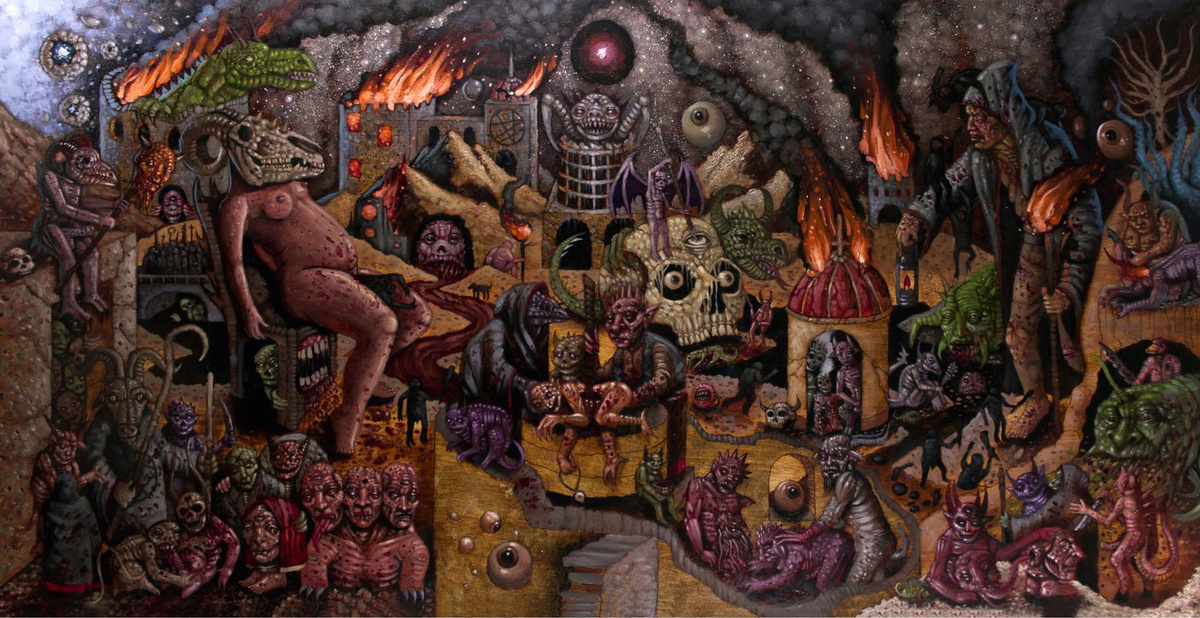 TEN – Deveikuth VII​-​π​-​III
The amount of power and drone-tastic guitar tones that comes from this band's amps is reminiscent of the almighty Sunn O))). I understand that making that claim is potentially controversial, but one listen to Deveikuth and any drone metal fan will see the similarities. Deveikuth is basically what Sunn O))) would sound like if they decided to implement a drummer in their music. Deveikuth's tones are heavy and could easily shatter the bones of anyone who dares to get too close to their amplifiers. This is the kind of band drone metal needs right now; in fact, it's the kind of band you need right now. So find some fucking speakers and turn that shit up to eleven!! The sooner you jam some Deveikuth, the more likely you are to NOT have Green Day songs play at your funeral.
Read the full review HERE…
NINE – TRAPPED WITHIN BURNING MACHINERY The Filth Element 
What really got to me after the course of a few good sit-downs with this record was the last track, "The Divine Light." It's pretty safe to assume that albums built like this one – meaning that it's not just six random songs pasted together, but a story and piece of art being told via instruments and vocals – that the last song would be a heavy hitter. One composed of all the ideas put forth on previous tracks. A final statement for the album and the band itself. "The Divine Light" marks off all of these prerequisites for a last track, and then some. The song opens with a soft passage of down-played guitars and drums, creating an almost absinthe-induced, dream-like atmosphere that has been hinted at on previous tracks. Even as the song progresses into heavier territory, the overall emotion that was initially injected into it still lingers just beyond the scope of crashing drums and high-pitched shrieks. It's a fitting close to the album, as it suits the concept of the album and the band's intentions in properly displaying the concept of the movie – he overall triumph of an other-worldly force championing for life against an ancient, cosmic evil. Even as singer Esparza shrieks the title of the track across the end of the song and feedback echoes forth from the bands cabinets, I started reflecting on the nature of this album. It's more than just a concept album based around a stand alone movie. The Filth Element stands as a well-thought out and executed take on what can often be a repetitive sound devoid of original ideas. Much like the movie this album was conceived upon, it swirls around a number of different nuanced concepts and tones, from beautiful passages that invoke rays of sunlight cutting through storm clouds to ash-covered worlds devoid of life.
Read the full review HERE…
EIGHT – ILSA The Felon's Claw
Put it like this: imagine if CORRUPTED and EYEHATEGOD decided to create a soundtrack to a horrific gore film – this is almost what the new ILSA record could be compared too. When the addictive bass drum kicks in at the beginning of "Enter the Void," you will be sharing this with the world at large. The vocals sound like they're glued to the rumbling baselines. This is the blues, but filthy and raw and full of metal. On songs like "Armstrong's Mixture," you can hear and feel their honest hate in every note. The steady thump of "Smoke is the Ghost of Fire" is an inevitable audio army marching to your demise. The Felon's Claw is layers upon layers of maggot-filled melody that will have the spirits in the cemetery headbanging for centuries to come.
Read the full review HERE…
SEVEN – SPACE BONG Deadwood to Worms
While their music is slow as fuck, heavy as a fucking elephant sitting on your skull and intoxicating/intoxicated beyond belief, as their music slowly unfolds you will notice a meticulous and almost OCD attention to detail in their songs, with every riff, solo and harmony carefully and masterfully placed in a very specific manner and executed in a very particular way. Another thing that really stands out is how these guys used some subtle feedback/noise tracks in the background to expand and swell their music into a towering magma of low frequencies and bone-crushing intensity. As you listen, you can hear a fucking slow-motion storm coalesce into dense and thundering clouds of static electricity, but everything has a mesmerizing, shimmering and puzzling clarity to it, a trait that makes this band's music highly intriguing and captivating. While it's slow and repetitive most of the time, there is always some subtle nuance or touch of class transpiring in this band's music, which makes their songs highly immersive and full of body and texture. Far from being artsy or pretentious, though, Space Bong also know exactly which dials to touch in the listener. After all, this is not a philosophical dirge. This is no fucking nerd music. This is satanic reefer worship to the max, so these dudes know exactly what is needed to remain loyal and faithful to the weed cult: play it fucking slimy. Play it as toxic, abrasive, corrosive and putrid as possible. And the boys do just that, busting out a constant slow-motion flow of aural slime that envelops everything in a huge haze of sublime and filthy cacophony.
Read the full review HERE…
SIX – VAEE SOLIS Adversarial Light
This band from Portugal, Vaee Solis, takes some of the most hateful vocals to touch a microphone and throws them against depraved riffs to make for music that brings an uneasy feeling when you are listening to it alone.  The production on their album Adversarial Light is impeccable, and milks the most anguish out of their performance as possible. The initial slap of this band is powerful, but can they keep you in this mental state for the duration of the album, or do we just go back to color-by-numbers metal?  Vaee Solis make equal parts sludge and doom. The have the disdain for melody that a band like Eyehategod possesses, but less of the punk attitude and a heavier emotional outpouring. They use some of  tricks from the ultimate book of  doom metal, but molest them with their malicious intentions.
Read the full review HERE…
FIVE – ABSTRACTER Wound Empire
The music of Abstracter always seems to have an underlying melancholic tone, which is mainly derived from their use of ambiance. In tracks such as "Open Veins," this aspect of the band becomes instantly apparent, without meaning that melancholy is the only weapon in their arsenal. The manner in which they build up anticipation with the creeping start of "Lightless," and the more unearthly perspective of Abstracter in songs such as "Cruciform," reveals the depth to which this act can travel in terms of sonic versatility. The abstract themes (the band is called Abstracter, after all) also aid that side of the band. Especially in various parts of "Cruciform," when the heavy guitars start to bring in droning notes alongside the cymbal hits, building up anticipation. And when the more minimalistic approach of Abstracter is applied, it instantly enhances their abstract thematology.
Read the full review HERE…



FOUR – FISTER IV
This is one hell of a complex ride. Even though this is a Doom record, written by one of the underground scene's rising stars of this genre, IV isn't a easy record to digest upon the first listen. It takes time and patience. A mindset and a way of looking at the world, almost like one is trying to solve a rather complicated puzzle. But for your patience, there is most certainly a reward to be found within this album.  Moments of heavy guitar hooks and dark, abstract noise that are filled with visions of decaying beauty, matched in turn with the down-tempo, sheer colossal wall of sound that Fister have been known to summon.
Read the full review HERE…
THREE – CULT OF OCCULT Five Degrees of Insanity
Overflowing into each other are songs that have no remorse or sign of easing up on their beatings. Echoing, vibrating, feedbacking rests with medically psychotic instrumental colossuses, combined with relentless hammering of vocal overlaying terror, makes the perfect evil mood for a band that has a name like Cult Of Occult. Everything is executed extremely well in a very fine sense of the word "extreme." Mind-boggling screeches and howls of agony and horror make this bludgeoning exhilaratingly painful. Fast pitches and curls of buzz, accompanying swells of drone and breakdowns that could cause TNT to go off create an atmosphere of danger and anxiety.
Read the full review HERE…
TWO – NIGHTSLUG Loathe
Imagine Uprising or Morning Star-era Entombed turned into a rabid slime bog full of acid and sulfur. That's what Nightslug sound like. They have taken that Swedish death metal sound and turned it inside out into a hellish death-ride into the the most putrid and morbid sludge swamps you could think of. Because of this, trying to pin the band down and define their sound is not an easy thing. Far from being a doom band, Nightslug are nevertheless capable of touching depths of heaviness and slowness that feel like a slow-motion nightmare from which it seems impossible to wake up. Their obvious punk roots do the rest, kicking shit into overdrive and steamrolling over the listener with an absolutely pulverizing rampage of buzzing aggression. The slow-fast-slow-fast alternations the band is capable of are absolutely neck-snapping and make for a highly dynamic and sprawling listening experience.
Read the full review HERE…
ONE – GRIME Circle of Molesters
Nothing is spared in these riffs, nothing is left standing, all hope is shattered into a slime bog of omnipotent hateful bitterness. When "Get Immortal" kicks things off after being bled into life by a corroded and blood-freezing intro, you immediately know that Grime haven't made this record for it to be taken lightly, or for it to be able to pass through the listener with ease. Instead, the record hits you full-frontal, t-boning you in the ribs and crushing your ribcage with a huge barrage of riffs. "Verge of Wrath" brings to mind the hateful and putrid Sabbath-worship that made Grief so (in)famous, unloading on the listener a truly mind-blowing barrage of bluesy and slime-bent downtuned violence. Nothing gets better with "Decay in Hades" and "Sulphurus Veins," two inhuman discharges of hateful sludge-doom that bring to mind the most glorious moments of Indian and Coffinworm while retaining that classic, unmistakable bluesy deformity that has made Buzzov-en and and Cavity so fucking legendary.
Read the full review HERE…
Enjoy this post? Donate to CVLT Nation to help keep us going!