Photos by Dillon Vaughn
Hailz, Gatecreeper – lords of Swedish stomp! First, I would like to thank you for doing this interview. Your self-titled EP is a rager! Call me a fan. What can you tell the readers of Cvlt Nation about your unique approach to extreme metal?
Thank you for interviewing us and for the kind words. We just write what we want to hear. Our musical influences and experiences are varied, and all the members of the band have been, and continue to be, involved in other musical projects that cover a wide range of genres. Our approach combines our experience as musicians, our wide range of influences, the desert we live in, and the metal scene that is currently thriving here.
What were your influences for the band? Did you guys listen to a lot of hardcore and Swedeath?
We are definitely into both. The Swedish influence is obvious in our sound, but we are also into heavy bands that can groove, like Crowbar, which leaks into our songwriting. There is a lot of crossover right now between hardcore and certain metal scenes, and we feel comfortable being influenced by both, even if only subtly.
Are you guys working on new material? What can fans expect on your next release? Maybe divebomb solos? Some really twisted spoken word passages?
Yes, we have been working on writing our first full-length. We are trying to expand on the foundation that we created with the EP and incorporate some more styles and influences to keep things interesting. We just finished a new song in the studio last night and it features excessive dive-bombing. Henry Rollins declined our offer to do a guest spoken word verse. Sorry.
Are you guys playing live anytime soon? What is the typical Gatecreeper show like? Is there mass confusion and chaos? Perhaps a volcanic eruption?
Our EP is finally coming out on vinyl, so we will be playing two shows at the end of the month to celebrate the release of the record. Our shows are always different depending on what kind of crowd we are playing to. The style we play allows us to play to either metal or hardcore crowds, sometimes a mixture of both. We have some big dudes in the band so if any sort of disaster is happening, it's an earthquake, or a food shortage, or both, depending on how gnarly our lunch session gets.
What led you guys to name the band Gatecreeper? Did you like hanging out in abandoned graveyards, where homeless people sometimes sleep next to the dead?
Yes.
Who did the artwork for your self-titled EP? The cover's interesting.
The artwork was done by J.G. Angeles from San Francisco. You can check out the rest of his work at crudedude.net.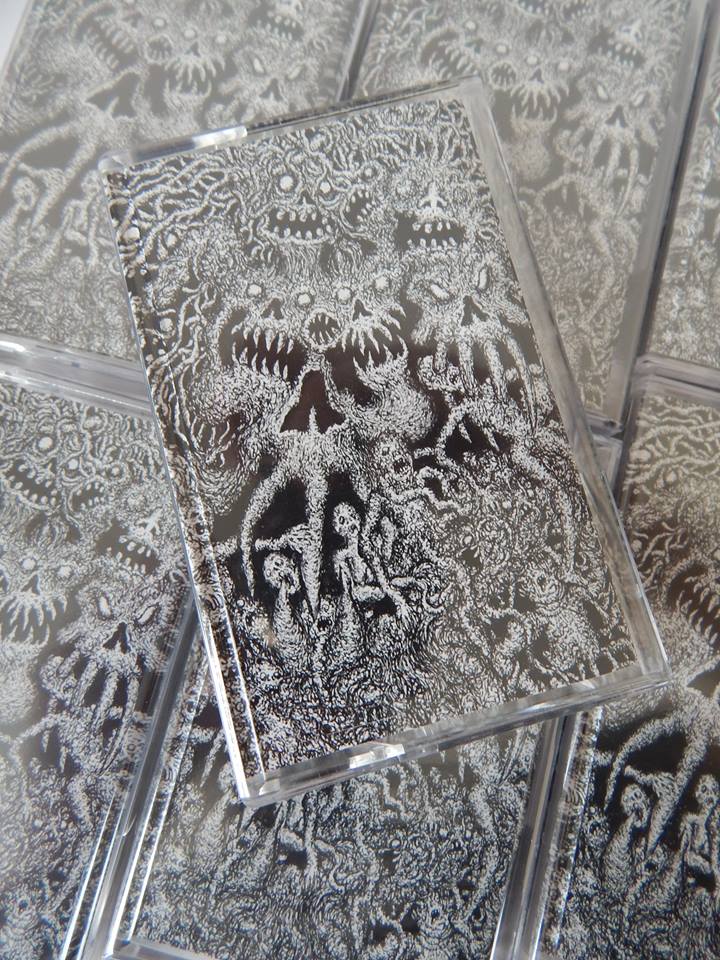 You must be drawing interest from labels. Do you plan to go DIY like you did last time, in light of the good reception to your EP?
We've had a little bit of interest so far. Our first record is being co-released by two awesome labels from our home state. Moving forward, we definitely would be interested in working together with a label to be able to take it the next level.
What topics do your lyrics typically address? I know that death seems so cliché to a lot of good bands.
The lyrics, at least on the EP, are mostly about personal experiences or feelings. Some of them touch on death or dying, but not in the typical horror story way.
Have you played in some real far-out places in the US? Dingy, dimly-lit, filthy clubs where sewage comes out of the shower spout? Tell us some grizzly tales about the road, if there are any.
We actually haven't played outside of our home state of Arizona yet. We are currently planning some tours for next year.
Christmas is coming, fiends. Do you guys plan to stuff Santa's stockings with Holiday jeer? How does Gatecreeper spend the so-called holiday season? Swapping gift-wrapped grenades perhaps, for Kris Kringle?
This is the first Christmas that the fully realized band has existed, so we hope to create some new traditions. Collectively, the members of the band are big proponents of keeping Christ in Christmas. Stuffing stockings is a high priority, but we also hope to check out some nativity scenes, drink eggnog, go caroling, and attend Mass on Christmas Eve. The possibility of recording a Christmas album was discussed, and several songs, including Wings' "Wonderful Christmas Time," Mariah Carey's "All I Want For Christmas Is You", and King Diamond's "No Presents for Christmas" were considered. The idea was eventually scrapped after numerous attempts to shop the idea around to labels. All joking aside, the members of the band will probably spend the holidays with their families, eating a lot, having some beers, and plotting our next moves for a powerful campaign next year. We plan to continue working hard in 2015, and make it a big year for the band. Hopefully we get to hit the studio and the road to headbang with a lot of new friends. Thanks so much for the interview. We'll see you in the pit.