Hi guys, for those who are not familiar with you, can you please tell us the genesis of Full of Hell and how the band came together?
Hello! Full of Hell was started by our guitarist Spencer in 2009. The full lineup came together in 2010, and we have been touring and writing music non-stop since then.
Can you tell us how the deal with Profound Lore and the collaboration with Merzbow happened?
We are fans of Profound Lore. I felt that it would be a huge honor for us to work with Chris on a release because his standards are so high. I feel like Profound Lore offers a level of quality that few labels can attest to. We reached out to him and he was very interested in doing the record.
As far as Merzbow is concerned, we met his live drummer Balazs at a show in Brooklyn some years ago. Our friendship continued from there and the idea came about naturally on it's own, Masami was into it and we were honored to take part.
How did you and Masami Akita hash out the details of what you wanted to do and the pick a musical direction?
There was no discussion. We are well versed in his work and he knew about our band, so he just sent us a ton of raw material in good faith that we would do our best with it. He was pleased with the end result, but did not hear it until it was finished. Our idea to do two discs, and have each disc represent a different side of the same coin, came about while writing.
There is a lot going on with this album: grind, death metal, noise, hardcore and so much more. What were your primary goals, sonically, when you set out to create the record? What were you aiming for?
Our only goals were to create a piece (or two) that represented a further enhanced FOH-sound, and one that warped the massive sounds of Merzbow into our style of playing. The second disc was meant to be somewhat of the inverse, us trying to warp the FOH sound into what we felt was more a traditional Merzbow-sound. If you could even say that there is one.
Did any bands have an influence in the creation of the album, or did you draw specific inspiration from anyone?
I would say that we had a wide range of influences. I remember us being particularly inspired by bands like Autopsy, Sarcophago, Dismember, Gasp, Mitb, Tribes Of Neuron etc.
How did the writing and recording process take place – was Masami in touch simply by internet or did he also meet with you in person?
As I said above, he simply sent us raw material to use however we wished. We sent him a mix of the record and he was happy with it, so it was complete.
Who recorded, mixed and mastered the album?
It was recorded and mixed by our friend and long time collaborator, Kevin Bersten. Kevin has always recorded our full length albums. It was mastered in Portland by Brad at Audio Siege.
One of the most striking things about the album is the incredible cover art. Can you tell us more about it?
We approached Mark McCoy to create the art for this album for a similar reason that we had approached Profound Lore. I think that as an artist his output is so incredibly massive, and predictably always great. He's a very intriguing artist. I presented Mark with lyrics and a theme for the record and he did his thing and brought the album to life.
This album's production and sound is superior to anything you have ever put out. The sounds are thick and heavy like never before, do you agree?
I would agree! We are very happy with how it turned out. I think using the right amplifiers and having gained knowledge from previous experiences in the studio helped us to create a bigger sound. I am always excited for the next record for this very reason.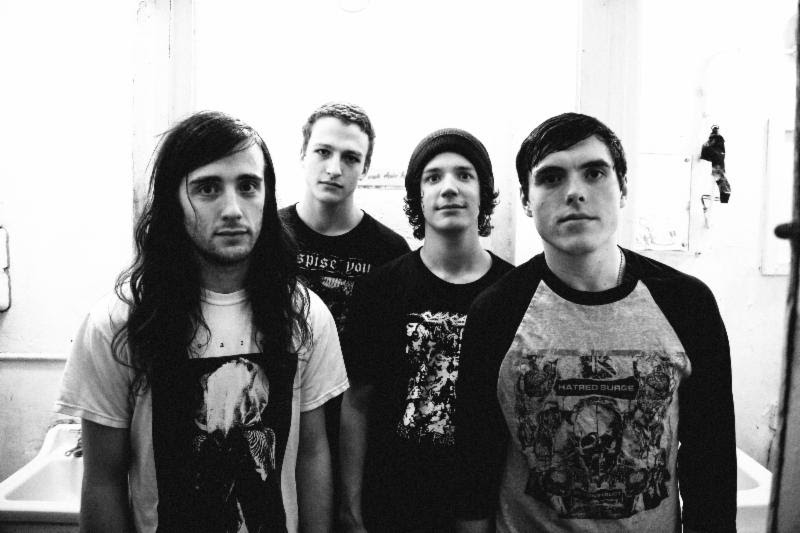 Do you think the noise elements in this album with Merzbow will reappear somehow in your future work? Do you feel like it will be hard to go with out?
We've always tried to keep electronics involved in the records somehow, even if the role is rather small. I think it will play a larger role in our next LP. We've discussed a lot of extra instrumentation.
How do you plan on playing these songs you did with Merzbow live?
The first disc of the record is essentially a normal FOH record with Merzbow providing the noise. This is easier to do live without Masami than the second disc. We may play some form of the second disc with Masami live this spring in Japan.
Does the album have any specific themes? What are the lyrics about?
I have always been fascinated with the human spirit. What binds it, builds it and breaks it. I've continued to write about that struggle and success on this record, and there was an overlying theme dealing with sound itself. The worship of sound above all else!
What is Full of Hell trying to achieve with their music? Why do you play music in the first place, and what are your objectives in general?
We play music because we find it to be fulfilling. Our only objective is to simply continue to write and explore and perform live. We don't need anything else.
What are your plans for the immediate future?
We are touring Japan with our friends in Weekend Nachos in April. This tour begins with an album release show in Tokyo with Merzbow himself, in which we will play a collaborative set together. Very exciting. We are also busy wrapping up plans for a full us tour with our favorite contemporary band, The Body. We also have a couple records to work on for 2015 release. After that, we have many more ideas working around our heads, we will just have to see which come to fruition first.
Your favorite albums of 2014? And who are you favorite bands out there currently?
The Body/Haxan Cloak, Godflesh, Raspberry Bulbs, Swans, Impetuous Ritual, Idylls, Homewrecker, Silver Mt Zion, Vessel, Mutilation Rites, Teitanblood, Purge, Gridlink, Boston Strangler, Artificial Brain, Dead Congregation, Old Man Gloom, Eyehategod, Yautja – all of the Iron Lung, A389 and Profound Lore Records releases, for that matter. The list goes on and on (and on). If you think underground music is dead, then you are a brain-dead fool.