Originally published in 2011 / artwork updated 2022
I have been looking forward to this interview for a while, ever since Dan Harding agreed to do it after I posted about his beautifully grotesque oil paintings. Harding formally introduces us to the monsters that thus far we have only seen in our worst nightmares, and shows us that for all their fearsome appearance, they aren't all that bad. He is painstakingly self-taught, and his years of practice have allowed him to breathe life into the intricate textures and details of his creatures. Below, read about Dan Harding's life and inspirations, and check out some truly stunning artwork…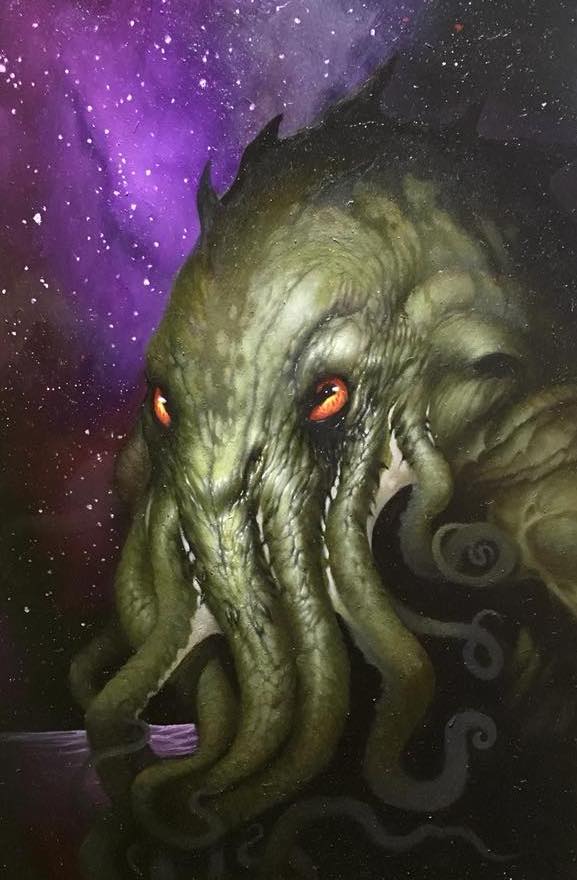 Hi Dan, how are things in your world?
Hello, Things are going pretty good. Thank you.
Let's start at the beginning…where did your life begin?
I was born and raised in a small town in central NJ. Not really exciting but it was a cool area to grow up in. The beach and NYC weren't too far from where I lived so there was always stuff to do.
At what age did realize you had a passion for art? Did your parents support you becoming an artist?
Pretty early on I knew I loved art. I was always scribbling on something which got me into trouble sometimes. If I didn't have paper walls worked really well. My parents always knew I liked art but by the time I took it seriously I was already out of the house. I don't think they had any idea that you could make money doing art and it was always just a hobby for me in their eyes.
Did your art have a dark vibe when you were younger?
Definitely. I loved watching horror movies on the weekends and reading horror mags and what not and it really shaped where I was heading with my art. I remember all of my school projects as a kid had something to do with monsters. Teachers would say That's really good but does it have to be so scary. For the most part, they just let me draw whatever lol. I really couldn't imagine drawing anything without some kind of creature in it. Everything else seemed kind of boring. Monsters and the darker things to me were fun and a blast to draw.
How many years have you been painting? Did it come naturally to you?
I've been painting for something like fifteen years and it definitely didn't come naturally to me. I put a lot of work into painting. I started off using acrylics and that just didn't work for me. I couldn't get the look I wanted. They dry so fast I always felt rushed to blend. So, I switched to oils. I almost quit when I did that! I had a hard time getting control of the paint and I'd make a huge mess. I'd say to myself, how the hell do people paint with this stuff! It was pretty frustrating but I'm glad I stuck with it. I have a lot of fun with it now.
Where do you draw your inspiration from?
A lot of horror movies, books, etc. but I also get a lot of inspiration from things I see around me every day. People, animals, plants just about anything. Texture has a lot to do with it. Seeing an old tree with some crazy bark can give me a million ideas so I'm always looking for that sort of thing. I'm pretty sure people think I'm nuts when I start to stare off at something in the middle of a conversation lol.
Your monsters definitely have an element of the terrifying and strange, but at the same time, they are very expressive and complex emotionally. Do you deliberately try to create empathy between the monster and the viewer? Why or why not?
Thank you very much. I definitely try to blend other emotions in there besides just horror. I like to give them the feeling that as horrible or scary it is you'd still want to approach it. Plus, I think it makes them more interesting and I love to hear what people think some of the creatures I paint might be feeling or how they interpret the expression. Sometimes they see things that are really cool that I didn't intend and that is definitely inspiring too.
Are your monsters based on human beings, or are they alien creatures from another world?
Mostly human beings. Emotion plays a big part in that. I mean I guess I could paint some alien creature but it would still have that human element to it.
What other artists have been an influence on you and inspired you to create?
Frazetta had the biggest impact on me. He really made me want to paint and get better at it. I have a lot of friends that are artists as well and they really inspire me like my good friend David Richardson. Kick-ass sculptor! In the past few years though, guys like Chet Zar, Dave MacDowell, and Michael Hussar have made me want to push myself further.
What kind of music do you listen to when you work?
Mostly Metal though sometimes I like to have the tv on. Not really watching anything just good background noise.
What's next for Dan Harding?
I have a lot of shows coming up this year and into the next. Some are definitely out of my element but I'm stoked about that. I think people will be surprised by one show in particular. More about that one in November. As for the future, hopefully, I can just keep creating and opening up new avenues while getting better with my art.
Thanks for the stellar interview!!!
Thank you very much for the opportunity to talk with you.