CVLT Nation Captures: Blasphemy & Archgoat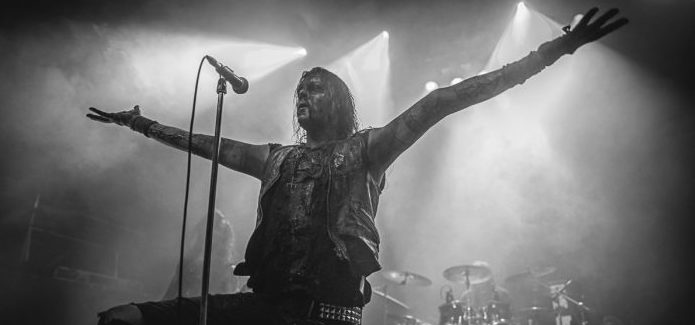 Blasphemy, Archgoat, Valkyrja, Hellfire Deathcult, Weregoat
March 12th, 2017
Rickshaw Theatre, Vancouver, BC Photos & Text by Milton Stilles
This was definitely a show that's hard to really reduce to a description that a non-metal-oriented person would understand or appreciate. Yes, it was a predominantly black metal show, but I feel that a lot of nuances are lost by a description so basic. This was the first time Blasphemy have played a show in their hometown in the time that I've lived here, and it's no surprise that they'd break the silence given this lineup. As champions of what was considered "extreme" metal in their heyday, they put this city on the map in ways immeasurable. In a way, the saying is true: legends don't die.
While I usually have nothing short of laudatory things to say about the Rickshaw, I will admit that I felt a little bit let down by the fact that they opened the doors at 7pm, and started Weregoat at 7:15. Over the course of the evening, the phrase spoken I overheard the most was, "Fuck, I missed Weregoat." So yeah, I didn't catch Weregoat. Bummer.
For a conservative estimate of maybe 75% of the people that spent their evening at the Rickshaw, Hellfire Deathcult were the de facto opener. To an extent, the relief experienced by everyone in the venue once the first chord was struck was palpable; you could feel it between your fingers. While I remain unfamiliar with this band, and kinda think that the "forced-mystery, masked-faces, and shitty stage light" angle is overplayed in this style of music, they definitely won me over. I'd see these guys again in a heartbeat.
Hellfire Deathcult
Valkyrja was the feel-good discovery for me of the evening. Great stage presence, and not a band member in sight that would hesitate to steal the shine from the spotlight. Essentially black metal at heart, but totally unafraid to allude to their not-so-secret love of more classic rock sensitivities in the more melodic passages. Coupled with their onstage attire, a plague you can't shake in the best way imaginable.
Valkyrja
Oh yeah, then there was Archgoat. You watch Archgoat, but you mostly listen. You close your eyes for a second, and feel the sound resonating through your bones. I'm calling it a non-religious experience, but a sense of worship, nonetheless. I think as soon as I put the camera away, I spent the rest of their set in a sort of otherworldly trance. I was drinking quite heavily by this point, so your judgement is probably as effective and reliable as mine.
Archgoat
For as long as I have been involved in the music scene in Vancouver, there has always been this dark, ominous cloud that descends wherever Blasphemy is mentioned. Their prominence came at a time where words whispered between individuals in fear of being heard became unspoken if they weren't repeated. An entire mythos arose. These were scary motherfuckers, and they'd rip your fucking head off, or at least your big brother would warn you about that happening, potentially. To me, that's just the internet before everyone had access to it. A point worth stressing is, these guys had a hand in spearheading the "war metal" movement. Peers and contemporaries to what was brewing in Europe, not merely emulating it. The take-away is, once you look past all the lore, they remain a huge influence on aggressive music, and to see them assert that on my favourite stage in the city is a simple testament to the fact that music is the only place we can ever call home. This was a hell of a night. Hats off to the venue and promoters, this was unforgettable.
Blasphemy
Enjoy this post? Donate to CVLT Nation to help keep us going!