In an age where so many have reacted to world events by doubling down on either fundamentalism or materialism, Vouna seems to offer an alternative world view conveyed through sound, an outlook that seems to encapsulate an intense death mysticism. It's almost impossible to truly narrow down the intent of Vouna's latest album "Atropos", but the sense of immersion created will leave the listener with a sense of existential reeling, looking for answers to questions that have none.
Vouna consists of the singular vision of composer and multi-instrumentalist Yianna Bekris, and "Atropos" is due out on Profound Lore on July 16th. While Bekris handles the majority of the performances and composition, the album does also feature appearances by Nathan Weaver of Wolves in the Throne Room on vocals, Asia Kindred Moore of Sangre de Muerdago on harp, Entrail on violin, and members of Vouna's live ensemble on lap steel and synths. Together the sound they create is as intense as it is unpredictable.
>
The formula, if one exists, is the skillful melding of Doom with atmospheric Black Metal, but there's so much more. Opener "The Highest Mountain" not only displays a monumental heaviness but deft use of dynamics as well. The song sounds like a monk climbing to great heights, both physically and spiritually. Clean vocals, somewhat reminiscent of Anneke van Geirsbergen of The Gathering, float over the top of crushing Doom, and softer moments weave in and out of the composition. At nine minutes, believe it or not, "The Highest Mountain" is the shortest song on the album.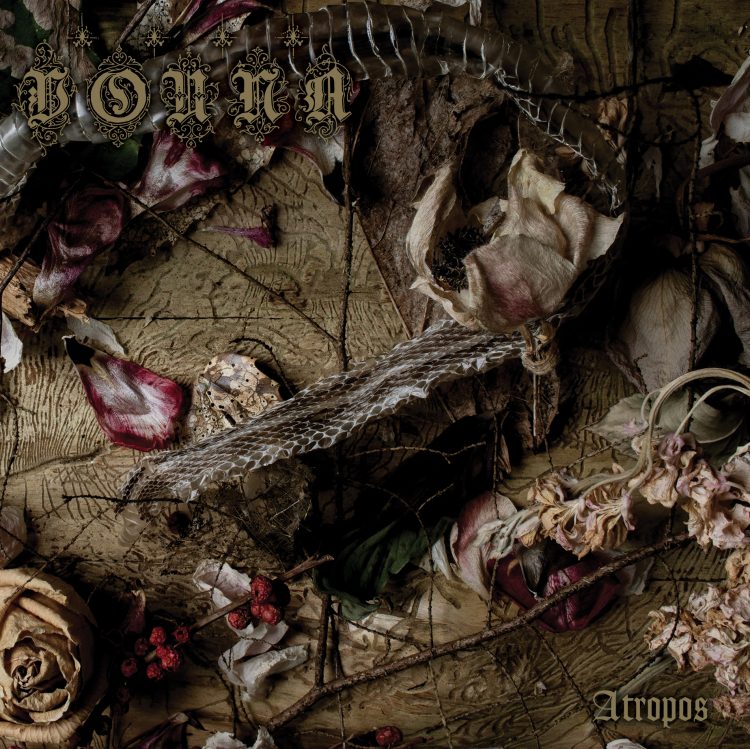 From here, things become even more unpredictable, yet the mood and atmosphere are only deepened by the variety. Songs like "Vanish" and "Grey Sky" lean heavier into the Black Metal side of things at times. The blast beats are few and far between, but when they arrive the effect is utterly devastating. These are like emotional eruptions among all the contemplation of mortality, times in which thinking about death becomes more than an intellectual exercise.
Other elements play an important role in "Atropos" as well. The use of vintage synths gives the music a feeling of unmistakable grandeur. Their use in the intro to "Grey Skies" is almost symphonic, not in the Black Metal sense, but more like on an old King Crimson or ELP album from the seventies. There is also a distinct folk influence at times, particularly on the song "What Once Was (Reprise)", which seems to foreshadow the arrival of the song proper. This piece consists purely of a sole acoustic guitar and a stunning vocal. The whole album conveys a powerful sense of emotion, but Vouna's deftness is especially on display here.
At least for some, the world seems to be opening up again but make no mistake, "Atropos" is a solitary experience. Death is something that we must all face alone. That final breath is only ours to take. Vouna have created a completely immersive experience, an album to be enjoyed on a good pair of headphones. And despite the nearly hour-long length, "Atropos" is best experienced in a single sitting. No matter what you think happens when you die, this album will challenge you to sit with those beliefs.