Cigarette Burns is a London based organization programming independent films in any cinema they can find. This fall, they are going to work with the Barbican Center, a movie theatre in London (Silk St, London EC2Y 8DS), so if you are living nearby, it would be a great opportunity for you to participate in something worth supporting. If you're not, though, you can still use this occasion to discover a great film/director.
The Barbican will be screening movies under the theme of "The Colour of Money" (subtitled "Films that take you from the gold rush to the credit crunch"). It's going to show many classic films dealing with capitalism, like American Psycho, Wall Street, Dawn of the Dead (the Romero version) and some more independent ones like the one we're going to talk about today: Hanno Cambiato Faccia (aka They've Changed Faces) by Italian director Corrado Farina. It's screening Wednesday, September 16th.
Corrado Farina is mostly known for Baba Yaga (Kiss Me Kill Me for the English market), which I discovered for the purpose of this article and that I highly recommend to you. It falls into this "cult/occult" European cinema genre with a unique strangeness to it that you could find in directors such as Bergman, Ferreri, Lenzi or even Jodorowsky (I know, he's not European). Hanno Cambiato Faccia (1972) is his only other movie as director that is not a documentary or a TV movie. If you're going to the screening or if you find a way to watch it (it's only commercialized in Italian) and do not want to be spoiled, stop your reading here or just watch this trailer.
It's pretty tricky to criticize capitalism when you work in the cinema industry, even for an independent creator. You are bound to this need for money, and while pure selfless creation is noble, you will probably not be able to achieve it without some sort of funds. If by any chance you do, but the movie isn't commercially successful, you'll have a hard time making another one (this is a general statement and does not specifically concern today's movie). That being said, you sometimes find a film that brings something new to the table, that approaches the problem from a point of view unseen before, and without sounding hypocritical (which is often the case with products selling anti-consumerism).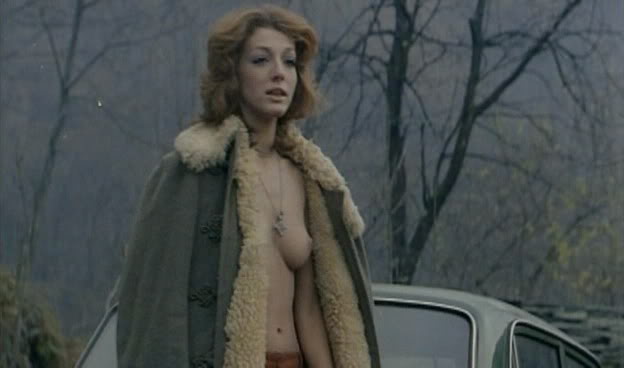 The clever thing with Hanno Cambiato Faccia is that it brings this deep subtext by reinventing an already existing concept. Basically, Farina did with vampires what Romero did with zombies: use a popular horror figure to reflect a non-fictional flaw of modern society. Yes, today we talk about vampires.
I have to admit, I'm not big on vampires – never really liked them in movies, books or tv shows, I don't hate them, I'm just indifferent. To be honest, aside from the early years of cinema, I've only ever enjoyed a few, either over the top/balls to the wall ones like From Dusk Till Dawn and Lesbian Vampire Killers; or movies with an "auteur" intent to it like Låt den rätte komma in, Thirst, or Jim Jarmusch 2014's Only Lovers Left Alive.
What do vampires have to do with capitalism, you might ask? Well, that's simple: by sucking your blood, vampires literally suck the life out of you, but in the capitalism era it seems that your blood is not what represents your life anymore, it's the number of things you own/buy and can show for. So imagine a vampire that just – metaphorically – sucks all your money by providing all your possessions, objects and properties. He'd be killing the real you by forcing you to become the modern human. This is, and to quote Josh from Cigarette Burns, "An amazing twist on the Dracula Mythos […] if we assume that he was a property developer, expanding his empire into the UK, before becoming infatuated with Mina Harker, he would carry on and become an evil manipulative businessman, sucking the life blood from consumers." It's not really scary, it's not all blood and violence, but it's overall a good flick that will maybe make you think. The music by Amedeo Tommasi is outstanding, and there are tons of weird stuff that I won't dare to spoil. Watch it.
Thanks to Josh from Cigarette Burns