Cemetery Filth – Screams From The Catacombs
Review + Stream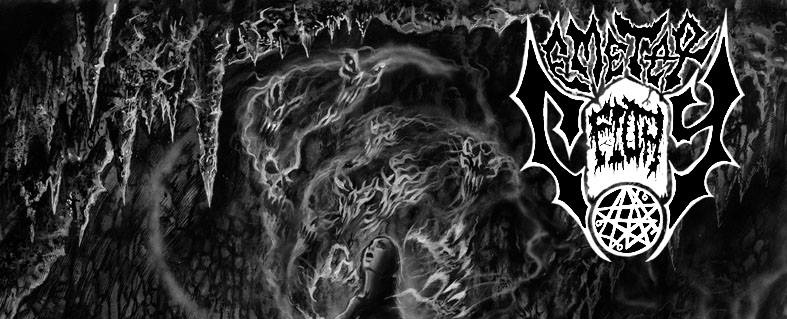 Recent Mountains of Madness Fest stalwarts Cemetery Filth are about to release their three-song cassette on Unspeakable Axe Records this September, so stream it here at CVLT Nation if you're into some quality old–school death metal. In fact, usher in the newbies and let them hear some underground death metal the way its supposed to be done. Let's spread word of this festering sore on the eardrums like it's the latest global pandemic. This three song cassette has no creepy-for-creepiness-sake intros or interludes, which suits me just fine. They start cranking out the good stuff fresh off the mouse click, using varying tempos and catchy riffs to get you in the mood for a zombie chowdown. No ritual atmosphere, or vacuum cleaner guitar grit here…just good songs done the old way.
Cemetery Filth have a knack for good songwriting, and there's no filler on this three song cassette. I've hit the play button too many times to count, and I'm not done. So, whether it's supporting the cassette or bandcamp digital download, show this hardworking act some love. Nothing like a three-song ripper to bang your head to after your boss at the office leaves after eating too many tacos (Hmmm, maybe it was the cheese?). Nothing is unusual here. No sax solos that might grate on some old-school death metal fans. Divebomb solos, sixth-string shred, rumbling bass and precision beats all aboard on this one way trip into the depths, so look for an old construction site and play the cassette on your boombox for full effect. Friends, the catacombs beckon.
Enjoy this post? Donate to CVLT Nation to help keep us going!