Celebrating Earth's Angels of Darkness, Demons of Light 2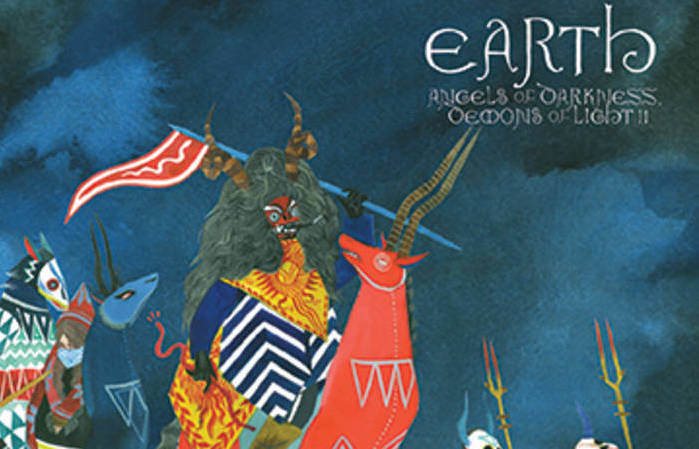 Earth's Angels of Darkness, Demons of Light 1 was a skeletal affair that stripped back the summery shimmer of Bees Made Honey. Bypassing the transition of autumn they skip straight to winter, frigid and hollow, melting away the glamour and the layers they'd built up before. Following this was the quieter, spacier Angels 2, an understated record that explores the calmer fringes of their sound. At their core Earth always tended towards heavy metal thunder despite their minimalism, but here they turned their back on that, producing a record that was calmer, understated and mournful.
Earth often feel bleak, but here the frost has thawed – just a little – to reveal a cold spring. Moving away from big, simplistic power and embracing noises and textures, rather than following a mighty riff, guitar lines tend to flutter out and the percussion, only occasionally present, is used more evoke tension than to carry a beat. Earth albums always feel like they could be a soundtrack, or at least owed a lot to soundtracks; never was that clearer than here.
At the conclusion of Angels 1, the formula for the record is expanded, a 20 rather than 10 minute track exploring empty space, tension and evoking sad contemplation. Angels 2 takes this and doubles it again, a build up over an entire record. Opener Sigil of Brass is an excellent showcase for that, featuring flurries of activity, gusts of noises and whispers of clashing instruments whereas before the guitars would have been strident.
Where Sigil is tentative but exploratative, His Teeth Did Brightly Shine is a longer and more active offering, thin guitars snaking along with strange, sharp noises fluttering underneath. This is slightly more stable ground for Earth, more evocative of a journey through unfamiliar territory or even a sombre procession, as implied by the esoteric artwork. This is followed by A Multiplicity of Doors, which re-introduces some percussion but at an even more glacial pace than before, and now even more muted, stripped of all but the slightest semblance of rock drums. Adrienne Davis's percussion had always been an integral part of Earth, so to see it take such a backseat is a little jarring, but that only makes its appearance here shine through, giving a sad, cello-laden number a bit more punch and life. At this point it's notable how much more variety there is on this record – more techniques, more restraint, more crescendo/ diminuendo, more strange noises. For an album thoroughly off-script, Angels 2 is surprisingly well-rounded.
The Corascene Dog is less dramatic, but here we see the whole record developing legs; structurally more in the vein of Angels 1. Here, the procession is well into its march, the momentum passing over into The Rakehell, perhaps indicative of the warmth returning. Here licks and melodies flutter up and Adriene's drums are bolder. The effect is akin to coming out of a depression, and the album ends a considerable distance from its starting point, with the sun on it's face.
This style was thoroughly abandoned by the 2015 release of Primitive and Deadly which took a metallic spin to their style, another departure. Angels 2 wrapped up a section of development for Earth which clearly wasn't easy – these are big, sad albums – but lovely, and wonderful to end things on a positive note. As I write, Spring is starting to show it's face; we are finally in brighter climes, and this record feels apposite.
A departure even by their standards, Angels 2 is a captivating addition to their catalogue and an excellent example of minimalism explored by heavy music. It's unlikely we'll get an Angels 3, but who knows?
Enjoy this post? Donate to CVLT Nation to help keep us going!