Brutality Ahead: FAMINE FEST 2017 Announcement!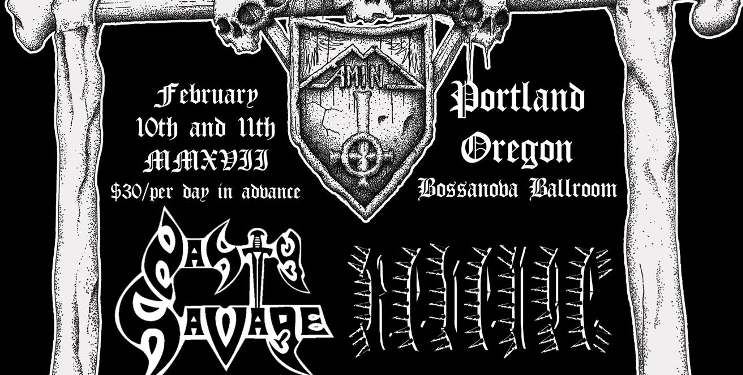 Heads up Pacific Northwest, and West Coast/Rest of the country/world in general – Famine Fest is returning to Portland OR in February 2017 for its highly anticipated fourth edition after this year's 2016 edition decimated a packed event. And holy fuck, the 2017 edition's lineup has just been revealed and it's just fucking bonkers! Check out the insane lineup below (which includes glorious destroyers like Revenge, Lord Gore, Nasty Savage, Ritual Necromancy, Funebrarum, Demoncy and more), and RSVP/view the full details HERE.
Famine Fext MMXVII
February 10th &11th
The Bossanova Ballroom
Portland, OR
Day One, Friday February 10th. $30 advance tickets available HERE
Nasty Savage
Funebrarum 
Necroholocaust 
Dead Conspiracy 
Church of Disgust 
Torture Rack 
Pink Mass 
Desolator 
Abstracter
Iron Scepter
Raptor
Day Two, Saturday February 11th. $30 tickets available in advance HERE
Revenge
Lord Gore
Demoncy
Ritual Necromancy
Weregoat
Trepanation
Phrenelith
Necrot
Gloam 
Bloody Master
Petrification
Heavy Metal Flea market, vendors etc. will be raging on the upper floor of the Bossanova, affordible rates for record stores, labels, distros or local artists. Iterested vendors please get in touch at booking@faminefest.com
Enjoy this post? Donate to CVLT Nation to help keep us going!