Miles Davis said, "It's not the notes you play; it's the notes you don't play."
Claude Debussy said, ""Music is the space between the notes."
On their highly anticipated debut album, Do It With A Smile, Nashville hardcore experimentalists Thirdface have the confidence and the skill to let their bombastic, innovative songs breathe, allowing each musician's talent to speak for itself without hiding behind any walls of sound. Though a fairly young band–having released their debut EP, a demonstration of righteous aggression, in 2018–they have amassed a fervent fanbase, and this LP more than delivers on the promise of that release.
Thirdface features familiar faces for those who follow the Nashville music scene. Drawing from bands like Donors, Yautja, and Sallow, it's no wonder that this project has found its very special voice in such a very short time. Vocalist Kathryn Edwards says, "David (Reichley) had written riffs and got Shibby (Poole) and Maddy (Madeira) on board. They fleshed those out and needed a singer. That's when they asked me and it's been us since. The main goal is writing face-melting/booty-shaking riffs coupled with all my take-no-shit lyrics."
This balance between grind and groove is a rare one, but it is a key component of Thirdface's sound and of their instant appeal. The interplay between Madeira's head-pummeling bass and Poole's any-style-at-all drumming creates a dynamism that keeps the listener guessing and enthralled. Reichley's texture-tweaking approach to guitar combines the flavors of Walter Schreifels, Kenneth William, and Adrian Belew, giving some of these songs a post-hardcore or avant-garde edge. Over it all, Edwards's pit-of-the-stomach bellow creates a visceral, angry immediacy.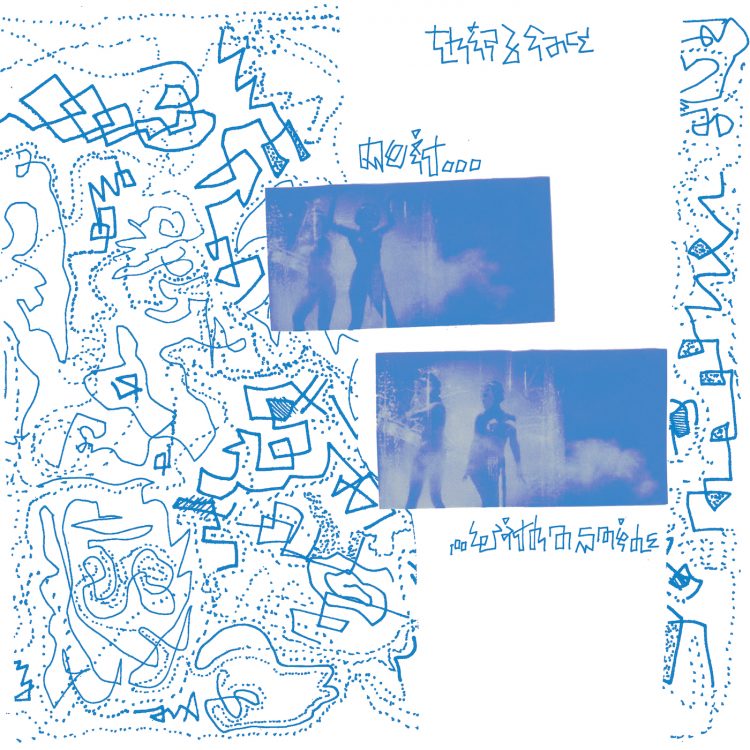 Of Do It With A Smile, Edwards says, "This is a culmination of the music we made while formulating what we wanted to do. No pressure! Just playing what feels and sounds good," Edwards says. "During the time where we were coming up with the songs that ended up on this album, our focus was to just write a set that we could play fluidly and that didn't really lag. So this record hopefully comes across like listening to a nice set."
Mission accomplished. This set of songs is compact and cohesive, dense and diverse. While nominally hardcore, the band allows itself to explore any musical avenue that calls to their creative whims, and the result is electric and genuine. Edwards says, "Compared to the EP, this record incorporated more input and collaboration from everyone, and I think is a reflection of us all getting more comfortable writing and playing this style of music with one another. It's fun and engaging to write things that challenge you as a musician and a listener."
"Grasping at the Root" was an early single that was released in June 2020, at what might have been the peak of that year's wave of the Black Lives Matter protests nationally and globally. The song discusses liberation generally and proceeds from the single go to the Worker's Dignity Project. "A little Angela Davis to get a fire going to let everyone know we can find the core of the problem and fight against it together," Edwards says. The song is an irresistible fusillade of alternating style, an approach that is seldom done well, but one that is thrilling when it hits the mark, with bands like Backslider and sister-group Yautja standing out as perfect examples of musicians who hit that bullseye every time. Seemingly every four measures, the song shifts, touching on d-beat, 2-stepping hardcore, crossover, grind, sludge, and the metallic hardcore of Cursed and Tragedy in just over two minutes. These shifts are smoother than they would be in the hands of less capable musicians, but with each one, the listener's eyebrows rise higher and higher as the song burrows deeper and deeper into their heart. As a single, "Grasping At The Root" packed more brilliance into one song than many bands are able to include in an album. As a teaser of what was to come, the song previewed perfectly the exquisite craftsmanship that awaits on Do It With A Smile.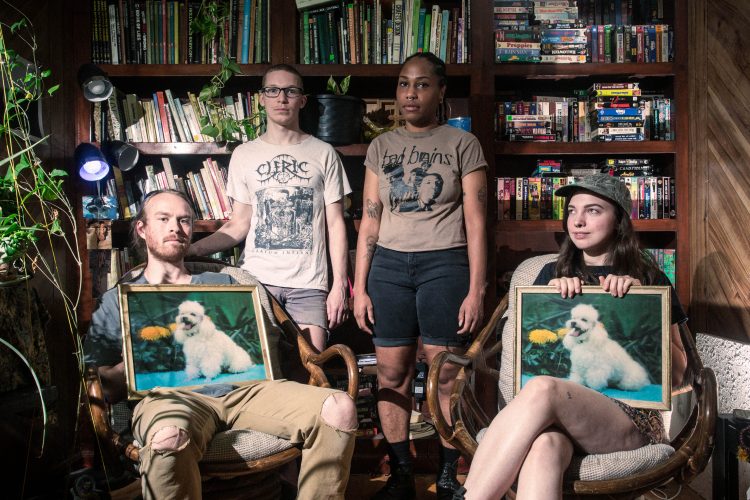 At a time when important issues of race, class, and intersectionality are on the minds of everyone but the willfully ignorant, Edwards's lyrics are especially relevant. With "Grasping At The Roots" image of a chain gang and her call to the listener to break the chains, she address the lie of upward mobility in a capitalist world while also offering a critique of the carceral state, where prison labor is exploited for profit. Regarding advice for people who want to learn more about vital topics like systemic racism and wage-slavery, Edwards say, "Seek out knowledge from people who have dedicated their lives to fighting for others. Sometimes it is best to listen."
Listening is easy for a Thirdface fan, as the important messages in Edwards's lyrics are packaged in irresistible, category-defying punk. "Buck," a song which features Madeira playing one of the grooviest basslines and which should put her immediately on any Top 100 Bassists lists, is a spaced-out, bloody-fanged pulverizer that acts as something of a transition to "Ally," a highlight in an album full of highlights. This song focuses on an oft-ignored facet of allyship: the ally who centers their voice instead of the voices with whom they claim to be allied. An ugly side-effect of the combination of "wokeness" and the commodification of identity is that people who consider themselves "influencers" are too frequently self-identifying as allies for clout while dragging attention to themselves instead of to the people who are impacted by movements like Black Lives Matter, Workers' Rights, and Pride movements. "This goes back to listening," Edwards says. "Many people want to speak over and for the marginalized. We are capable of doing so ourselves. Never allow your quest for a gold star to impede the true goal."
"Ally" boasts virtuosic riffing, starting with the seasickness-inducing hammer-ons and pull-offs of Reichley and Madeira. Halfway through, though, the song becomes more experimental, with a focus on ambiance and mood. It is hard to make aural textures interesting to an audience who signed up for mosh-music, but Thirdface knows their instruments well enough to make these minutes compelling, and they trust that their audience will know that this is true art. Though understated, this section is a true showcase of the musicians' skills. Poole, especially, stands out, exploring the percussion with orchestral finesse.
Album single "Villains!" begins with a druggy languor that sounds like early Amphetamine Reptile releases, and this sluggish meditation is a perfect illustration of its subject matter: the plight and ennui of the working class.
"Day in, day out. We fight to live, we fight to breathe, we fight to eat. Clock in, clock out. For the elite, for the bourgeois, for a small fee. Same shit, different day. We work our fingers to the bone for dying wage. Drop in, drop out. We numb the pain, we numb the mind, erase it all."
This section, like the docile servility it represents, doesn't last forever though. Instead, the relentless pressure to survive in a system not designed for one's survival is a primer, a powder keg. And just like a person who is "pushed down from the stress of living," the song eventually explodes. The workaday doldrums combust into violence, and the song ignites into fists and feet, with tremolo picking, earworm riffing, and the screaming of Edwards and every exploited person whose voice she channels. "I think it's a great summation of the record. We are angry and we are tired. The only way to get any relief is to shout at your oppressors."
There is no moment wasted on this record. Even those spaces between the notes, even those notes they don't play, are all executed with art and intention. Musically and lyrically, this album takes risks and pulls no punches. This album, with any luck, will catch the ear of every other active hardcore band and show them: this is how we move the genre forward, by breaking out of boxes, by breaking chains, and most importantly, by handing the microphone over to someone who has something important to say.
Edwards says that, in hardcore, "The conversation has moved to giving voices to those who have been silenced. Anyone with a problem with this will be left in the dust."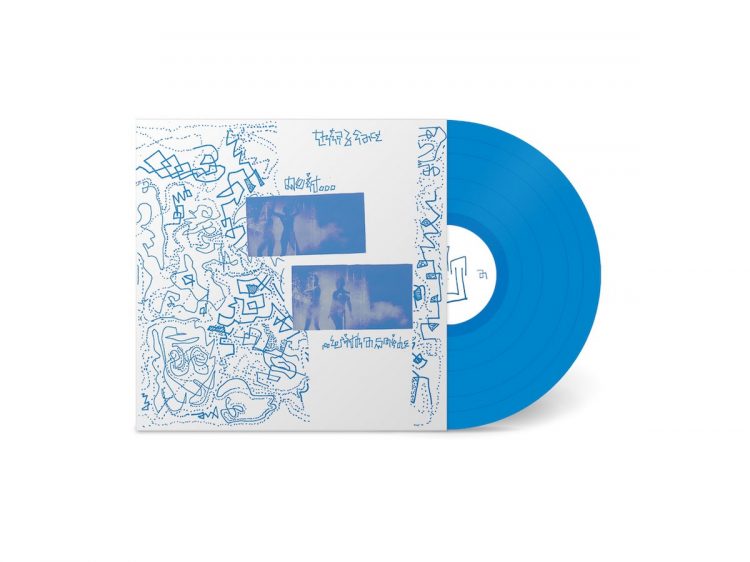 Do It With A Smile is out through Exploding In Sound.
It was recorded and mixed by Shibby Poole, and it was mastered by Mikey Allred at Dark Art Audio.
Artwork and layout are by David Reichley and Kathryn Edwards.