Genre has two cutting edges. Like all umbrellas of categorization, musical genre can direct fans to find new artists based on their tastes, and for newer bands, it can help narrow the seemingly boundless field of musical expression to fit—and to shape—their creative vision. Constraints can often be, paradoxically, very liberating. To a young writer, in other words, a blank page can be paralyzing.
However, for more established artists, for artists who have thoroughly explored the territories of their own genre, those boxes that once provided direction become stifling. Musicians who have exhausted the potential of one genre, who are disinterested in putting out something that sounds like "the next fill-in-the-blank," are likely to be more interested in blurring or dissolving genre lines, in creating music that defies categorization. This might be a fruitless pursuit for metal and punk musicians, though, as dedicated fans of theses umbrella-groups seem to love nothing more than pulling out the old reliable DYMO Label Maker and sticking prefixes and suffixes onto any root genre to which a band might tether itself.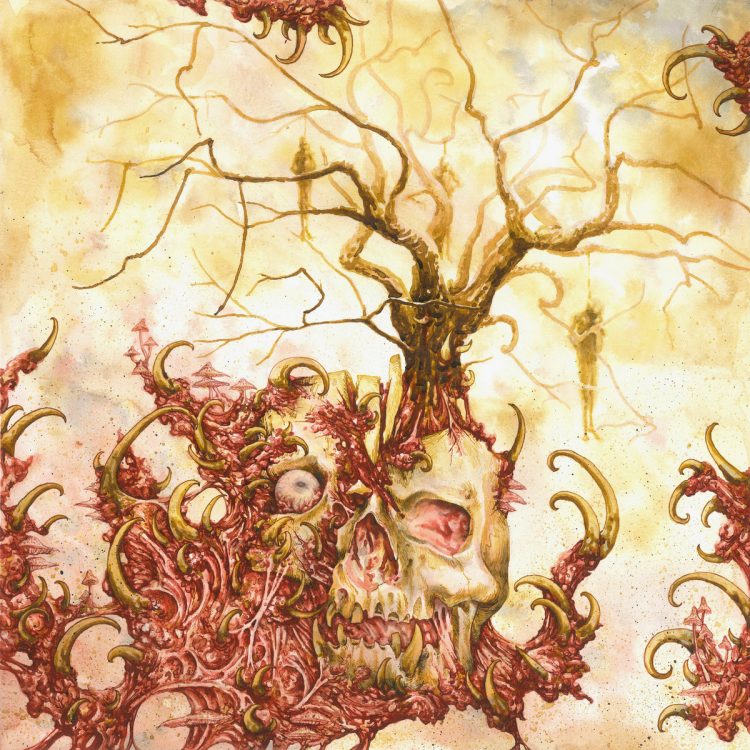 Is BLEEDING OUT blackened deathgrind? Grinding sludgeviolence? Melodic Japanese deathbeat? None of it really matters. For David Kristiansen, Eric King, Johnny Ibay, and Marc Bourgon, four of Canada's most reliable grind technicians, riffs are riffs, blastbeats are blastbeats, and no nonsense of "fitting into a box" can dissuade them from creating some of the most explosive heavy music that the world has heard in years. Hailing from bands like The Endless Blockade, Fuck the Facts, Column of Heaven, Slaughter Strike, Pick Your Side, and Abyss, these veterans have made careers of making grind, death, and thrash records that are simultaneously genre-defining and genre-defying, influencing countless bands that followed and obliterating all expectations of what bands playing in those genres "should" be doing.
Even considering the lineup, BLEEDING OUT's debut LP, Lifelong Death Fantasy is surprisingly diverse. It dares the listener to put it in any box before quickly dissembling that box like a shoddy IKEA cabinet and repurposing the pieces to create something totally new. Clearly drawing from a passion for all things deadly and grinding, BLEEDING OUT take ingredients from all over the spectrum of heavy music, carefully and caringly constructing an LP that promises to be an instant favorite for any fan of quality metal, regardless of whether they wear battle-jackets, black tees, gauntlets, or crusty, safety-pin-strewn vests.
Bookended by mid-tempo Swedish melodeath riffs that seem to tie the beginning and ending together perfectly, the album is an armor-plated snake eating its own tail, a powder keg full of nails, a combustion of non-stop intensity and violence. Taking a left-turn from the contemplation of opening track, "Finally Dead Once More," the title track explodes into a breakneck, blasting that makes the listener feel as though they are barely outrunning a clan of hyenas. A rightful song after which to name the album, "Lifelong Death Fantasy" is dedicated to relentlessness, combining elements of death and grind and answering the question "What would Insect Warfare sound like with Trey Azagthoth on guitar?"
The galloping d-beat of "Realm of Silence" is girded with head-stomping HM-2 riffs before splattering into a grinding refrain that, with each repetition, devolves, growing a thicker forehead, hunching over, stomping barefoot with club in hand. That lurching, hulking mass of volume resumes with "Suffer Now Suffer Later," whose extreme tempo shifts spin the globe, carrying the from old school Floridian death to the crusty Japanese hardcore of Bastard and Framtid to Carcass's and Napalm Death's English grind.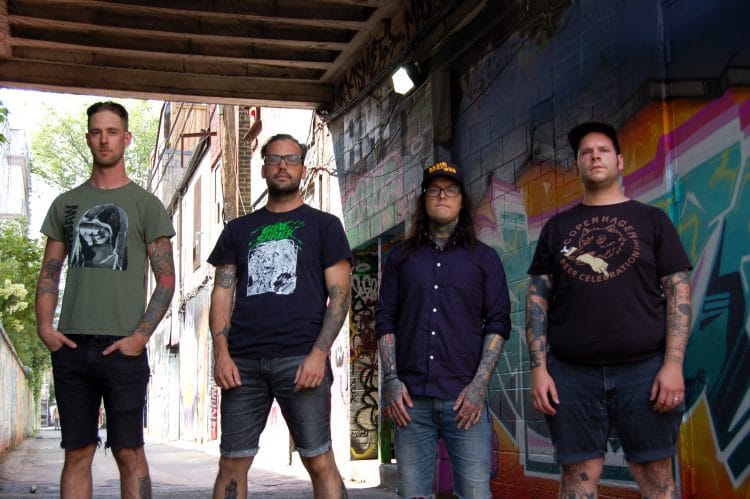 The nihilistic, misanthropic doom of "Nightmares Forged In Blood" is a perfect interlude to meditate on the chaotic ruin that levels buildings on either side of it. Like a colony of silent, hooded monks marching to the dirge of the civilization whose ashes lie at their feet as they traverse a ruined planet, this piece is a contemplation that puts the rest of this brilliant demolition in perspective. It ends with a minor piano arpeggiation that would tie a perfect bow on the album, but BLEEDING OUT again taunts the listener's expectations, pulling the rug out with the wheel of spinning power tools that is "Choose Your Own Extinction," the feedback at the beginning of which is the curtain rising on the maelstrom that is Lifelong Death Fantasy's final act.
All stops are pulled on "Perpetually Finite," a ceaseless firestorm of memorable, innovative riffs and artillery-fire blast beats. This song is a showcase of each of these four musicians' greatest strengths working in clockwork synchronicity. It is a glaring climax that marks the turning point to the painful, high-friction descent that is "Mechanized Decomposition," the audio equivalent of being trampled of a blade-wielding cavalry. It is pessimistic, a mirror on a world apparently bent on self-destruction.
Lifelong Death Fantasy ends as it began, with ghostly, evocative melodies calling from some distant age, and it makes the listener wonder, will those who come after us repeat our mistakes?
Without making any sacrifices to their creative vision, without compromising any of their might or extremity, BLEEDING OUT have created a network of musical masterpieces that ought to win the approval of the most discerning death metal and grindcore enthusiast. As a band whose members have nothing to prove, a group who could have rested on legacies secured by iconic catalogs from previous bands, BLEEDING OUT has chosen instead to up the ante for bands working today in any of the countless subgenres of heavy music that make up this cosmopolitan explosion. BLEEDING OUT are an inspiration, showing that you needn't confine yourself for anyone's convenience or comfort. They aren't breaking the rules; they're rewriting them.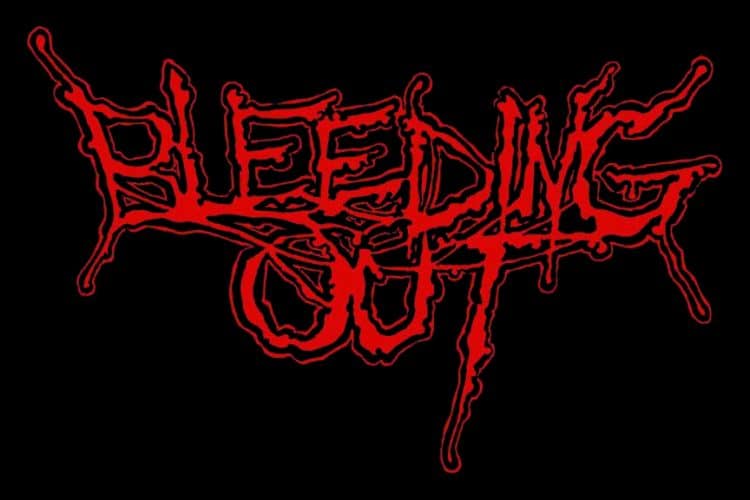 Order the Lifelong Death Fantasy through Profound Lore.
Read Cvlt Nation's interview with BLEEDING OUT here.
Recorded and mixed by Sean Pearson at Boxcar Sound.
Mastered by Brad Boatright at Audiosiege.
Art by Arthur Mills at Wartooth Tattoo.