NITE are a new band from San Francisco, CA (formed by current and past members of Satan's Wrath, High Spirits, Serpents of Dawn and Dawnbringer) playing a timeless and apparently prehistoric form of heavy metal/NWOBHM in the vein of Dio, Priest, Maiden etc, and in their sound you will also hear various other strains of primordial metal like Mercyful Fate, Thin Lizzy, and more. Nothing new you'd be led to think… Wrong. Because it doesn't stop here, far from it. This band and their glorious debut LP Darkness Silence Mirror Flame are special beyond words and it's not only because of the masterful songwriting, the timeless celebration of the ancient heavy metal flame, or for their irresistible razor-sharp riffs and blazing guitar leads, but also for the fascinating atmospheres and the unique aesthetic they have layered over the classic heavy metal foundation of their sound, perhaps making for the most atmospheric and darkest NWOBHM album I had ever heard…

While adhering to the old heavy metal book with utmost loyalty using a highly standardized and proudly conservative formula to get the best out of the style, NITE show quite a few traits of daring experimentalism and originality which will leave you mesmerized, especially in the way they have managed to add some alien elements to the mix without diminishing the ass-kicking heavy metal load in the slightest, rather augmenting it and elevating it above itself into something grand, fascinating, majestic and even mystical.
I'm mainly talking about the esoteric and occult atmospheres brought fourth by subtle doom and crust punk influences in certain passages where the music becomes slower, darker and more cryptic and spooky, as well as the evil and malevolent vibes being liberated into the album's air by the malefic croaked vocals (an unusual approach for old school heavy metal which normally favors powerful and operatic singing), a choice which I hadn't really ever heard before but which astonishingly seems to work wonders to NITE's cause. With all its peculiar traits masterfully distilled from various eras of old metal and working together to forge the genre's future, "Darkness Silence Mirror Flame" is an exaltation of heavy metal's history and a triumphant celebration of the style because it encapsulates various moments of metal's history which had rarely met or converged in the past, creating a new and unclassifiable mix of the genre's most iconic traits from throughout the decades.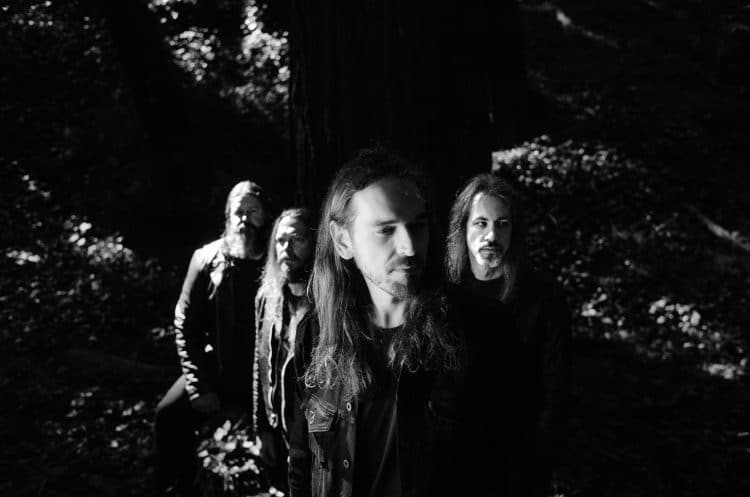 The funnest part of this extremely fun and majestically profound album is looking at it as a whole to see all the marvelous connections the band has weaved into it. As you listen you will hear as we said all the epic and timeless mastery of bands like Thin Lizzy, early Priest, Dio and Maiden, being reshaped through the occult and cryptic lens of Candlemass and Cathedral, with the dark, malefic, and foreboding atmospheres of early heavy punk bands like Amebix and Hellhammer. An astonishing mix that will first lead you from talking about the most classic of classic heavy metal albums, to accepting in the end one of the most contaminated, ambitious and original syncretisms of sounds you will probably hear all year.

So while we're here raving about an amazing "classic heavy metal" album, you know you've only heard half the story, and you also know that while it would be far too easy to jump to the conclusion that "Darkness Silence Mirror Flame" is trying to take the listener back to the past glory of heavy metal, you soon realize that's the furthest thing from the truth. The reality you soon learn and accept is that with "Darkness Silence Mirror Flame" NITE have instead tried to bring heavy metal into the the future, and not take the listener to the past. This is what classic heavy metal would be in 2020, we just didn't know it yet, so thanks to NITE for brining us here.
Darkness Silence Mirror Flame was released back in March 2020 on LP/CD/digital via Creator-Destructor Records, and was recently re-issued on cassette by Sentient Ruin.