2020 looks like it's turning into quite a year for Death. Covid-19 is spreading, people are quarantining, and life as we've known it is changing radically. Not coincidentally, Death Doom has made a ferocious comeback so far this year, with the stellar new release by stalwarts and legends My Dying Bride and a new album on the horizon by also-legends Paradise Lost. Between then and now, a little band from Kentucky, of all places, has released a sterling new album that rests quite comfortably between both of those bands, while adding and magnifying their own unique contributions to the subgenre. Rotting Kingdom's "A Deeper Shade of Sorrow," is their second recording and a fuller maturation of the sounds they explored on their self-titled debut. It's safe to say that if you're into Death Doom, you'll love this band.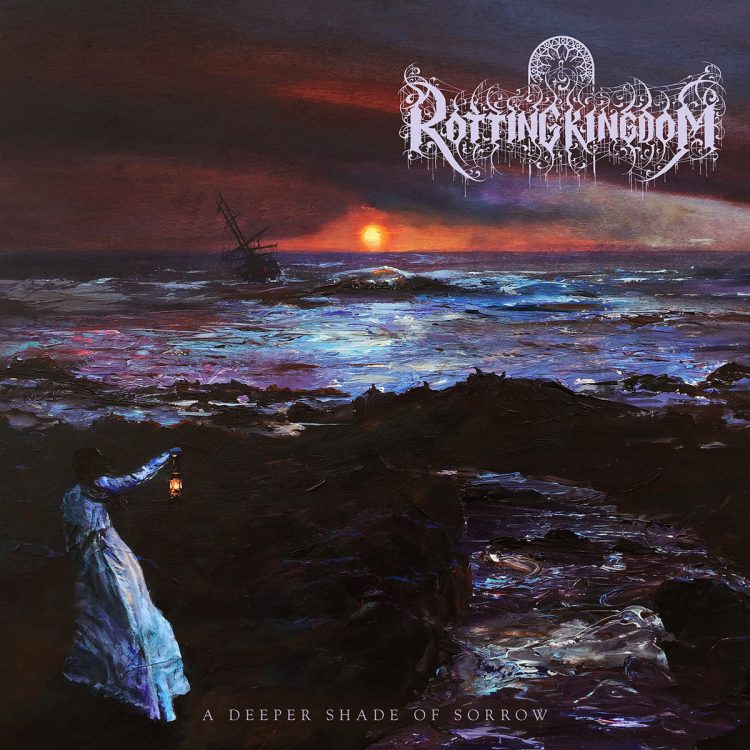 The album lets you know right away what you're getting into, starting with somber, melancholic guitar that is both beautiful and quite dreadful. Right away you're in gothic territory, everything terribly romantic and laden with death. It is elegiac and builds, the trepidation creeping in, until the guitars crash and that singular growl takes over. "Sculpted Into Life By The Hand of Death" is indeed a perfect title and a great introduction to the band if you've never heard of them. This song perfectly balances the heavy and the melodic, never sacrificing one to the other. It is a great encapsulation of what Death Doom actually is. It rumbles and cascades and lurches before sprinting and coming back around again. "Barren Harvest" pummels, full of strength and bridled fury. This song is a slow-motion avalanche, burying the listener in wave after wave of utter gloom, using bright, jagged melodies to give glimpses of sunlight before you are entombed forever. "Decrepit Elegance" is a slight, tiny instrumental with loads of atmosphere and piano that lasts a minute and half, sliding into a full-on Death Metal stomp called "Absolute Ruin," where much of the former elegance is stripped bare and the band truly unleashes, riffing and slamming. They don't forget the melody, but this really feels like it's about to run off the rails, and that's a good thing, being wild and slightly tamed. "The Antechambers of Eternity" returns to the cold and dank and has a whole Lovecraftian feel to it. At once creepy and chilling, it is also filled with foreboding and longing. A terrific achievement. The closing track is the title track, and Rotting Kingdom further cement their sound here, bringing back earlier elements and flawlessly rounding the whole out. This is another composition that builds, from its somber opening notes into its rumbling Death, there is a feeling of release about this song, everything slightly brighter than what has come before it. Slightly. It's like a level so dark has been reached it now appears to be full of light and a strange sort of redemption occurs amidst the icy isolation.
This album is filled with magnificent guitar work, stellar drumming, bass playing that actually accentuates the melodies while it adds to the bottom end, and terrific, guttural vocals that are brutal and yet still somehow haunting. If you're into Death Doom then come on down, you've got an album of pure delight waiting for you. So far, one of the best albums released this year, and a perfect soundtrack to our current Armageddon.