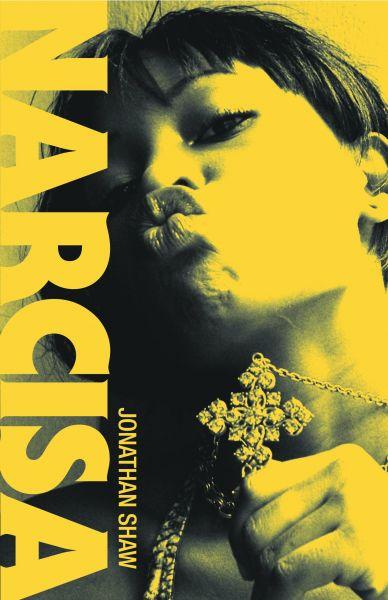 "Between us, there always seemed to exist some deeper identification, born of a deep, unspoken bond; an underlying sense of kinship. It was as if loving Narcisa was like loving some wayward, feral strand of myself; a distorted funhouse mirror image of my own brutalised, mangled, forgotten inner child, restructured into rude juvenile delinquent female form, with a crooked, charismatic smile of mischief at the end of her fuzzy pink tongue."
Jonathan Shaw's Narcisa is a classic tale of addiction. Not of drug addiction, although there is plenty of that riddling its decrepit, cobble-stoned sub-tropical streets, but of the addiction of one person for another. What, in most other instances, would be called "love", although you won't find many referring to this book as a love story. That is, however, exactly what it is; as buried as it may be beneath a thousand grimy layers of depravity, dysfunction, violence and insanity, Narcisa is a far more realistic, accurate, and pure portrayal of love than whatever turgid shit Hollywood or Jodi Picoult is churning out these days. Shaw captures the side of love that sends Hollywood running for the hills, the tortuous, strung-out junkie experience of knowing that someone or something is pure poison and loving it, needing it anyway.
Ignacio Valencia Lobos, or Cigano, is a Yamaha-riding, Gypsy-wandering bandito poet who returns to the Brazil of his rampant youth and finds his heroin/e in the form of Narcisa, a schizophrenic crack-smoking esoteric-philosophising teenage prostitute, and down the cosmic rabbit hole he goes. Narcisa charts the endlessly circling existential hell Cigano finds himself in, fully aware of how bad Narcisa is for him and yet unable to let her go.
This novel reads like a long-lost literary classic, and references to the Internet and mobile phones feel almost idiosyncratic in a tale that would otherwise slide in easily beside older works by Kerouac, Burroughs, Miller, Fante and Bukowski. Narcisa, reads, in fact, a lot like Bukowski, in its world-weariness and hard-edged skid row charm, that is, if Bukowski had ever gotten out of LA or done anything besides drifting between bars, menial jobs and cold water apartments. Narcisa shares with Bukowski and the Beats the same deep-burning poetic flare and earnest obsession with the types of people and experiences that most of society shuns or turns a deliberately blind eye to, but it also has a deep-rooted connection with its geographic setting: the exotic, equal parts beautiful and dangerous muggy urban jungle of Rio De Janeiro, and a knowledge that can only come from personal experience.
Jonathan Shaw has had one hell of a life, and it fills this work of fiction like blood pumping through its veins. The son of legendary jazz musician Artie Shaw, Shaw spent his youth wandering the back roads and alleyways of South America much like the hero of his novel before making a name for himself in the US as one of the most revered tattoo artists of all time, counting notable figures such as Johnny Depp, Iggy Pop, Jim Jarmusch, Marilyn Manson and Kat Von D amongst his patrons and fans. Shaw eventually turned from skin to manuscript, and developed almost overnight cult status in the world of underground literature, with the first edition of Narcisa, released through musician and author Wes Eisold's (American Nightmare, Cold Cave) indie publishing house Heartworm Press in 2007, selling out almost immediately, with out-of-print copies now going for as much as $300 a pop on Amazon and Ebay.
While Internet resellers continue to make a fortune off his work, Shaw, who doesn't even own a copy of his own book, has returned to South America and the nomad lifestyle, going where the road and his Harley take him, all the while tinkering away at his next projects, Scab Vendor, a collection of autobiographical tales dealing with his early years and his time spent in the tattoo business, and a new, completely revised and rewritten version of Narcisa. Both are to be released in the near future on major publishers, hopefully so that the world at large, and those who don't have the time or money to seek out his ultra-rare early releases, will finally be able to discover the destined-to-be classic works of this literary master and true iconoclast.
Check out some of Jonathan Shaw's writings here: