Ectovoid returns this year with new full-length release, Dark Abstraction, care of Hellthrasher Productions.
The band have refocused on a new style on their latest platter, doing blackened death metal homage with catchy, groovy, shredding riffs and galloping chord transitions as the band mixes up tempos nicely. The guitars are shoved upfront on Dark Abstraction, showcasing a highlight reel of tremolo riffs, thrashy shreds and death metal downpicks to great effect. Ectovoid execute what proves to be a captivating set of songs replete with thrash tempos and blastbeats.
Ectovoid has always been a greatly under-appreciated band. Staying relevant in the underground, they jam eight songs that feature lots of groove and catchiness. The riffs shape-shift with logical progression and never overstay their welcome. The tracks are short and sweet, sometimes slowing down in the middle to set-up the proverbial kit bashing and solo segments. The band utilize all instruments with deft, lithe arrangements. The vocals are distant, echoing roars that resound from somewhere in a deep cavern, enunciating the lyrics during galloping song structures that never bore the listener. Ectovoid may ultimately fall short of supreme brilliance, but these set of catchy songs and entertaining mix of tempos keeps the corpse fresh for the blackened death metal fan tired of end-to-end blasting and dissonance.
Check out the track entitled "Mental Netherworlds" for album highlight. There are no downer tracks. Every track grooves and features pacing that never ceases to get you going. Dark Abstraction is a good soundtrack to a wild hunt.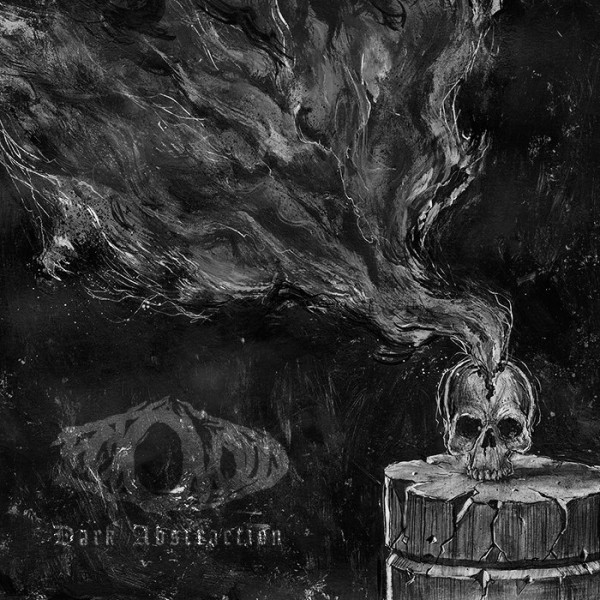 In between the highlight track into the meat of the album, Ectovoid don't let up. From the first notes of album opener, "Obscure Altars," to the last track, "Spawned From Unending Mystery," the band never waste time with ambient interludes and pointless intros and outros, rocking their new musical direction with confidence and precision.
This album is highly recommended for fans of groovy and catchy blackened death metal. The riffs are almost progressive in terms of induction and execution. The songs are built around the riffs, but the rhythm section keeps things in tow nicely. Throw in an album cover by Bartlomiej Kurzok that effin rules, and you've got one hell of a winner for Hellthrasher Productions!