*Caution Highly Addictive Doom*
MAMMOTH WEED WIZARD BASTARD's
"Nachthexen" Now Streaming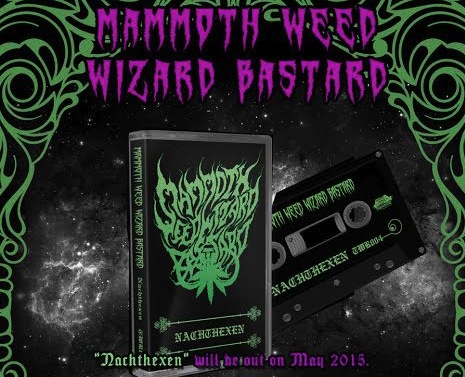 As soon as I hit play on MAMMOTH WEED WIZARD BASTARD's Nachthexen,
I was hooked on this extremely addictive doom band!!! For a little over 30 minutes, these druids of the downtuned underworld will take your cosmic mind to a plane where third eye vision is normal! This is an alert to all doom lovers: head over to Tapeworship and see if they will allow you to pre-order it ASAP…For anyone that does get a copy of MAMMOTH WEED WIZARD BASTARD's Nachthexen, you are lucky, because to me it ranks up there with finding a gold Willy Wonka ticket. I guess what I'm trying to say is that this is one of the sickest doom releases that I have heard in the past 12 months…With each listen, I hear something new and only become more addicted to MAMMOTH WEED WIZARD BASTARD…now it's your turn! We are streaming Nachthexen below via their bandcamp…Now get high and tune the fuck IN! Stay tuned for a full review of this epic tape, or should I say doomadelic transcendental THC power spaceship!
Enjoy this post? Donate to CVLT Nation to help keep us going!