A Watery Grave…
Thor's Well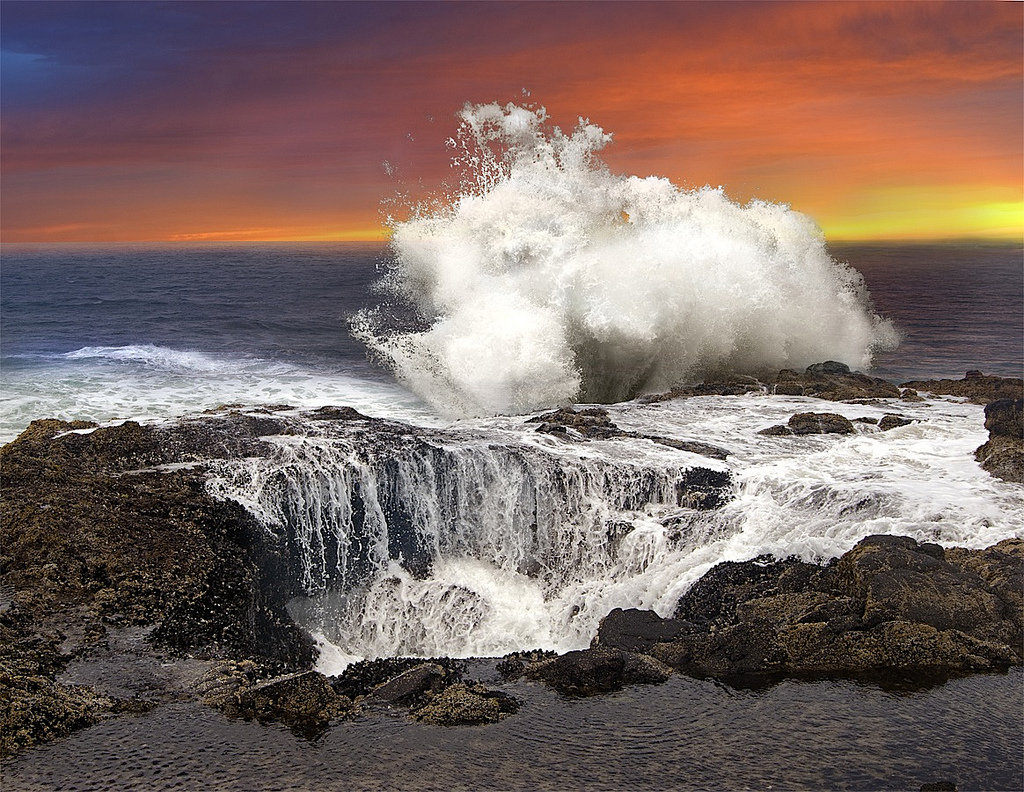 Living in the northwest, there are so many desolate places – and by desolate, I mean devoid of human life, not of life itself. You don't drive through strip mall after strip mall like you do in Southern California; here you can leave humanity behind and watch the Earth breathe. Places like the stunning Thor's Well at Cape Perpetua in Oregon let us witness the pulse of this planet, the sea blood that courses through the veins of our world. Thor's Well sucks the briny Pacific waters into it's depths and spews them 20 feet in the air. Around the tides, as the moon pulls and pushes the Earth's fluid, Thor's Well is especially active and dangerous. If you want to be reminded that you are just a little flesh bag that could be crushed at the Earth's whim, get a little closer to the sea in places like Thor's Well, where one step too far might drag your puny body into a chasm of sharp rocks, where you'll be pulverised by water and grated against it's sides, and then your lifeless corpse will be flung into the air as the sun fades in the distance…in fact, I think that this would be suitable punishment for litterers, and anyone who eats off of paper plates.
Photo: Sheldon Nalos
Photos: John Fowler
Photos: T Linn
Photo: Nathaniel Reinhart
Photo: Mike Walker
Photo: Serkan Imisiker
Photo: Deej6
Enjoy this post? Donate to CVLT Nation to help keep us going!