Punk Roots: 1960s Garage Rock and Proto//Flower Punk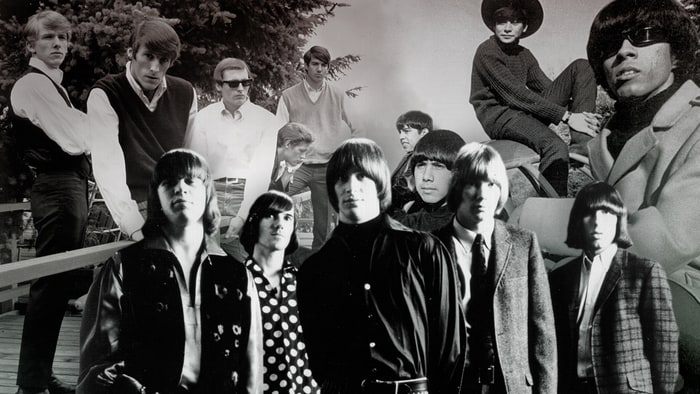 When most people think of the beginnings of punk rock, they're more than likely not going to be thinking about bands of four to six shaggily-mop-topped guys wearing tight, multicolored pants; but these are, in fact, the origins of punk rock – the 1960s garage bands.
Some of these garage bands became (at least slightly) famous, and are still a part of the traditional 1960s/early 1970s rock line-up. This list includes bands such as The Animals, The Buckinghams, The Kinks, MC5, The Seeds, The Standells, Paul Revere and The Raiders, ? (Question Mark) and the Mysterians, and The Yardbirds. However, there are some 1960s garage bands that were quite obviously pioneers in the punk-rock genre but have been lost in the sands of time because they just weren't making a big enough ripple in the music world at the time. This list includes bands such as Los Saicos, The Moving Sidewalks, Music Machine, The Sonics, and Them – just to name a small, small handful.
To get a true idea of how punk evolved into a stand-alone music genre, we must take a look at a quick survey of rock history. As the mid-1960s rolled around, The British Invasion was in full swing as a bunch of young, white, British, (mainly) male "pop" groups took the world by storm by turning "black music" into something "respectable" and unique. At the same time, the (mainly white and Hispanic) garage bands were doing the same thing, but were more obviously hailing back to and celebrating the blues roots of rock and roll than their British Invasion counterparts were (however, some British Invasion bands seeped over into the garage rock subgenre and vice versa. A good example of this is The Yardbirds' covers of "Train Kept A-Rollin'" [first written by Tiny Bradshaw, a black jazz and rhythm-and-blues bandleader, in 1951] and of "Smokestack Lightning" [first recorded in 1956 by Howlin' Wolf, a black Chicago blues singer]). Punk has its roots in garage rock, which means it also has its roots in old school, African-American blues.
Since 1960s garage rock was happening alongside (and was usually intertwined with) the mod and psychedelic rock movements, this led to an extremely broad array of "protopunk," which is a term that encompasses any music from the 1960s and early 1970s that ended up influencing the later "pure" punk genre. This musical time period led to a fuzzy and psychedelic – yet heavy – form of protopunk, which is best known as "flower punk": a mix of "hippie" music and hardcore, garage punk (the phrase "flower punk" was also used as the title of one of Frank Zappa and the Mother of Invention's songs off of their album We're Only in It For the Money, which was released in 1968). A few bands which best fall into the category of flower punk are Love, Music Machine, and The Seeds; however, the genre is based more on specific songs, rather than on specific bands and artists.
So the next time you find yourself at a punk show or watching a movie or TV show in which a group of pierced-and-tattooed punk rockers are shown headbanging with their mohawks and spikes, studs, leather, and denim, just remember that this subculture would never have been if it wasn't for the striped-and-polka-dotted, geometric fashion patterns of the clean-cut mods, the scruffy long hair, love beads, flowers, vests, and bell bottoms of the hippies – and, even before them, the rhythm and blues of the early African-American blues and jazz musicians.
Suggested Listening:
The Animals: "Don't Let Me Be Misunderstood" (Garage Rock)
The Beatles: "Hold Me Tight", "Helter Skelter" (Protopunk)
The Buckinghams: "Don't Want To Cry" (Flower Punk)
The Cavemen: "It's Trash" (Garage Rock/Protopunk)
The Kinks: Anything by the Kinks, but especially "I Need You", "You Really Got Me", "All Day And All Of The Night", "You Can't Win", "I'm Not Like Everybody Else", "Where Have All the Good Times Gone" (Protopunk)
Los Saicos: "El Entierro de los Gatos", "Salvaje", "Te Amo", "Demolición" (Garage Rock/Protopunk)
Love: "Can't Explain", "My Flash On You", "Hey Joe", "7 and 7 Is" (Flower Punk)
MC5: MC5 is the ultimate early heavy rock band – "Kick Out The Jams", "American Ruse", "Skunk (Sonically Speaking)", "Rocket Reducer No. 62 (Rama Lama Fa Fa Fa)", "Teenage Lust" (Protopunk)
The Moving Sidewalks: "Flashback", "Crimson Witch" (Protopunk)
Music Machine: "Talk Talk", "The People in Me", "See See Rider", "Wrong" (Garage Rock/Protopunk/Flower Punk)
Paul Revere & The Raiders: Paul Revere & The Raiders seems like the least punk band ever as they dressed up in colonial-America-themed costumes, but they are considered vital in 1960s garage rock (also, fun fact: they were the first band to perform on stage in full costume!): "Kicks", "I'm Not Your Stepping Stone", "Hungry", "Good Thing", "Just Like Me", "Louie, Louie", "Steppin' Out", "Goin' to Memphis" (Garage Rock)
? (Question Mark) & The Mysterians: "96 Tears", "Girl (You Captivate Me)", "I Need Somebody", "Don't Tease Me" (Garage Rock/Protopunk)
The Rolling Stones: "She Said Yeah", "Get Off Of My Cloud" (Protopunk)
The Seeds: The Seeds are the #1 Flower Punk band! Anything by them, but: "Pushin' Too Hard", "Evil Hoodoo", "Can't Seem To Make You Mine", "Nobody Spoil My Fun", "It's A Hard Life", "Excuse, Excuse"… anything off of their self-titled album, The Seeds (Flower Punk)
The Sonics: An amazing protopunk band!!: "Louie Louie", "The Witch", "Cinderella", "Do You Love Me", "You've Got Your Head On Backwards", "Shot Down" (Garage Rock/Protopunk)
The Standells: "Dirty Water", "Riot on Sunset Strip" (Garage Rock/Protopunk)
Them: "She Put A Hex On You", "Baby Please Don't Go", "I'm Gonna Dress In Black" (Flower Punk/Protopunk)
The Triumphs: "Lovin' Cup" (Garage Rock/Protopunk)
The Yardbirds: Anything by the Yardbirds, but especially "Stroll On", "I'm Not Talking", "I Ain't Done Wrong", "Over, Under, Sideways, Down", "What Do You Want", "Psycho Daisies" (Garage Rock/Protopunk)
Enjoy this post? Donate to CVLT Nation to help keep us going!